Photos of Wigan
Photos of Wigan
Album Contents
Album Contents
Wigan Album
St Paul's C of E, Goose Green
19 Comments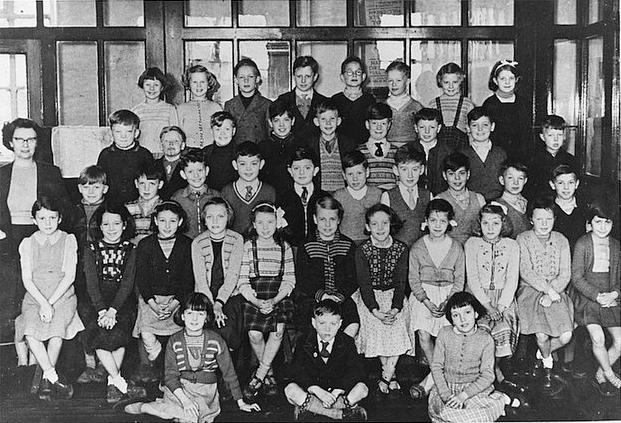 St. Paul's C of E, Goose Green, 1955.
Photo: Eileen Todd (nee Haselden)
Views: 10,770
Item #: 417
St. Paul's C of E, Goose Green, 1955.
Comment by: Alison Bate on 20th February 2008 at 17:50
2nd row 6th from left My Uncle John Finch
Comment by: Jean Smith ( nee Gaskell ) on 11th August 2008 at 20:03
Hello Eileen, i can't seem to see you on this photo! Do you know the names of anyone else on the photo? Also do you have any other pics you can post on the site? I used to live next door to you at Brook Street, saw you at my Dad's funeral in March last year.
hello Jean, nice to hear from you. the names I remember are
back row left, Ann Jeffries,Mavis Bridge,Joseph Wilkinson,(?)Robert Wilkinson,(?)Terry Taylor,Pauline Williams,(?)
next row, Alan Barton,(?)Norman Gibson,Billy Prior,Brian Ralphson,John Finch,Brian Catterall,(?)Thomas Challanor,
mid row,John Barlow,Barry Whittle,Michael Farrimond,David Orrel,Keith Worthington,(?)(?)Roy box,(?)(?)
next row,Gaynor Lambert,Joan Speakman,Hilary Whittaker,Christine Barton,Linda Hall,Margret Rostron,Ann Jolly,Shirley Ridyard,Christine Barlow,Carol Atkinson,Stephanie Williams,
front row,Pamala Wilkinson,(?)Jacqueline west.Don't know why I'm not on the photo, I got the photo from Ann Jolly. Sorry about the ones I can't remember, I'm sure somebody out there can fill in the missing names.
Comment by: Jean Smith (nee Gaskell) on 12th August 2008 at 16:41
Thanks for that info Eileen, i remember most of those names now, also, many of those in your class had brothers or sisters in my class. Good to hear from you.
Comment by: Susan Atkins (nee Atherton) on 26th October 2008 at 20:52
Awww! How lovely to see a school picture of my cousin Brian Catterall. Sadly Brian died in 1977, still sadly missed by us all.
Comment by: BARRY GASKELL on 10th February 2009 at 14:49
I remember most of the people in this photo I was in that class. I was born on Goose Green and lived in Bentinck Street untill moving to Marsh Green when the houses were pulled down. I now live in Portsmouth. My brother bill still lives in Bryn.
Comment by: Carole Walker on 4th March 2009 at 09:33
Hi Doreen ( Sis ), why are you not on this class photo I wonder, you must have been sick hey?
hello, i wonder if any of you remember margaret wilson her sister was gloria and brothers warner and gerald they lived in bentinck street and then duke street. be lovely to hear from any one knowing them x
Hi Carole,
I thought that was me on the back row,2nd.from right. If not -I must have been sick. I do recognise a lot of the others. If you're out there, let us know.This is great.
Comment by: BARRY GASKELL on 29th March 2009 at 14:38
I remember Margaret Wilson. She lived opposite Baxters shop in Bentink Street. Does anyone remember Carol Atherton, she went to St Pauls School the same time as me. She lived in Duke street opposite the Star Inn.
thanks for the photo eileen my brother was brian ralphson im now a clark formerly ralphson. if anybody out there new my brother i would love to hear from you.
Comment by: Bill Hart on 6th February 2011 at 23:35
Mavis Bridge was my first real girlfriend
Hi, I'm Linda Hall's daughter and from the comments I've worked out that my Mum is on the second row from the front and five from the left, she has a bow in her hair. Could anybody from the photo tell me if this was my Mum, I would really appreciate it. Many thanks
Comment by: Gayner Lambert on 26th January 2012 at 19:02
Hi Carolyn you are right about your mum. She used to live very close to me in Goose Green when we were children and we used to play together along with Pam Wilkinson who is also on the photo. I think she lived with her Great Grandma and Auntie Edna and Uncle Benny in Brackley St. I am on same row as yoour Mum - first on the left.
Comment by: Carolyn TIerney on 26th January 2012 at 20:42
Thanks very much Gayner, I really appreciate it-I would never have guessed that was her, it's lovely to have found this picture and nice to here you played with her. Thanks again.
I do see my dad in there - Brian Catterall in the second top row third from right. He died in 1979 (not '77) which seems a long time ago now I guess.
Comment by: Susan Couch [Nee Wilson] on 7th August 2013 at 11:42
I remember Margaret Wilson, she was my Aunt. I am Warner's Daughter. I also was born in Bentinck St. and still live there. I was going to be Margaret's Bridesmaid, but her Husband to be died a few days before the wedding.In between living in Bentinck St. and Duke St. she lived in Dickin's Place.When she got married she moved to Billinge, had 3 Daughters and died in 1981. She also had a brother called Tony.
whilst viewing this photo I am left with a posing question at and around the mid-1955 era,can any one remember the name of the "old church" and small church yard on the opposite side of clapgate lane before the main road was widened into the duel carriage way of today..i recall when the church was earmarked for demolition the remains of all who were in the graves had to be exhumed it was boarded up for a long while, but like I say if you can come with the name I will be indebted to you,hopefully thank you.
Comment by: Gayner on 24th January 2014 at 14:31
The church you are thinking about was Goose Green Wesleyan Chapel. Ilived close to itin Arthur St until 1963. It ceased to be a Chapelin the 1950s and was used by St John's Ambulance for some years after until it was demolished in the early 60s. It was also use for Saturday Night dances in late 50s early 60s much to the chagrin of the old "Goose Greeners". Don't know who ran these. Remains from the old Church Yard were reburied in a mass grave in Gidlow Cemetary, Hope this helps.