Photos of Wigan
Photos of Wigan
Album Contents
Album Contents
Wigan Album
All Saints School
12 Comments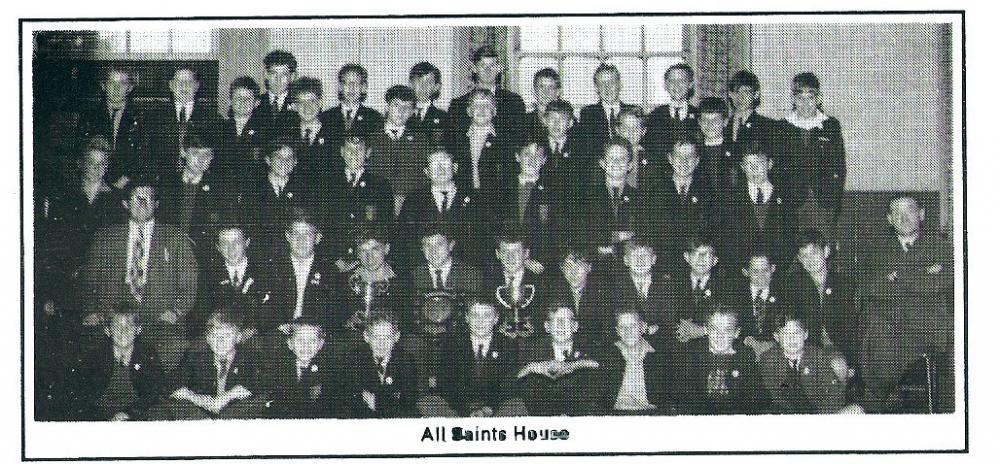 All Saints house
Photo: Brian Acton
Views: 6,243
Item #: 4121
All Saints School had a house system, one of which was All Saints house, along with St George ,St Micheal,St Andrew, St Thomas,the houses competed internally for trophies etc, and the photo shows All Saints house with teachers Cyril Smith, on the left, and Ernie Griffiths on the right showing what they had won that year.
Brian What year would that be? I regognise some faces but don't remember a teacher Cyril Smith.
Comment by: John Brown on 22nd October 2007 at 22:04
The teacher on the left looks like Derek Hurst to me. I too would like to know what year.
John I think your right Derek Hurst played ruby for Orrell. Brian believes it to be Cyril Smith but he left well before I started in 1957 and I'm pretty sure I can identify some of those faces.
Keith and John.
You could be right, it might not be Cyril Smith on the left, and if so it might very well be later than what I originally thought. Derek Hurst hadn't started teaching at All Saints before I left so I couldn't really say if that is him or not, but it does look like Cyril Smith.I will ask on Thursday at the re-union committee get together if the other members know for sure who the teacher is.Watch this space, and don't forget the 2nd Nov. re-union.
I think Derek Hurst started teaching at All Saints about 1958/59 a big barrel chested young man and very popular. I'm not sure that he taught me as I cannot think what his subjects were. But he was hero worshiped by most of us.
Comment by: xxStuartxx on 23rd October 2007 at 22:33
He taught History: 1966 - 1971
Comment by: PJ Hitchen on 17th May 2010 at 15:43
Derek Hurst was form 2A Master (history) 1961-62
Comment by: margaret farrimond on 12th June 2010 at 17:39
The lad second row up from the front and fourth boy from the right looks like my brother alec we started at all saints 59-60
Comment by: John Hankin on 10th September 2011 at 14:34
I am sure teacher on left is Derek Hurst, he did teach history and coached the rugby teams. Isn't the teacher on the right Ernie Griffiths? I think on second row up third from left is Phil Eastham (who went on to play professional RL with Wigan and Salford), 4th from left is Alan/Malcolm? Fairhurst. Same row first right maybe George Leech and 3rd right ? Abrams. I was at All Saints at the time in St Andrews House. Left in 63 to go to Wigan Grammar School
Comment by: Trevor Griffiths on 20th December 2013 at 18:55
I had a chance meeting last week with the man himself Derek Hurst in a local garden centre cafe. He remembered me before I had chance to speak. He also mentioned others who were in my year (1960) Keith Henry, Ian Collins , Ron Heyes and Jess Yates. It was just brilliant to see him - I last spoke to him at Central Park in 1999 and he is still as interesting as ever. He is 80 years old now and still sharp as a pin. - it made my day to see him.
Comment by: Jimmy Oldham on 25th January 2015 at 22:03
In between Phil Eastham and Derek Hurst is Colin Brockbank.
Think I'm second row from the back and two in from the right.
More of that year here:
http://www.wiganworld.co.uk/album/photo.php?opt=2&id=15060&gallery=All+Saints+School&offset=20
Comment by: RICHARD HILL on 5th January 2016 at 19:44
The teacher on the left is indeed Derek Hurst, he taught me when i came to the school in 1959 age 11, a very good teacher as were most of the others especially Mr Gore and Mr Mawdsley