Photos of Wigan
Photos of Wigan
Album Contents
Album Contents
Wigan Album
St Patrick's Boys School
16 Comments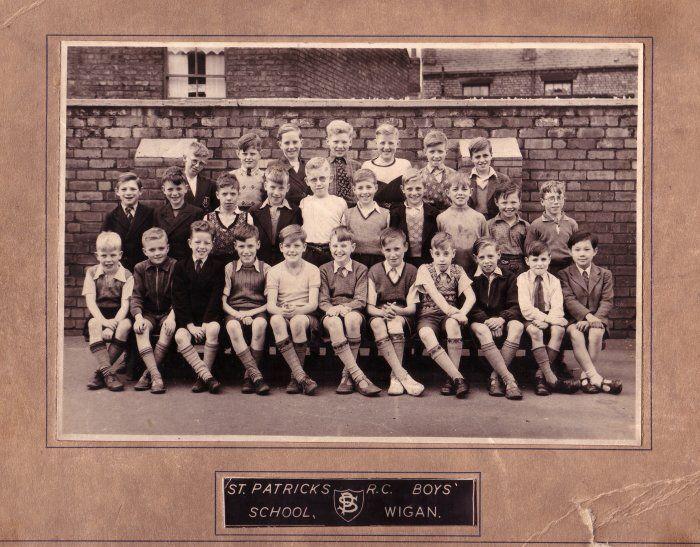 St Patricks Boys school, Hardybutts, 1953.
Photo: John Gormally
Views: 10,934
Item #: 410
St Patricks Boys school, Hardybutts, August 1953. The class was 'Junior 4'. The names as far as I can recall them are:

Front row: Brian Hayes, George Hutchins, Martin King, John Spencer, Tony Cunliffe, Frank Cheetham, John Gormally, Mike Hanson, John Gannon, John Bennett, George Wong.

Middle row: Billy Connolly, Brian Birmingham, Joe Hare, Brian McGuirk, John Ruane, ?, George Parker, John Hargreaves, Kevin Govan, Kenny Sharrock.

Back Row: ?, Freddie Pike, Bernard Joyce, Mick Mooney, Gerard McNickolas. Joe Ashurst, Tony Gallagher.
hi John Gormaly know most on photo Tony Cunliffe was my cousin great boy died at 21 what a waste.see you Benidorm
Hellow John, long time no see , remember playing in the old jowet car . regards Tony Gallagher
the back row l/h is anthony hart from wellington st
Comment by: Patrick on 23rd August 2010 at 20:29
My grandads brother is in this picture. Michael Mooney (Mick).
Comment by: John Gormally on 11th December 2010 at 15:10
Hi Tony Gallagher. It has been a long time - must be more than fifty years! It's good to hear from you again - sorry about the late reply - I don't often look at these pictures.
_________________________

Regarding Tony Cunliffe - it was sad loss. Tony was good friend of mine and remember being shocked when I heard of his accident.
Hello John,
This web page was brought to my attention recently - an excellent piece of work John. Lots of memories there!
Great photo, Frank Cheetham was my dad, who we sadly lost 2 years ago. We would love a copy of this photo - email me if possible.
Comment by: Tom Walsh on 27th January 2012 at 13:55
The house on the other side of the wall is the top house in Church Terr., ( Foggs Place) Tommy and Lizzie Lowe lived there at that time , the houses in the background are backs of John Street.
i remember george hutchins geogie wong john ruane and of course mick mooney a great lad great memories
Michael Mooney is my cousin. Rather lost touch with that side of the family. A coloured photo would have shown his good head of red hair, just like my dad's. Pity no one mentioned his Rugby League career.
HI,JOHN
NICE PHOTOS,A PHOTO OF YOU AND I AS JUST TURNED UP.
LET ME KNOW IF WANT TO SEE IT
I fell off that bloody wall and broke my wrist and arm. It looked much taller when we were kids, perhaps it was because I was the smallest in our class, along with Ricky Kenyon. Ricky's Mam had a toffee shop on Hardybutts and his dad Dick had been a pro boxer.
I've been away from Wigan for many years, I will be delighted to show my children/ grandchildren the photograph of St Pat's. Is Anthony Gallagher still around ? I currently split my time between Maine USA and Berkshire UK
Comment by: Ed on 13th May 2017 at 01:27
Does anyone know the name of the boy in middle row with the white teashirt and glasses on,i think is first name was michael.
Comment by: Ann-Marie Ruane on 13th October 2018 at 19:19
Hi Ed, the boy in the middle row wearing the white T-shirt and glasses is my dad John Ruane. Sadly we lost him in July 2005.
the missing name I think is Bernard harmer,if I,m not mistaken harmers&birmingham left wigan for leyland