Photos of Wigan
Photos of Wigan
Album Contents
Album Contents
Wigan Album
St Nathaniel's, Platt Bridge
12 Comments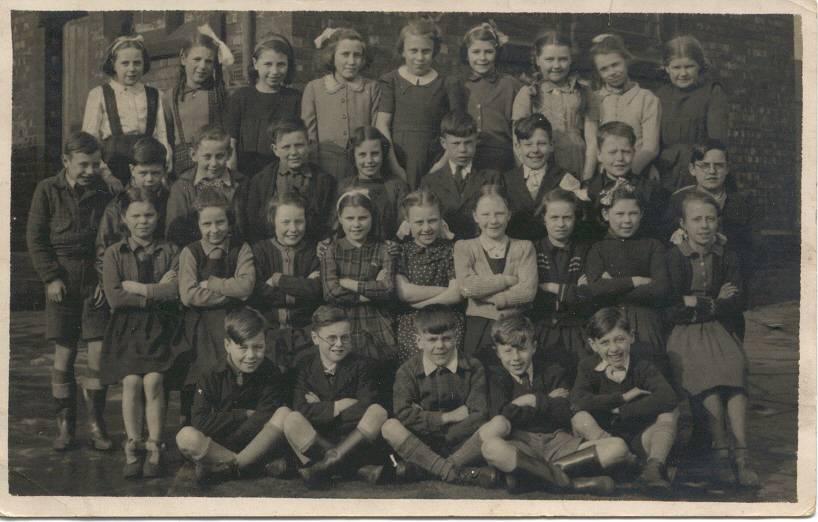 St Nathaniels, 1946.
Photo: Derek Bell (Brisbane)
Views: 7,277
Item #: 403
St Nathaniels, Platt Bridge, 1946. My wife was a pupil - front row sitting r/h side.
Comment by: Evelyn on 4th July 2007 at 18:56
Could the boy sat on the floor left hand side be Derek Greenwood who later went to Hindley and Abram Grammar School and qualified as a teacher ?
Comment by: derek baldwin on 10th August 2007 at 18:21
you are right the next boy to him is len dawber
I was at St Nat's in 1946 and I am almost certain I recognise Derek Greenwood, but equally sure I wasn't on this photo. The head teacher was Miss Molyneux, and in 1946 I would be in standard 2, the formidable Miss WEbster's class, I think.
Comment by: Wigwann on 1st March 2009 at 17:32
Derek or as we called him Mr Greenwood or sir! taught me at Hindley county sec in Argyle Street about 1962
Not sure if this was my Dad's year, does anyone remember Ken Walls from Victoria Road, Platt Bridge?
Comment by: HARRY PENNINGTON on 25th August 2009 at 11:15
THE GIRL 3RD FROM RIGHT BACK ROW IS BARBARA MOORE FROM SPRING VIEW.
WHO WAS A COUPLE OF YEARS YOUNGER THAN ME.SHE GOT A SCHOLARSHIP AND WENT TO GRAMMAR SCHOOL.LATER IN LIFE SHE STUDIED SINGING AT MANCHESTER COLLEGE.FROM THENCE SHE JOINED D`OYLY CARTE OPERA COMPANY AND BECAME LEAD SOPRANO SINGING UNDER THE NAME OF JOANNE MOORE SHE IS NOW RETIRED FROM THE OPERA STAGE,LIVING IN STUDLAND DORSET WITH JOHN HER HUSBAND.SHE HAS A BUSY LIFE TEACHING SINGING,PREPARING PUPILS FOR LONDON COLLEGE OF MUSIC.SHE HAS SEVERAL FRENCH STUDENTS ALONG WITH ENGLISH PUPILS.I SANG WITH HER A NUMBER OF TIMES BEFORE SHE WENT INTO OPERA.IN JUNE THIS YEAR 09. I VISITED HER, HAVING NOT SEEN BARBARA AND JOHN FOR 52 YEARS.WE REMENISCED ABOUT THE OLD TIMES,AND IT WAS A JOYOUS OCCASION
Comment by: Wigwann on 17th September 2009 at 15:43
I can't remember if Barbara Moore was in St Nathaniel's Church choir.I have a vague memory of one Sunday at the end of the 1950's listening to someone with a glorious voice at a Morning Sevice, it may have been her visiting her church.
Comment by: HARRY PENNINGTON on 25th September 2009 at 11:27
HI WIGWANN,
IT WAS BARBARA YOU HEARD SINGING IN CHURCH,AND SHE WAS IN ST.NAT`S CHOIR.I CAME FROM WALTHEW LANE,AND WENT TO ST,NATS THEN MOSS LANE(SEE SCHOOLS)PAGE.
I can't believe it - a picture of my mum on the internet.
She was Helen Ricketts (later to be Forshaw). Back row 4th from left.
She's shown me this picture years ago and said how cold it was cos there was snow around at the time hence the kids in wellies!! Sadly, she passed away in 2006.
Comment by: HARRY PENNINGTON on 8th January 2011 at 12:13
HI,IAN FORSHAW,PLEASED YOU SAW YOUR MUM ON THE ABOVE PHOTO,I KNEW HELEN VERY WELL,ALSO BILL RICKETTS AND HIS DAUGHTER VALERIE.I WAS AT YOUR MUMS FUNERAL WITH FRANK LIPTROT WHO WAS A FRIEND OF YOUR DAD,HAVE YOU NOT SEEN A PHOTO OF YOUR DAD AT MOSS LANE SCHOOL.I PUT ALL THE NAMES ON SO YOU SHOULD SEE US NEXT TO EACH OTHER.ALAN AND I SAT ON THE BACK ROW IN CLASS,HE WAS QUITE GOOD AT SKETCHING.
Hiya.. just wondering if possible to speak to person who posted this.. not sure but i think my mums on it..dont have too many photos and would love to see if it is actually her a d maybe get a copy of this picture..
Third Row , fourth in from the right could be my Dad Wally Alker , would anyone know ?