Photos of Wigan
Photos of Wigan
Album Contents
Album Contents
Wigan Album
Wigan Grammar Schools
23 Comments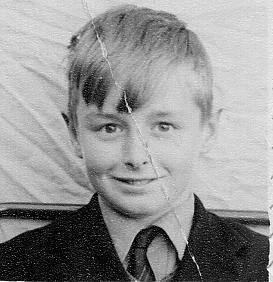 Fred at Wigan Grammar School 1957
Photo: Fred Mason
Views: 3,112
Item #: 4013
First school photo at Wigan Grammar School around 1957.
Comment by: Aimy Martindale on 6th October 2007 at 01:06
This is a very good likeness of Fred when he was at the Grammar. How are you Fred not seen you in a long time.
Hi Aime, I am getting along fine and very happy. Please contact me at fred@cumbriancrafts.co.uk

Ta.
Comment by: B. Taylor on 11th January 2008 at 14:53
I recall thee owd marra. Tha was mates wi James Holding Fred Bamber Morris and Neville - reet?
hey is that barry taylor,,or wot,,,that wer a motley crew you mention,,in fact all class could be bcalled misfits but i wouldnt have missed them years,,see comments on cross country pic on previous page,,,there are moves afoot to get some kind of reunion this yearmmref joefairhurst,,curly cliff higham to name but a few,,,any comments welcome
Comment by: Roy on 16th June 2008 at 17:31
Neh then Fred I hope you're coming to the reunion on Thursday 19th June at the Brocket. See all your old mates.
Comment by: Roy on 21st June 2008 at 10:16
We missed out on a good turn out on the 19th Fred owd lad. Apparently it was a very good do.
If you want a laugh, got to:

http://www.youtube.com/watch?v=MKxImGekU_s
Comment by: Trencher on 6th March 2009 at 21:57
You wouldn.t think this clean cut lad would one day turn into an old reprobate would you.
Comment by: Frank Healy on 11th March 2009 at 11:26
Hi Trencher. Mischievous face, calculating eyes, CROOKED TIE; a budding reprobate if ever I saw one :o)
Comment by: Knowlsey on 11th March 2009 at 13:21
You know Frank - I think your spot on. Yeah - beady eyes - defintely.
Comment by: Peeping Tom on 29th March 2009 at 10:21
I saw thi foto on Friends Re U Trapper owd lad. Bi crasht thas put sum weight on.
Comment by: Knowlsey on 29th March 2009 at 15:56
Comment by: Vera Potter on 2nd June 2009 at 20:36
You know when I first saw this pic I thought it was Cliff Higham. Don't they lok similar. In fact Fred who I dont know is probably the handsomest.
But, Vera, my lovely, I am of course the handsomest...!!!!

Also just found out that Cliffy and I are first cousins. Howz about that then!!!
Comment by: C. Brown on 9th July 2009 at 16:11
Yeah - you both are as faye as each other.
Ah, but a better bunch of lads I have never seen, and I have travelled far and wide...
Comment by: Tommy Rourke on 26th January 2010 at 10:41
Hi Fred did you butcher in the Market Hall during the 60s?
Comment by: Bill Neville on 12th April 2010 at 21:19
Is this geezer brown bread now or what.
Comment by: Jim Ince on 30th April 2010 at 09:59
Why do these owd raspberries think we want to their boat races? Cliff Higham - Monty Mason - its beyond me.
Comment by: Oly Moorfield on 30th April 2010 at 10:47
He's still knocking about.
Hi Tommy,

Yup, I were a butchers lad int' th'oud market 'all, God luv it. What a lovely place to work and meet good folks. I was at McAvoys working with the best.
Wow, is that you, Olwyn Moorfield, from St John's, Pem?

If so, I do remember you well.
Comment by: M. Caine on 14th July 2012 at 09:10
Cliff Higham and Fred Mason are distant cousins. Not many people know that.