Photos of Wigan
Photos of Wigan
Album Contents
Album Contents
Wigan Album
St Michael & All Angels, Swinley
5 Comments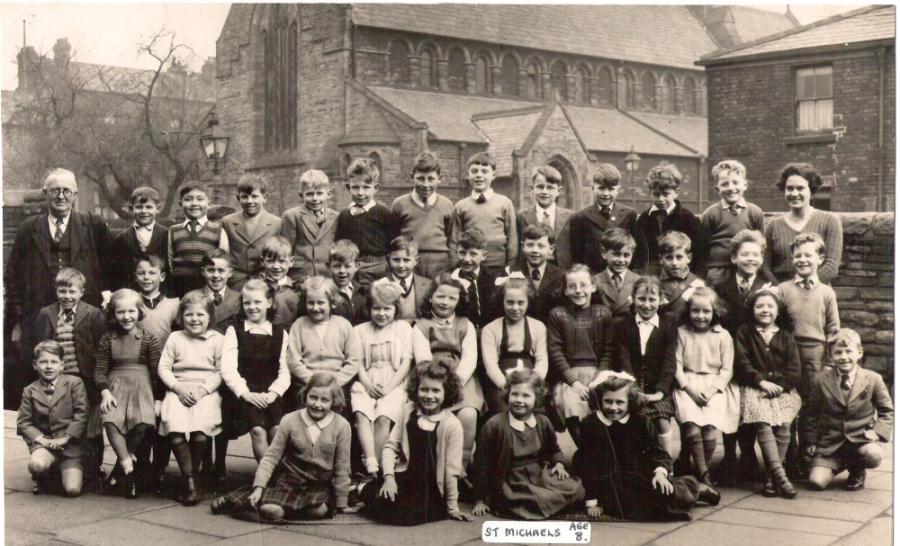 St Michaels Juniors.
Photo: Ivor Hilton
Views: 4,156
Item #: 397
St Michaels Juniors, I am 4th from left on the back row.
Could Ivor possibly remember what year this wonderful picture was taken?. I, too spent my happy junior schooldays here .............dress wise it looks like my era !!
Comment by: Ivor Hilton on 25th September 2008 at 11:12
Hi Jean, almost certain it would be 1951 and the teacher (I think) was Miss Cronshaw (or similar name!)
Comment by: Ivor Hilton on 8th November 2011 at 16:11
Can any "old" classmates help me out here? I'm still not sure of our class teacher's name. Was it Miss Cronshaw and was she our 1st year junior teacher? I thought we had Miss Hampson in our 2nd year, then the 3rd year's a "blank" but I seem to remember Miss Lamerton (?). Our final year of course was with Mr Boggis for our scholarship class! Be good to hear from any old friends with a better memory than mine!
Comment by: Lock lass on 27th February 2012 at 14:12
Wendy Wilson, my sister who is now 69 and lives in Horwich, is the first on the right on the front row of girls sat on chairs.
I am stood in front of Miss Cronshaw. I think it was love at first sight!!
Next to me is Paul Simpson and next to him is Graham Barnes. I can probably name most of the others if required.