Photos of Wigan
Photos of Wigan
Album Contents
Album Contents
Wigan Album
St Michael & All Angels, Swinley
6 Comments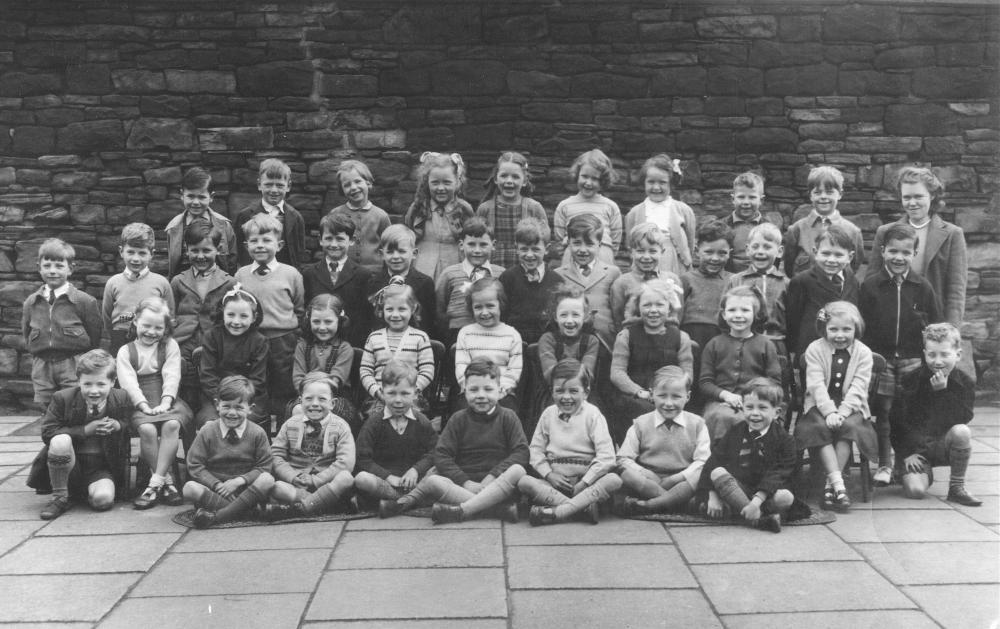 Middle Infants Class, May 1951.
Photo: Keith Sullivan
Views: 6,155
Item #: 395
Middle Infants Class - May 1951

The teacher is Mrs. Harris (Top Row Right). I am 3rd from the left in the 2nd row from the top. 4th from left is Stuart Smith, 5th from left is Peter Hurst, 6th from left is Gordon McLeod. We all lived in Wigan Road, Standish. I think the 2nd from left was Keith Trencher
Comment by: Diana Shepherd nee Magraw on 23rd January 2009 at 16:36
Iam Diana Magraw on the second row from the front fourth girl from the left
Comment by: Stewart Smith on 14th March 2009 at 20:48
I latched on to this about a year ago, but have been hesitant about contributing. Diana Magraw's note has convinced me. I lost my own old photos in house moves some years ago.

Keith Sullivan is not quite correct. Here is the layout as I remember it - there are a lot of blanks and doubtfuls:

Back Row: Geoffrey Ashton/Dennis Yates/Judith Vincent/Jean Taylor/Josie Horne/Gillian McKillop/[Unknown1]/[Unknown2]/Jimmy Wilkinson

Second Row: Martin Blackie(?)/Keith Trencher/Keith Sullivan/Stewart Smith/Alan Jones/David Holt/Peter Wright/Donald Eastham/Michael Hesketh/Peter Hurst/Howard Marrow/Barry Old/Kenneth Padget/Geoffrey Fairhurst(?)

Kneeling/Seated Row: Gordon McLeod/Joan Iddon/Jean Glover/Barbara Smith/Diana Magraw/[Unknown3]/Sylvia Gummerson/Ann Leather/Irene Leather(?)/[Unknown4]/Barry Foster

Front Row: [Unknown 5]/Derek Monks/[Unknown6]/Carson Edwards/[Unknown 7]/Graham Hayton/[Unknown8]

There are others I remember from perhaps later classes, including Kenneth Bowden, Susan Burrows, Sheila(?) Chadwick, Peter Daniels(?),Richard Faulkner (joined in Miss Cronshaw's), Neil Reay, John Swift, and Bernard Taylor.

What a bore!
Comment by: Graham Hayton on 27th April 2009 at 14:21
Further to Stewart Smith's excellent update. I would amend the layout slightly.- Unknown3 is Irene Leather. This would make Irene Leather? as Unknown3? I think that Unknown5 is Peter Daniels, and possibly Unknown7 is Bernard Taylor and Unknown1 Keith Ewart?.
I would be interested to know where and how this class moved on over the years.
Does anyone have any further in formation?
Comment by: maureen markland on 4th August 2011 at 12:43
I attended st. michaels for a short time only but I remember mrs mawson, I rember her asking that when we moved from wigan lane would I be coming back to st. michaels I was very sad because I never did go back, me and my family moved to norley hall in 1952 starting school at st.johns
Comment by: Ken Bowden on 2nd October 2011 at 19:21
Just found this and it feels a real blast from the past - I used to travel to school with Diana Magraw, was friends with Stewart and Graham - I can remember Graham being hit on the head by a cricket ball on what were the playing fields by Scouts hill - put me off cricket for life. I was in the class below in 1951 but was moved up into this class with others for some reason in 1952. How do we all get in touch?
Just browsing Wigan World and came across this entry. A ghost from the past.So much so that I have dug out the 1956 end of school photograph and will post it onto this site.I am 3rd from the right on 2nd row down.(As Stewart Smith gave it.) Geoffrey Fairhurst & I were friends for many years and then lost touch early 1970's. Gillian McKillop lived in Standish not far from me and I believe she became a air stewardess with BOAC or BEA in the '60`s.