Photos of Wigan
Photos of Wigan
Album Contents
Album Contents
Wigan Album
St Matthews, Highfield
11 Comments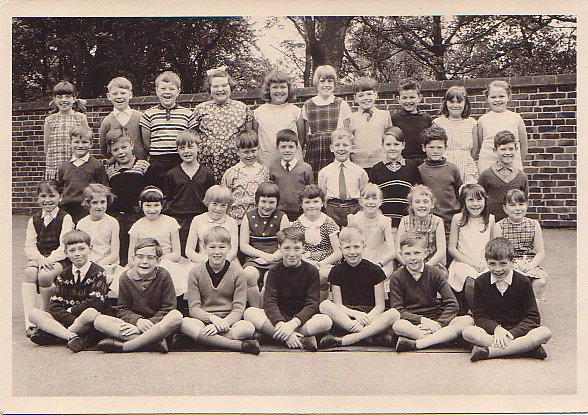 St Matthews, Highfield
Photo: Stephen Kirk
Views: 10,378
Item #: 3907
Class photograph circa 1965/6
Comment by: fred foster on 21st February 2008 at 11:52
I recognise Christine Whalley, Lorraine Pugh,Kathleen Winstanley and of course yourself, but can you add a few more names please!
Comment by: Stephen Kirk on 1st March 2008 at 16:16
Hello Fred, from memory names are as follows from left to right:-
Back Row:n/k,Keith Grundy,David Sherrington,Christine Whalley,Sandra Marsden,? Grimes,Bruce Crone,Peter Cooke,Valerie Taylor,Sheila Hoy.
3rd Row: Richard Molyneux,Steven Weir,?Parkinson,Ian Makinson, Ian McBride,John Hickey,Jim Baker,Michael Pearce,n/k.
2nd Row: n/k,Janet Evans,Kathleen Winstanley, June Downham, Lorraine Smart,Diane Melling,Janet Grundy,Diane Morgan, Susan Green, Alison Murray.
Front Row:- Brian Liptrot,Andrew Billington,David Lowe,Billy Ryder,David Parkes,Stephen Kirk,Neil Batho.
Comment by: keith grundy on 17th April 2009 at 23:51
great to see all the faces, thanks to jimmy mulldoon for telling me about it, i still see our janet a lot, nice to see my old sparring partner, stey weir, thanks, keith.
Comment by: Jim on 20th April 2009 at 15:43
Glad you finally got to it Keith I have my doubts as to that being Brian Liptrot,Unless there is another.
Comment by: Stephen Kirk on 11th June 2009 at 21:10
I can confirm definitely Brian Liptrot, he used to live on Valley Road(off Tunstall lane), near to Queen Street.
Comment by: keith grundy on 22nd June 2009 at 04:36
Spoke to our Janet last-week, she as not changed, and Jm, it is Brian Liptrot, but not the one you are thinking of.
What a blast from the past!!! Where are you all now I wonder?
Comment by: Eileen Dooley nee Williams on 4th September 2011 at 17:54
could remember most names but you've filled in the gaps nicely!! im to the left of lorraine
I have just left that school this year and now i am in year 7
My what a joy to fined this all my old School friends Keith Grundy still after all these years I still consider you one of my best friends ever bro ,, I can remember everyone but one or two names were needed to spark my memory ,, Eileen Williams I have wondered about you for years,, but like someone said where are they now ?
BILLY RYDER IS MY DADS BROTHER.HE IS MARRIED WITH 2 CHILDREN AND 2 GRANDCHILDREN.HE LIVES NEAR PRESTON.IF ANYONE KNOWS OF MY FATHER,JOHN RYDER ID LOVE TO HEAR FROM YOU.I AM TRYING TO DO MY FAMILY TREE SO WOULD LOVE ANY INFO OR MEMORIES THAT YOU MAY HAVE ABOUT MY DADS FAMILY. THANKYOU X