Photos of Wigan
Photos of Wigan
Album Contents
Album Contents
Wigan Album
St John The Baptist School, New Springs
8 Comments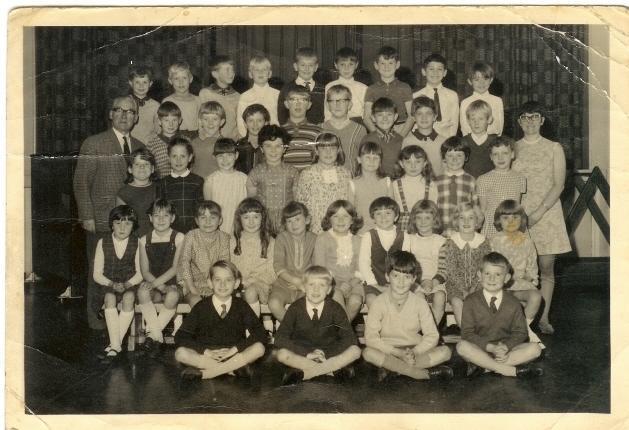 Class photo 1968
Photo: John Smith
Views: 8,860
Item #: 3857
Think the year is 1968,does anyone recognise the people in the photo.
Comment by: John Smith on 12th August 2007 at 00:20
St John the Babtist school new springs
Comment by: steve daniels on 14th August 2007 at 12:05
I remember Horace Yates was the headmaster
he was the headmaster there for about 35 years
attended st johns early to mid 1960's vaguely recognise some faces but names evade me possibly earlier than 1968
We recoqnise some of the children of the class photo they are susan ball judith broomhead linda topping elaine crompton sheila hilton karen seddon deborah croston keith maggs eric fanning john lavin glen coyle philip parr james austin steven shaw who all went onto aspull secondary modern school
Didn't know I was on the photo until I saw the last message from Martin & Anita.
Brings back a few memories and names.
Comment by: Nick on 11th March 2008 at 15:29
I am the landlord at the commercial Inn, new springs. Most of the people in the photo are drinkers in my pub... Frightening.. Linda Topping sadly passed away some time ago, she was a dear friend to many.
This comment is from Andy Richmond :
I'm pretty sure that's me in the back row 4th from the right. Does anyone remember me ? I emigrated to Australia in 1970 and have lived here ever since. Some of the names I can remember are : Paul Singer, Harry Topping, Patsy Tyrer, Christine Coyle, Susan and Steven Birkett, teacher in the photo is Mrs Latham. Brings back fantastic memories of happy days at St Johns.
Comment by: Paul Seddon on 30th July 2011 at 13:05
Just seen the photograph – it's our Junior 2 class at St Johns in 1968.
Names on photo (my best shot at it)

Top Row:
Steven Shaw; Paul Holcroft; Stephen Ashcroft; James Austin; Ian Eckersely; David Sherrington; Phi Parr; Glen Coyle; John Lavin.

Second row from top:
Mr Yates(headmaster); Keith Maggs; David Deakin; Arthur Mclwaine; John Hoofe; Eric Fanning; Gary Gwynette; Paul Seddon; Michael Johnson;.

Third row from top:
Deborah Croston; Valarie Harrison; Diane Melling; Dawn Taylor; Janet Bradburn; Karen Seddon; " ? "; Shelia Hilton.
First row on chairs:
Susan Ball; Judith Broomhead; Debra Hilton; Melaine Franklin; " ?" ; "?" ;Linda Topping; "?" ; Elaine Crompton; Janet Brown.

Front row (floor):
Stephen Grey; Roy McQuire; David Seal; Tony Bradshaw

A couple of lads that seem to be missing from the photo (or I have missed them):
John Rownan and Malcolm Hill.

Hope I've got most of these right – not bad seeing it was over 40 years ago. Apologies for the missing names "?"
Now When I meet someonenow I forget their names after 5 seconds – but then again most of us had gone through nursery; infant school and junior school together

Sadly some of our school friends have passed away but their memories still live on.

If someone can fill in the missing names and correct the ones I got wrong, it would be good to complete the register.

Good luck to you all, wherever you are.

Paul.