Photos of Wigan
Photos of Wigan
Album Contents
Album Contents
Wigan Album
St Thomas More, Newtown
10 Comments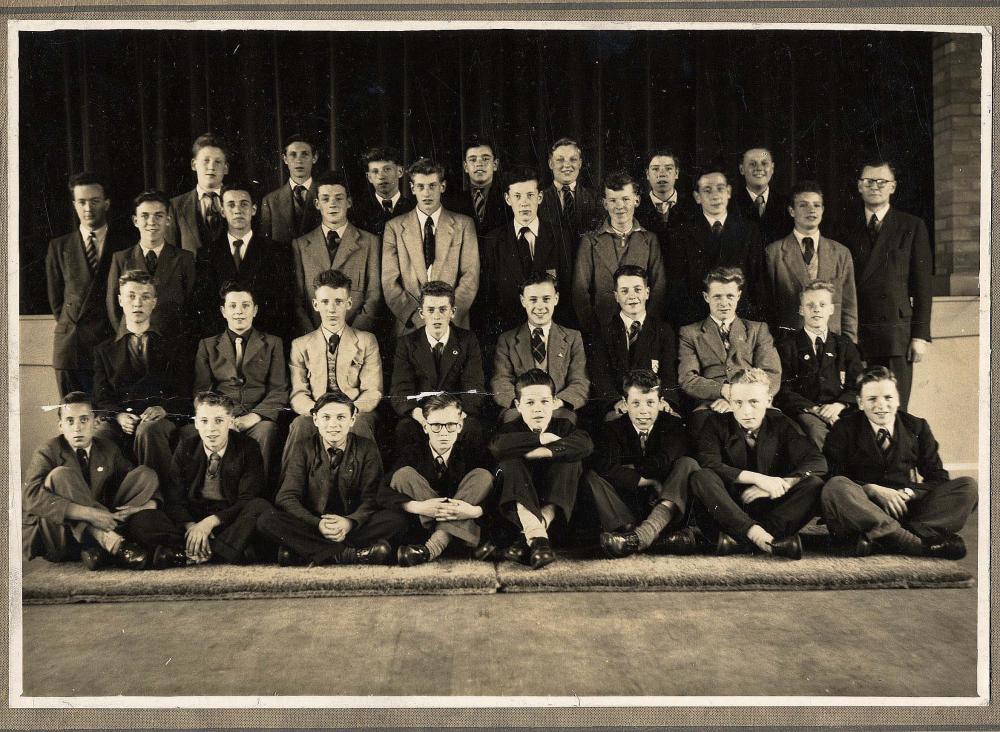 Class Photograph St. Thomas More Boys
Photo: Dave Houghton
Views: 10,191
Item #: 3570
Photograph of form 4a taken in the first year the school was open (1954/5).
Comment by: John Mc Mahon on 27th November 2007 at 05:20
After infant and junior school at St Joseph's (Caroline St, off Wallgate.Wigan), I continued my education at St Thomas More Secondary Modern School (as it was called then) in the late 50s ... I don't really recognise any of the pupils in the photgraph (although some look familiar) ... But I certainly recognise the man standing on the right of the picture ... It's Mr Atherton (History Teacher) who was deputy headmaster to the notoious Mr Gorkroger (which I have probably spelt wrong). Mr Atherton was a nice sort of bloke - although he got his hair off at times.
Comment by: Lisa Fazackerley on 20th April 2008 at 18:39
My Grandads in this picture Brian Ward (he's in the centre of the picture with a light grey suit on) he sadly passed away aug 06.
Comment by: john meehan on 25th February 2010 at 20:03
on the 2nd row up sitting l to r, 5 across is head prefect john hitchen 7th is bernard jones i also was a library prefect with les walsh.
I am the tall guy third from the left third row from the bottom.I may be remembered as ( Stan ) from school days.I recognize Jimmy Gaskell fifth from the left bottom row.I think the boy to Jimmys left is Frank Galagher.I recognize lots more faces but cant put names to them,can anyone add to the list?
Comment by: john meehan on 26th March 2010 at 15:07
hello, brian i do have a few names to help you with. top from l ? john turner. stan hughes.?mick hynes.?? mr. atherton.2nd row from top ?? pat morley. billy kirk.b ward ??? stridgeon,i think.3rd from top l to r ?? yourself.? j hitchen ? bernard jones.?.bottom row lto r.????.jimmy gaskell. read,not to sure.?. okay brian,i was in the class below you i do remember you, sorry to say two good friends, brian ward and billy kirk have passed away.
Comment by: p.coates on 20th April 2010 at 15:20
the teacher standing on the left of the picture is i think mr. appleby he was the p.e. teacher.
I can add another name,next to Bernard Jones is Vincent Fitsimmonds
Comment by: val cooper on 18th June 2012 at 20:25
I think the lad on bottom row on right side is James Ritchie