Photos of Wigan
Photos of Wigan
Album Contents
Album Contents
Wigan Album
St William's RC, Ince
14 Comments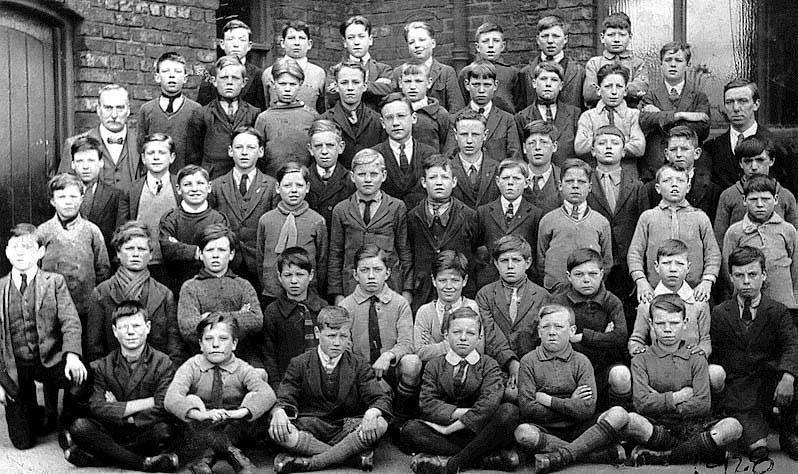 St. Williams boys 1928
Photo: Dave Houghton
Views: 4,336
Item #: 3569
Class photograph, St. Williams boys taken in 1928. My father, James (Jim) Houghton is in the centre, back row. No other names known
Comment by: Dave Marsh on 18th June 2007 at 21:47
You have some good old uns here Dave..Thanks for sharing them.
little boy right of picture stood in front of teacher is my grandad,edward dainty father of teddy,terry,roy,malcome,lavinia and linda dainty and husband to florance dainty nee clark
Comment by: marie on 4th October 2009 at 18:52
i think my dad Tom Prior is 3rd from the right back row
Comment by: josephine pennington nee beckett on 24th November 2009 at 01:37
i think the boy third row from front standing third from right is my uncle john mawdesley.
Comment by: Gerry on 14th January 2010 at 20:13
I have looked at this photo time and again but cannot decide which one is my dad.. he must be on here somwhere I wish he was still here to ask
Comment by: Lorraine Curran on 30th July 2010 at 23:11
My Grandad went to St Williams, he was called Albert Curran, if any one know is he on this photo. He was born in 1920
my dad went to st williams Thomas Cunningham does anyone no if he is on here..
Comment by: fred fleetwood on 23rd October 2010 at 07:02
Left side of the photograph , the elderly man with the moustache I think he was the Headmaster a Mr Marsh. I remember him sitting at a large desk on a raised platform. This would be around 1930. The photo of the lady teachers has Bill Blackledge at the end of the row. It was my impression that he was more interested in Rugby League than academics and I think that several students of my year played for England
Comment by: fred fleetwood on 26th October 2010 at 01:52
next to back row, rhs, could that be Bill Fleetwood Snr?
MY FATHER WAS BORN IN 1921 HIS NAME JOSEPH TOMNEY HAS ANYONE GOT ANY SCHOOL PHOTOS HE WAS BORN IN INCE WIGAN
HAS ANYONE GOT ANY PHOTO's OF THE GIRLS THAT WORKED IN THE COTTON MILL IN INCE WIGAN IN 1926 -1929 I AM LOOKING FOR A AUNTY,MARY ORMSHAW SHE DIED AGE 16 THANKS
Comment by: josie tomney on 18th March 2012 at 19:35
how can i found out if the school still keeps record of the
childrens names and age's
Comment by: Marian Yates parry on 27th April 2014 at 12:48
3rd row centre the boy looks uncannily like my bro Norman parry I'm hoping this is my dad Norman senior he was born 1924 and went to st Williams would be grateful if anyone has any info x
Comment by: Nicky on 9th June 2020 at 19:47
I think the boy standing in 3rd row from front, 3rd in from right looking at the pic is my grandad james mawdsley - he would be 13 when this was taken