Photos of Wigan
Photos of Wigan
Album Contents
Album Contents
Wigan Album
Wigan Grammar Schools
3 Comments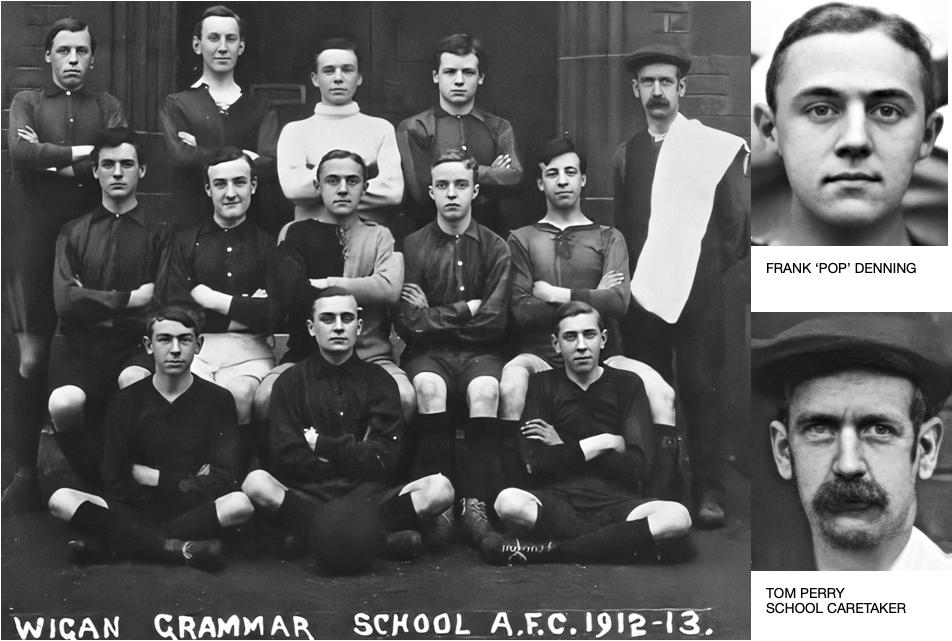 Wigan Grammar School 1912 - 1913 Football Team
Photo: Keith
Views: 795
Item #: 33427
Thanks to Ron Hunt's posting I've been able to 'enhance' above photo.
A clear photo from 109 years ago allows good individual portraits, the two I've included are the only two so far named from the photo, Frank Denning, a teacher at the school for many years, and the school caretaker at the time, Tom Perry who seems to be assisting the team.
Comment by: Bluesfan on 25th November 2021 at 21:46
Wonderful photo well done Keith!
Comment by: Edna on 26th November 2021 at 23:46
Thank you Keith, a photo from 1912.Brilliant!!
Comment by: Keith on 27th November 2021 at 10:20
Thank you Edna and Bluesfan for those comments. I am conscious that not everyone approves of 'manipulating' photos or improving them as its referred to. However, when it's a good original, I feel its so gentle a tweek for a much better results I feel it's worth it.