Photos of Wigan
Photos of Wigan
Album Contents
Album Contents
Wigan Album
Whelley Secondary School
16 Comments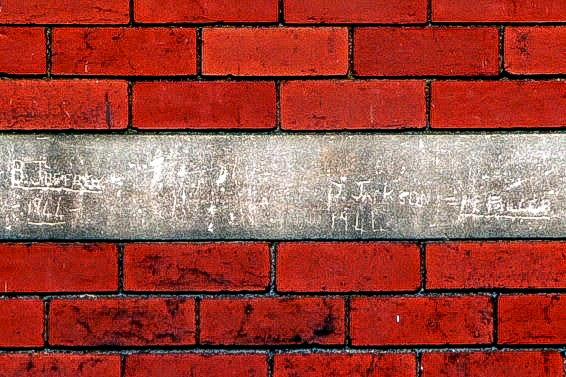 Historical graffiti...1940s.
Photo: stuart liptrot
Views: 1,593
Item #: 32789
Whelley Secondary School.
(pre- Obliteration...)
I like this. I remember our windowsill in Ince where my much-older brothers had carved their names. I also remember when the character Elsie Tanner left Coronation Street and she was reminiscing outside her house; we heard the voices of the children she was remembering and the camera showed a close-up of the windowsill and it said "Dennis Tanner" as if her fictional son had carved it as a little lad. I thought that was such a clever touch by whoever had thought of it. As I haven't watched Coronation Street since the 1990s, that obviously must have left an impression on me. Such a simple idea but memorable.
Comment by: Elizabeth on 21st November 2020 at 18:28
Like you Irene I also haven't watched Coronation Street for about 20+ years but I can remember Elsie Tanner in an early episode talking about starting her married life ias a very young woman in a caravan in Bamfurlong and she pronounced it with all the emphasis on the 'Furlong'.Weirdly some things which sometimes seem trivial do stick in your mind.
Comment by: Cyril on 21st November 2020 at 19:33
Irene, according to Wiki Pat Phoenix left Coronation St in 1984. Again a few years ago when Philip Lowrie returned to Coronation St to play Dennis Tanner as homeless man, it also showed a close up of him looking at and touching his name engraved on the window sill, again that too was poignant.

Remember us all going along to Marus Bridge to see Pat Phoenix and Tony Booth who were opening the show houses for a housing estate being built, it must have been either 1984 or 1985 because she died of lung cancer in 1986. I remember too seeing both of them practically chain smoking whilst drinking glasses of champagne, so no one there at the time who didn't know her could have realised just how ill she must have been - again according to wiki, she got through 60 cigarettes a day.

You're not missing very much at all these days Irene, Coronation Street has lost a great deal of the light hearted humour it was once famed for.
Cyril, I wonder if I am getting the episodes mixed up? The mind plays tricks as time goes on. Anyhow, the point is I remember the engraved name of Dennis Tanner on the windowsill and my feeling of how poignant that was. I watched the first episode in December 1960. I had just turned eight years old and I have just turned 68. I stopped watching it in the 1990s and the storylines and reviews I read in my TV Choice magazine doesn't make me want to view it these days! I will stick with my memories.
Comment by: Veronica on 22nd November 2020 at 07:42
In my opinion it's well past it's sell by date...so boring and repetitive. Same with Eastenders. I can't abide 'soaps'.
Comment by: Julie on 22nd November 2020 at 10:32
Me to Irene I would not watch that rubbish coronation street if you paid me stopped watching it nearly 3 years ago, its awful.
Comment by: Harry on 22nd November 2020 at 15:29
Things were never the same after they stopped showing Muffin the Mule and Bill and Ben. The domino effect happened and we later lost Play School , Jackanory and Magic Roundabout. That's why folk kind of gave up. Maybe one day, the powers that be will see sense, and bring back these programmes so we can all return back to normal again.
Comment by: Joseph on 22nd November 2020 at 17:17
It's no point looking back Harry, we aren't going thataway matey.
Comment by: Cyril on 22nd November 2020 at 18:08
Your mind isn't playing tricks Irene, Elsie on her departure did look at the engraved name on the windowsill of number 11, along with her memories being played.
Is that you, Our Joseph? How are you? xxxxxx
Comment by: Jarvo on 22nd November 2020 at 20:35
Irene: I think there is only me and you in Wiggin that remember Paradise Walk starring Murray Melvin as Sid.
Yes, I think we are, Jarvo. and he's still with us at 88. I caught something on telly recently completely by accident....I don't even know what the programme was....and both he and Rita Tushingham were talking about their parts in A Taste of Honey. I love him in that film.
Comment by: Jarvo on 23rd November 2020 at 16:17
A fine actor, Irene. And he was splendid in Barry Lyndon.
Comment by: Joseph on 26th November 2020 at 14:45
It is Our Irene. I'm fine thank you for asking, sick of all this lockdown malarkey to be honest. Hope you are keeping well, it's nice to hear from you again. Stay safe and keep smiling.

Oh and Happy Christmas.
I'm fine, Our Joseph, and it's so good to hear from you! We'll meet again, don't know where, don't know when......! Please pop a comment on now and again so I know you're okay. xxxxx
Comment by: Joseph on 27th November 2020 at 18:15
Will do, Our Irene. It's nice to keep in touch.