Photos of Wigan
Photos of Wigan
Album Contents
Album Contents
Wigan Album
St Patrick's Boys School
8 Comments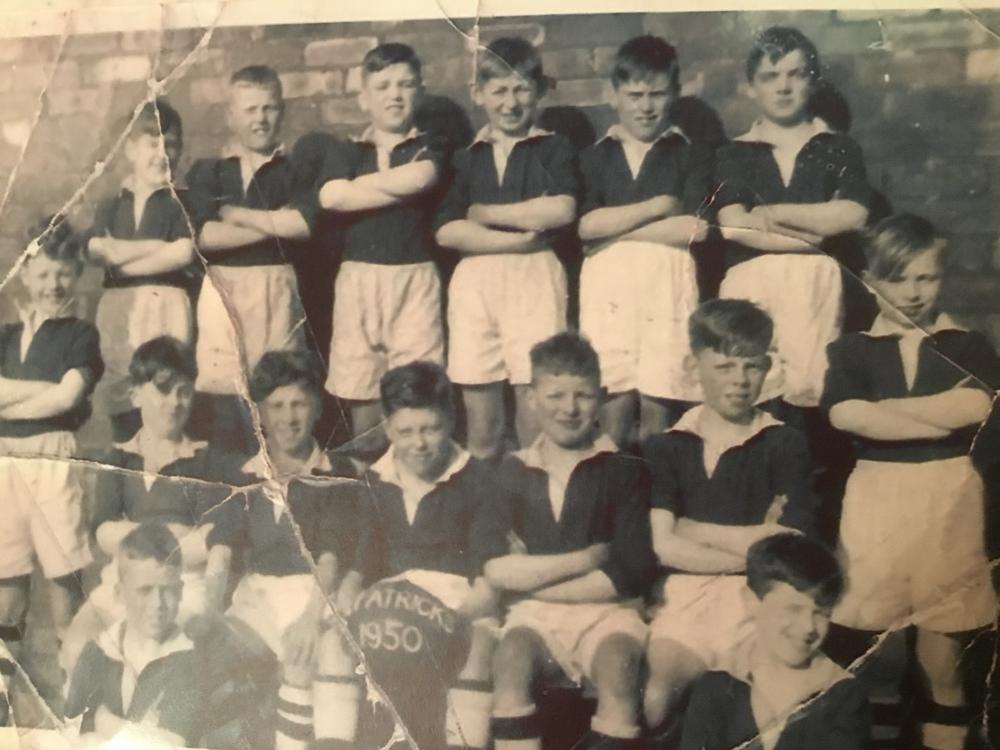 RUGBY TEAM 1950
Photo: TOM WALSH
Views: 1,280
Item #: 32709
Photograph of the boys rugby team 1950
Comment by: Albert.S. on 4th October 2020 at 08:54
Are you featured amongst these lads' Tom?.
Comment by: Thomas(Tom)Walsh. on 4th October 2020 at 12:58
Albert, I'm afraid not. My Dad was a very good Rugby player , playing for Leigh, Castleford ,Dewsbury, but it didn't rub off on me , I don't think I was tough enough ! Hope you and Veronica are keeping safe and well
Our good friend Joe Howe on the extreme right; still miss him.
Comment by: Bill on 6th October 2020 at 19:57
John O'neill 3rd from the right on the back row,television shop owner from Ince Bar and cricketer at Spring View.Top man.
Comment by: Dave on 7th October 2020 at 13:40
Probably won more games than they lost especially if the headmaster Mr McDermot was refereeing.
Comment by: Ackky on 13th October 2020 at 08:47
This photo is already on Wigan World posted by Jimmy Aspey, listed in St Patricks RFC, with all players named. The listing No is 20490, and it has been restored by one of the Wigan World readers, making it a lot more clearer than this one.
Comment by: Keith on 17th October 2020 at 19:34
Hi Tom, we seem to share not one but two similar situations. If you remember from an earlier post, you and I had our first glimpse of television around 1950 in the Meadows shop in Birkett Bank. Now you tell me that your father played Rugby League but you didn't, my own father also played Rugby league (10 years for Wigan and one year with Leigh) but I didn't. My excuse is that talent often skips a generation.
Would your father also be called Tom? If so then I suspect this is him in the "They played for Leigh" booklet by Michael Latham. Tom Walsh (Tot), a half-back who joined from St Patricks, played 1933 -35, made 67 appearances, scored 16 tries and kicked 43 goals.
Comment by: Keith on 17th October 2020 at 20:01
Tom, just to add a little to what I've already posted. I now realise our fathers opposed one another on the rugby field. My father played for Wigan (loose forward) and your dad guested (it was allowed in war time) for Dewsbury at scrum half. Dewsbury lost by a 14-25 aggregate defeat by Wigan in the Championship Final during the 1943–44 season; Tom Walsh played scrum-half, and scored a try, and 3-goals (1-goal, and 2-penalty goals) in the 9-13 first-leg defeat at Central Park, Wigan on Saturday 13 May 1944, but Harry Royal played scrum-half in the 5-12 second-leg defeat at Crown Flatt, Dewsbury on Saturday 20 May 1944.