Photos of Wigan
Photos of Wigan
Album Contents
Album Contents
Wigan Album
Hindley & Abram Grammar School, Hindley
12 Comments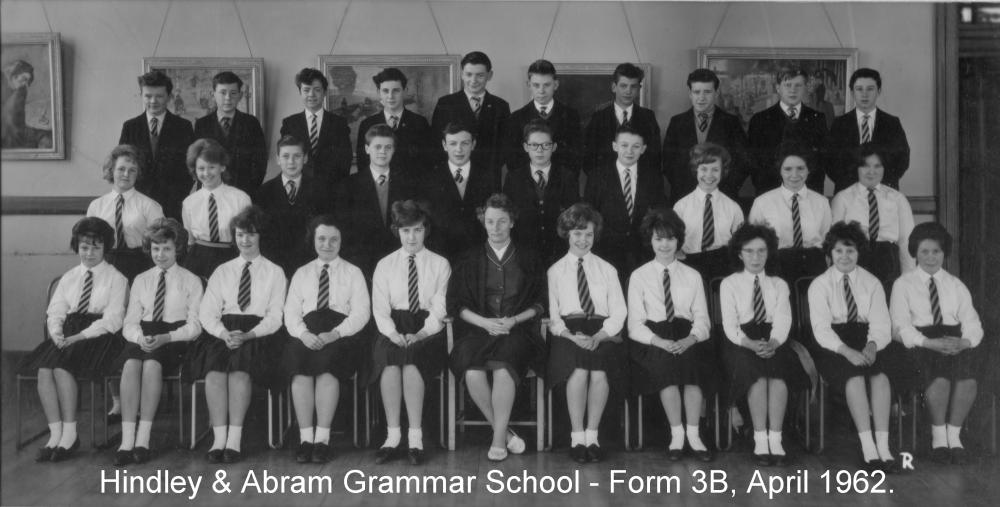 Hindley & Abram Grammar School - Form 3B, April 1962.
Photo: Maurice Gambles
Views: 891
Item #: 32685
Back, left to right : Keith Maiden, Maurice Gambles, Graham Tinsley , Rodney Simpson, Brian Sharples, David Ingram, Jimmy Butterworth, Raymond Derbyshire, Robert Twist, Peter Kay.

Middle, left to Right: Margaret Ingram, Eileen Jones, Brian Collier, Trevor Musket, Robin Green, Jimmy Westhead, Jim Rawson, Helen Pearson, Margaret Beckett, Marion Houghton.

Front, left to Right: Judith Bourne, Angela Anders, Jennifer Barlow, Dorothy Pomfret, Lynda Hilton, Miss Stabler, Elizabeth Pearson, Dorothy Gore, Barbara Houghton, Janet Meadows, Christine Rawlinson.

I think the names are right ? Thanks to Eileen, Jim, Keith and Norman for their help.

Two years before my time there. I went 1964 to 1969 but I remember those paintings on the wall in the school hall. I hated the painting on the far left.
Comment by: XPat on 8th September 2020 at 19:47
It was always regarded as a huge achievement
if you passed your scholarship and went to a Grammar school . Some on album ,say GS gave them a wonderful foundation for their future lives . I've often wondered how it compared to those like me who went to a secondary modern . Was GS the springboard for a higher paid job or was job satisfaction more important ? Talking with friends , we still say , such and such went to a GS . I'm just interested , if you would like to share , how going to a GS , boosted your future career prospects . It felt like the biggest test in world , the 11 plus , when I took it . If you passed your scholarship you became one of the special ones .
It didn't boost mine. I left in the fifth form and did shop-work all my working life, which is all I ever I wanted to do. My parents couldn't have afforded university, even if I'd had the inclination to go, which I didn't. Some of my primary school friends who went to the secondary modern used to call me a Grammar School Snob in the street, but it was THEM who turned their noses up at ME , not the other way round. They mocked me because I was taught French until The Beatles' "Michelle" came into the charts with its lyrics "Son let mots qui vont tres bien ensemble", then I was suddenly Flavour of the Month as they wanted to know how to pronounce it and what it meant. It taught me one of the biggest lessons of my life....people will mock your education until they want your help.
Comment by: Elizabeth on 8th September 2020 at 21:42
I can remember Judith Bourne as she lived in Ince.I attended here from 1962 to 1967 ,can remember us being called 'G S snobs' when waiting for bus home at the Bird,thinking we're just the same as you ! It wasn't really that commonplace for pupils to go on to university then,even if they were really academically bright.I do recall the Head announcing in assembly that one of the girls had been accepted for Oxford when I was there.
Comment by: xpat on 9th September 2020 at 12:30
Irene, I notice on the picture is says 3b. In your Gs did you have 1a, 1b 1 c in each form like we did in secondary modern ? We took a test to decide if you went into a, b or c class.
Comment by: TommyT on 9th September 2020 at 13:03
I saw nothing wrong with Grammar Schools and thought they were a great idea, cleverer kids could go on and learn how to be tomorrow's business people through a better education. Nowt wrong with that.
xpat, in the first year at Hindley Grammar we were put into forms 1a, 1b and 1c but it was nothing to do with ability. At the end of that first year we were assessed and from form 2 onwards we were in 2a, 2b or 2c, and those placings WERE based on our ability and we stayed in that stream for the rest of our time in school. I think there was a different system in the sixth form but I left in the fifth.
Comment by: John G on 9th September 2020 at 18:59
TommyT: To a certain extent I agree with your comments, but it always puzzled me why most of the boys&girls that I knew always said they hated it, one young lad hated it that much he came out of grammar school to our secondary school. And this reflected in the careers some got,motor mechanics, wagon drivers, shop worker, bus drivers. Now don't get me wrong if that's their choice so be it, but I always thought when I was younger that's our level of achievement, I put grammar school kids down as, chemists, Doctors, managers of industry, some one who invented the longer lasting lightbulb. Then one lad I knew told me that in grammar school if you showed signs of academic capability the system would push you forward, but if you did not show capability they would push you to one side and just go through the motions. Yet I knew two young women who loved grammar school, and started work in the insurance industry. Just goes to show, that's life.
Comment by: XPat on 9th September 2020 at 20:36
Thanks Irene , that's interesting . So even in GS there was a, b & c . From 2nd year in your school .
I was in a a class in SM school which always surprised me because I was as thick as a plank . I always wondered about the c classes .
They were always playing football in the playground during lessons , far more than any other class. We only got to play when there was no teacher , they got to play even when there was one ?

John G , that is what I have been thinking about . GS education is one thing and the teachers can try to bring out that potential in a students , but the plain fact is , like you say , whether by choice or some other reason , far more I believe don't carry through that potential . I have often imagined a meeting between a teacher and his/ her former student , a student who was very talented , and being told they are now a bus driver ( no disrespect ) or working happily in Tesco's . Should the teacher be disappointed ?
The same applies to today's universities . Some women will go on to achieve great things but even more will have their talent counter balanced with child care responsibilities .
Life is a roll of the dice no matter school you go to . I still wish I had been clever enough to have gone to a Gs , they always had aura about them , a bit special if you like .
Comment by: Dave on 12th September 2020 at 12:07
Some people didn't agree with 11 plus simply because children develope at at different ages, i certainly found that to be my experience think grammar schools are great but not necessarily the be all for a successful future.
Comment by: Edna on 15th September 2020 at 22:25
There is no greater injustice than to give a chlld a poor education. By giving every child a good education, we will liberate them from a culture of low expectations, low self- esteem and lack of confidence that has sapped the energy and damaged the lives of so many in previous generations... This is the foundation for success.
Comment by: Elizabeth on 16th September 2020 at 12:24