Photos of Wigan
Photos of Wigan
Album Contents
Album Contents
Wigan Album
Low Hall Primary School
5 Comments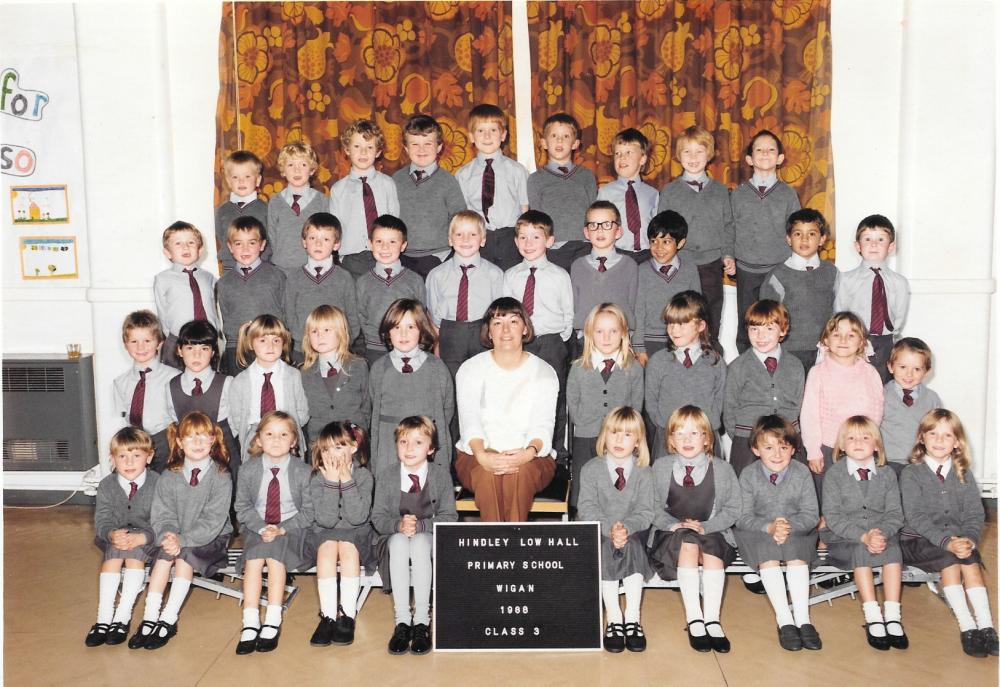 Mrs L Dearden's class 1988
Photo: Graham Leigh
Views: 1,041
Item #: 32657
Front Row (l-r)
Lauren Farrimond, Claire Prescott, Cheryl Knight, Melanie Johnson,
Lisa Eley, Michelle Johnson, Emma Moran, Gemma Parry,
Leanne Hibbert, Tammy Griffiths
Second Row
Mark Howard, Adele Gregson, Joanne Barnes, Lesley Makin, Alexandra Bates, Donna Prescott, Jamie Lillis, Christina Nash,
Kerrie Daniel, Craig Wood
Third Row
Graham Leigh, Jason Holgate, Matthew McGuire, Marc Hampson, Andrew Moseley, Lee Paterson, Ian Roberts, Yahya Bhatti,
Anthony Hill, Scott Warrington
Fourth Row
Craig Croston, Michael Harris, Anthony Aldred (Newman),
Andrew Silcock, Craig Williams, John Sweeney, Christopher Bullock, Jodie Heaver, Ian Togher
Comment by: Albert.S. on 21st August 2020 at 10:46
Quite a large class Graham, thirty nine pupils. 1988. The year that I retired from the police service, after thirty years.
Comment by: vicky on 22nd August 2020 at 11:19
Mrs Dearden was my teacher at St Georges primary, Windsor St, in 1978/9. She was Miss Walkden before she got married.
Comment by: wigginlad on 22nd August 2020 at 16:45
To think, these kids will be almost forty years old by now. Moved on and upwards to places new. It brings back the memory of my early school days when I would be their age, over 65 years ago now. There is only one thing in life that frightens me and that is the speed of it. Great photo, well presented kids too.
Comment by: Owd viewer on 27th August 2020 at 22:43
Worked with Scott Warrington from 2008-2018,good mate, and nice lad.
Comment by: Michael Leigh on 2nd September 2020 at 23:17
I remember Mrs Dearden Graham, and a few of those young faces with you. Although I was already in high school by then.

And you still need someone to fasten your tie for you!