Photos of Wigan
Photos of Wigan
Album Contents
Album Contents
Wigan Album
British/Evans school Ashton in Makerfield
9 Comments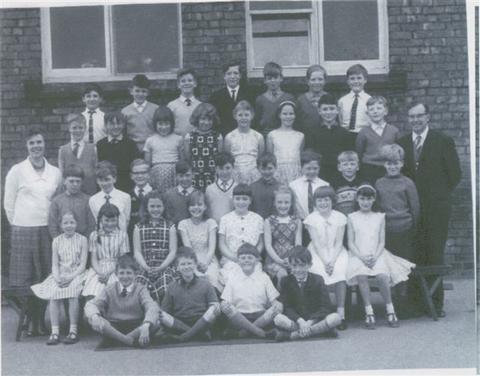 British/Evans school Ashton in Makerfield
Photo: Karen
Views: 5,620
Item #: 3220
Not sure of the year, could be late 50's early 60's???
i think this maybe 1965 i am on the 4th row 7th from the left
Comment by: pfoster on 11th November 2007 at 19:12
my brother kevin is in this photograph
3rd row from the botom, second boy from the right
Comment by: edith scully on 24th February 2008 at 14:50
sister of above & kevin scully.Head teacher on right mr pilling,i last saw mr pilling with wife also a teacher at evans march 2005 in wigan infirmary,looked just the same but only a little older
I recognise a few in this photo, my brother Henry Wright is on back row, centre. Barry Foster, second from right, back row. Edith -which is your brother. Would be nice to hear from Edith, we were in same class and good friends.
Comment by: P Foster on 27th April 2011 at 23:46
Hi Janet, Edith has now got the cafe in Ashton opposite the Robin Hood.....SCULLY'S
i think my dad is the one on the top row, right hand side(i may be wrong as its not all that clear on my screen) john cavill. i work in the building and was chatting to dad about his school days this mornion the way to work. im sure i have another picture. i will find it and put it on
Comment by: whups on 14th November 2013 at 12:47
looks like brian starkie & brian stanley midde 2 bottom row sitting . i was in henry , barry & both brians class at the central school.
Comment by: whups on 15th April 2014 at 15:35
kevin scully was my half cousin.
Comment by: P Foster on 19th March 2018 at 22:52
Hi Whups. 15th April 2014 you left a comment - how are you the half cousin of Kevin Scully?