Photos of Wigan
Photos of Wigan
Album Contents
Album Contents
Wigan Album
British/Evans school Ashton in Makerfield
9 Comments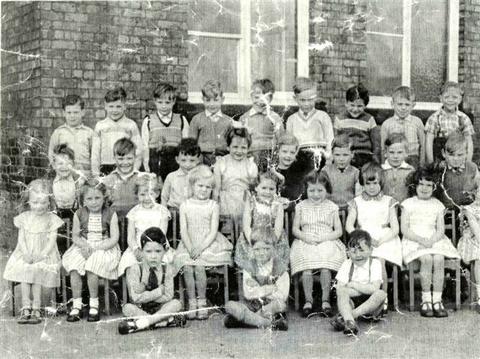 British/Evans school Ashton -in-Makerfield
Photo: Karen
Views: 6,623
Item #: 3219
Not sure of the year??? Maybe late 50's
I think it maybe 1959 or 1960 as i am on the third row 6th from the right
i am on the 3rd row 6th from the left and i think it is 1959 or 1960
Comment by: Nutty Tart on 16th January 2008 at 00:48
Can you not name any more Sheena?
Comment by: Sheena Mills on 4th February 2008 at 16:59
These are who i can name,david prescott,john hudson,james pennington,les cobley,john clark,brian starkie,shirley porter,sylvia speakman,edna bridge,gillian cunliffe,lynn woods,barry foster,brian stanley.
Hi Sheena, Can you point out the lads you mentioned - David Prescott & Barry Foster. These were friends of my brother - Henry Wright - but it hard to recognise people.
Comment by: sheena on 21st February 2011 at 17:49
hi janet david prescott is back row 3rd from left barry foster is middle lad sittin on the floor
That is Michael Pilling ( me ) sitting on the floor with the white
shirt. The year would be around 1964 as we all went to secondary school in 1966
top right- john clarke 2nd in from right- leslie? 3rd in-james pennington 5thin john hudson 7th in-david prescott. 2nd row 3rd in from right is me, 5th in- shirley? 6th in andrew fairless 2d row on left- brian starky. front row far left- laura lankton? bottom row crossed legged left-arthur?think girl 3rd row 4th frm right is sylvia?. would like to hear all your comments.
I know it is a few years ago since this photo was shown but the boy on the second row second one in from the left is Colin Selby