Photos of Wigan
Photos of Wigan
Album Contents
Album Contents
Wigan Album
St Benedicts, Hindley
16 Comments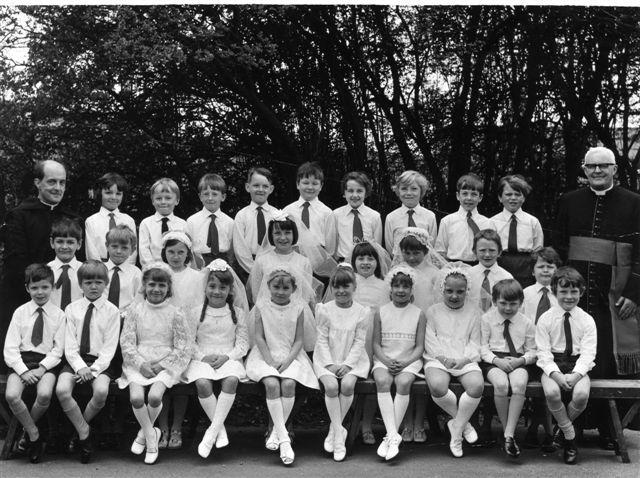 1st Holy Communion
Photo: maurice tyrer
Views: 7,415
Item #: 3203
1st holy communion in 1972.
cant believe it,first time on this site & i find a picture of my youngest sister magaret,she is sat 3rd from left on the front row.
thats my sister annmarie holmes on the middle row,third from the right.
Comment by: John Davies on 27th April 2009 at 20:12
i am the ugly mug sat at the end mid row (right)
Comment by: Maureen Andrews [nee Mcgovern] on 17th July 2010 at 19:29
There's my nephew Michael left on the back row.
Comment by: Paddy Bourne on 23rd January 2011 at 20:38
Back Row - Father Darcy, Michael McGovern, Andrew Tyrer, Gary Walls, David Fowler, Terry Pierce, Mark Ditman, Michael Brockbank, Ian Rimmer, Paul Kenyon, Monseigneur Marsh.
Middle Row - Terry Dunn, ???, Lesley Unsworth, Bridget Fanning, ???, Ann-Marie Holmes, Anthony Brown, John Davies.
Bottom Row - Andrew Gaskill, Stephen Caterall, Margaret Tootill, Jacqueline Murphy, Susan Rigby, Sharon Thorley, Lorraine Corrigan, Joanne Armer, Patrick Bourne, Andrew Gleaves. Sorry If I have mixed anyone up but my best guess. - Paddy
Comment by: Ian Rimmer on 17th March 2013 at 08:16
Paddy, you got them all right. The ones you missed where Carl Evans and Julie Rigby.

I was looking for for something else and find myself....scary or what..!!
I am attempting to trace the wherabouts of Michael Brockbank??
Comment by: shaun on 20th August 2014 at 20:52
im micheal brockbank brother ruth hes living up wigan lane near cherry gardens
Comment by: Ruth Slater on 6th April 2015 at 23:52
Comment by: Ruth Slater on 16th April 2015 at 22:36
That should have read Shaun.. Could he possibly contact me on 07896412498 thanks
Comment by: Ruth Slater on 14th April 2016 at 23:34
That should be 07896412598
Comment by: paul kenyon on 5th May 2016 at 15:09
i.ve no idea who is next to terry dunn,but the one to the right of bridget fanning is Julie rigby
Comment by: Paul Roberts on 2nd August 2016 at 13:45
Is that the same Terry tin o beans Dunn deposed from his council duties for being daft
Comment by: Annemarie Lindberg on 8th January 2019 at 11:29
On the front row its actually Lorraine Corrigan and then Sharon Thorley. Great photo!
Comment by: Martin Davey on 16th February 2021 at 16:39
I remember the first time I saw Jaqueline Murphy at Cardinal Newman School, she had the most beautiful eyes I had ever seen. She sent a valentines card to me at school (Cardinal Newwman), and her friend asked if I would go out with Jaqueline. I said no, because I wasn't ready for all that stuff, I was to busy being stupid and playing sports. I probably hurt her feelings, but I never forgot her, sorry Jaqueline.
.