Photos of Wigan
Photos of Wigan
Album Contents
Album Contents
Wigan Album
St Benedicts, Hindley
14 Comments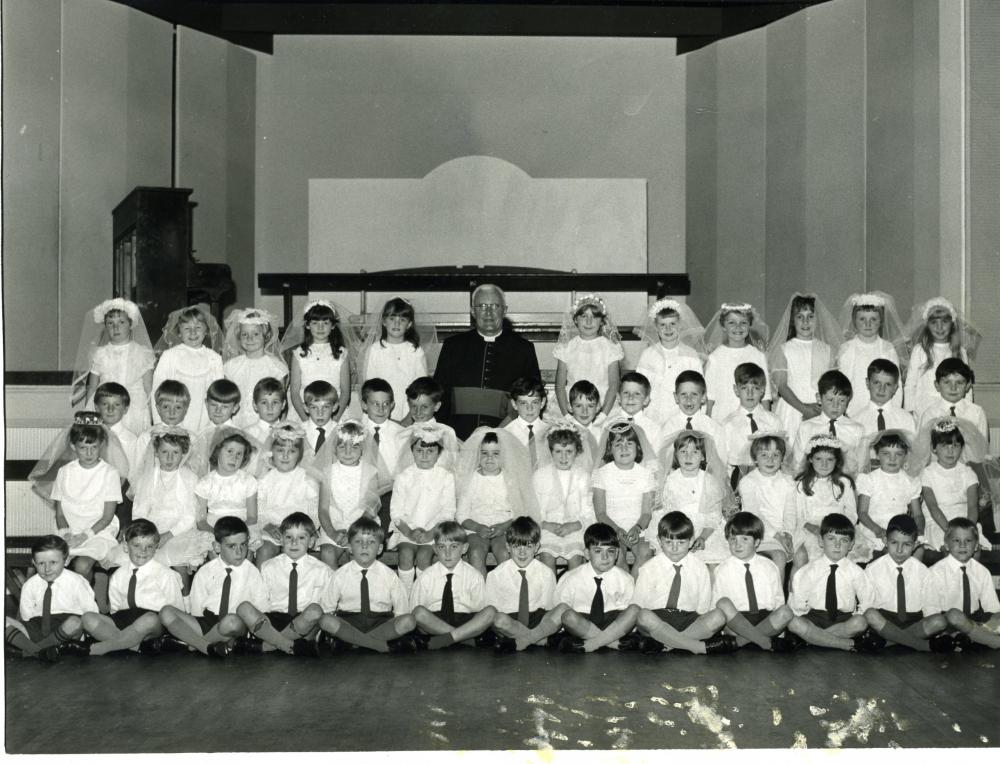 1st Holy Communion.
Photo: maurice tyrer
Views: 10,866
Item #: 3202
1st Holy Communion in 1968
Comment by: Paul Dutton on 10th February 2009 at 14:50
I recognise one or two in this photo. I am the one 10th from the right on the 3rd row, same row 2nd from right Joe Disley, 4th from right Donald Graham, Front row 1st from right Pete Wheatcroft and 2nd Gary Horton. Happy Days
Comment by: chris on 4th April 2009 at 23:13
5th on right is shaun wharton
Yeah Paul great days and indeed lots of great memorys of what was a happy time. Remember a lot of people in the photo including Gary, David maloney Christine Moore, Francis RigbyThe Sweeney twins, yourself and lots more i wonder if we could put names to all the faces? I always remember Monsignuer Marsh saying that we would look back at these photos with fondness in later years.
Great stuff Donald its good to hear from someone else on the photo. A few more names i remember are Stephen Cunningham, Mark Winstanley, Martin Rigby, Chris Ford, John Gaskell, Joan Gurry, Pauline Jervis
Well Paul heres a couple more that have come back to me Katherine Jackson, Carolyn Harrison,Paul Bennett. Hopefully one or two others in the photo will see this and be able to add to it.Maybe also of interest I have two school football team photos from 71 and 72 with you and some of the others from the 1st communion photo also in
Comment by: Paul Dutton on 14th July 2009 at 13:59
Donald it would be great if you could somehow post the two football team photos on this site then it would be a challenge to name all the players
Comment by: Frances Johnson on 24th August 2010 at 22:58
Have tried to recall as many names as possible - here goes..
Front Row: John Gaskell, David Maloney, Joseph Summers, Stephen Cunningham, Paul Bennet, Stephen Prescott, Andrew Seddon, Brian Walsh, Paul Southworth, Unknown, Stephen McGivern, Gary Horton, Peter Wheatcroft. 2nd Row: Joan Gury, Unknown, ? Martindale, Pauline Jervis, Catherine Donnelly, Sharon Draper, Julie Rigby, Ann McGowan, Karen Hewit, Sylvia McHugh, Susan Tyrer, Deidre Cummings, Julie Bushel, Teresa Casey; 3rd Row: Paul Marshall, Mark Winstanley, Unknown, Martin Rigby, Philip Culligan, Paul Dutton, Adrian Matthews, Michael Ballard, ? Ditman, John and Austin Sweeney, Donald Graham, Simon Kerwin, Joseph Disley and Paul Dickinson. Top Row: Catherine Hough, Julie Pearce, Marie Rigby, Carolyn Harrison, Christine Baldwin, Monsignor Marsh, Carolyn Wright, Helen Regan, Christine Moore,, Kathryn Jackson, Vicky Carol and Frances Rigby. Phew!!!
Comment by: Frances Johnson on 7th September 2010 at 21:49
Middle row should have read Jan Rigby not Julie Rigby and Anita Draper and not Sharon Draper
Comment by: Paul Dutton on 8th September 2010 at 14:02
The unknown boy on the front row i think is Christopher Ford
Comment by: Vicky Hanlon (Carroll) on 19th December 2010 at 15:40
I remember Father Marsh !!!!!!!
Comment by: Donald Graham on 11th January 2012 at 15:18
Excellent memory Frances, its great to be able to put names to faces again.
Paul sorry its taken me so long but hopefully you are still checking the site out and will see the two football team pictures are now on the site. Have fun seeing if you can name them all, think Frances helps here,at least with the 1972 team.
Comment by: Cathrine Hickey (Hough) on 16th March 2013 at 22:39
I think that the unknown and ? Martingdale are Anne-Marie Martingdale and Marie Martingdale.
Third row second left was me Ann Marie Martindale (now stewart)
Brings back good memories. Maybe there should be a class reunion! I hope everyone is well.