Photos of Wigan
Photos of Wigan
Album Contents
Album Contents
Wigan Album
Moss Lane School, Platt Bridge
12 Comments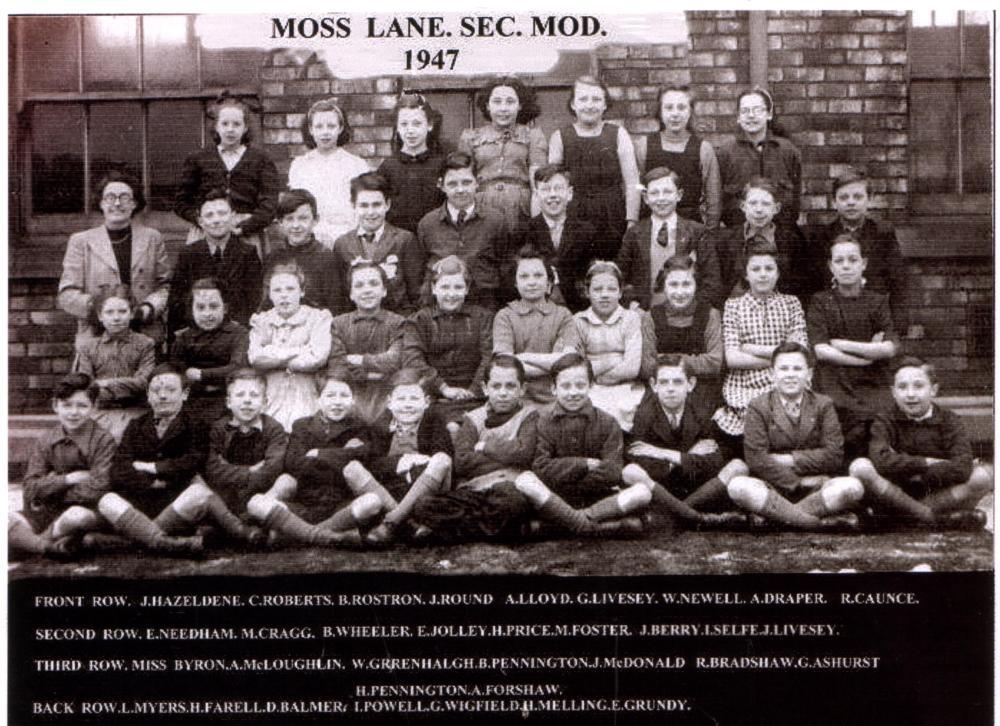 Moss Lane School, Platt Bridge, 1947.
Photo: Harry Pennington
Views: 5,377
Item #: 302
Moss Lane School, Platt Bridge, 1947.

I am second from right on second row from back.
Although I went to Moss Lane in the early 50's some of the faces are familiar expecially Mrs Byron who taught English. Mr Rimmer was the Headmaster in the 50's. Would be lovely to see more photo's of the old school. There must be some out there, hopefully!
i was at scool in the 50 would love to hear from anyone who was there at the time
Comment by: Ruth on 21st February 2009 at 13:02
Hi Brenda. Only just seen your comment on this photo. I have left a comment on the other one. It seems ages since I first put the picture on and hardly anyone has responded. I think I remember you. Did you have at least one other sister? It would be nice to hear from anyone who was there when we were. I keep checking every now and then just to see if anyone else has made comment. All the best.
i remenber brenda wheeler,it would be nice to hear from her after so many years have gone by.
Comment by: HARRY PENNINGTON on 19th July 2009 at 09:39
THE SCHOOL HAS GONE,A NEW SCHOOL IS BUILT,IT IS NOW KNOWN AS BAD LADS SCHOOL.ALSO ST.NATS PRIMARY AND JUNIOR HAVE GONE WITH NEW ONES BUILT
Billy Morgan your name sounds very familiar.
Where are you?
I remember other faces from this class.
Back row third from left is my cousin Doris Balmer she has since passed away, as I live in Australia it was really nice to see her, she married a Jimmy Barton
Comment by: David Connolly on 29th January 2014 at 20:42
That's my mum second row second one in from right Irene selfe ( Connolly)
Comment by: Lisa Unsworth on 28th April 2015 at 00:22
Jimmy Barton is my nans brother .Edna Barton xx
Brenda Bennett, I was in your class, Brenda Wheeler, remember you as well, is Stuart still around,my sister Hilda is on this photo, she died in 1951 , Harry Pennington do you know what happened to Tony and Terry Fairclough
Comment by: Ian B Graham on 11th December 2015 at 22:15
My sister Maureen Graham attended this school in the late 40s or early 50s then we moved to Rochdale in 1953, sadly she passed away in 1991 aged 52, we lived at 572 Liverpool Rd, I went to St Nats primary.....
Comment by: Wigwann on 16th November 2019 at 02:01
I just saw your posting Graham, my gt grandparents Beesley lived at your address from 1900's. Great Grandma Beesley died in 1941 but was living farther down Platt Bridge at the time.