Photos of Wigan
Photos of Wigan
Album Contents
Album Contents
Wigan Album
Argyle Street Council School
9 Comments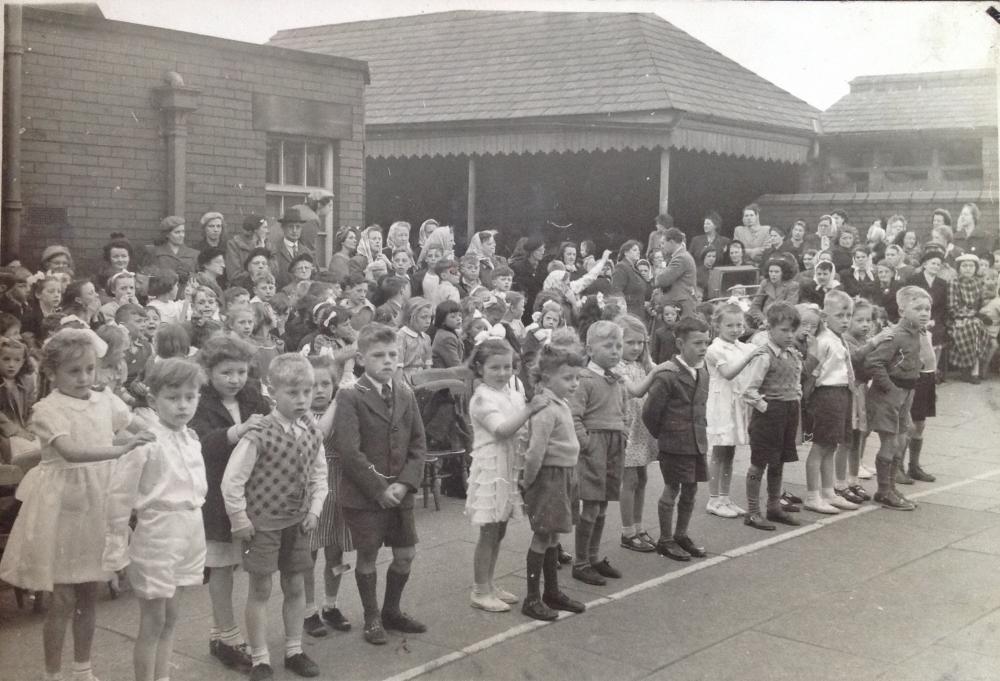 Coronation celebration event at Argyle St. Junior school 1953.
Photo: . Ozymandias .
Views: 1,699
Item #: 29707
This photograph very closely resembles another one contained within this category.
Comment by: Julie on 9th September 2017 at 17:33
Super picture Ozy, amazing clarity . Love the numerous and different expressions. One of those pictures that asks you to look ever so closer.
Thanks for posting Ozy
Comment by: Jinski. on 10th September 2017 at 00:08
Ozy.very smart turn out.looks like most of lads have Black Pumps on,not a Clog in sight.I had my Tonsils out on that day.
Comment by: Poet on 10th September 2017 at 00:17
Very evocative image indeed. You can almost hear this photograph.
Comment by: Sonia on 10th September 2017 at 09:57
Fab photo ! Went past this(now rebuilt) school yesterday, you can still see some of the old original wall and gateposts.
Comment by: Veronica on 10th September 2017 at 10:02
The day of the Coronation I remember vey well mainly because of the party in St Pat's school hall. Children were dressed up as various characters- the 'queen' in a long frilly dress and train,with another child as her husband in a sailor suit! Every child received a cup with a picture of the queen on it. Most people kept these cups for years- i'm afraid mine didn't last. I have seen these cups on sale in various antique shops and thought I must buy one - but it wouldn't have been the same somehow - it wouldn't have been the original one! A great show was put on even though it poured down with rain! It was all very patriotic -with a great deal of flag waving and bunting hanging across the streets. I remember wearing a red and white striped dress -white 'peep-toe' shoes and a paper crown. I recall the actual crowning ceremony shown on Pathe News at the Scholes Picture House as we didn't have a television. People actually bought TV sets just to watch the queen being crowned- how very different times were then.
Comment by: DTease on 10th September 2017 at 10:55
Why are all the girls stood behind the boys? Is it to stop them making a run for it ?
Comment by: . Ozymandias . on 10th September 2017 at 11:03
Among the images listed under the heading Argyle St. Council School, of which there are currently 27, there is another photograph that records this same occasion. Taken professionally it would seem, and by the same photographer presumably, it shows the children in a somewhat more relaxed attitude. Incidentally, the little girl in the front row in the dead centre of this frame wearing the frilly white frock, just happens to be the daughter of Mr. Jackson, who's photograph currently appears immediately to the left of this one. Or to be more precise is listed as item #29708.
Comment by: Pw on 12th September 2017 at 11:40
This looks like the Senior school boys play ground with the bike shed in the background with toilets to the right or them
Comment by: . Ozymandias . on 12th September 2017 at 19:25
I never actually attended this school Pw, but I have it on good authority that your comments are accurate.