Photos of Wigan
Photos of Wigan
Album Contents
Album Contents
Wigan Album
St Patrick's Boys School
9 Comments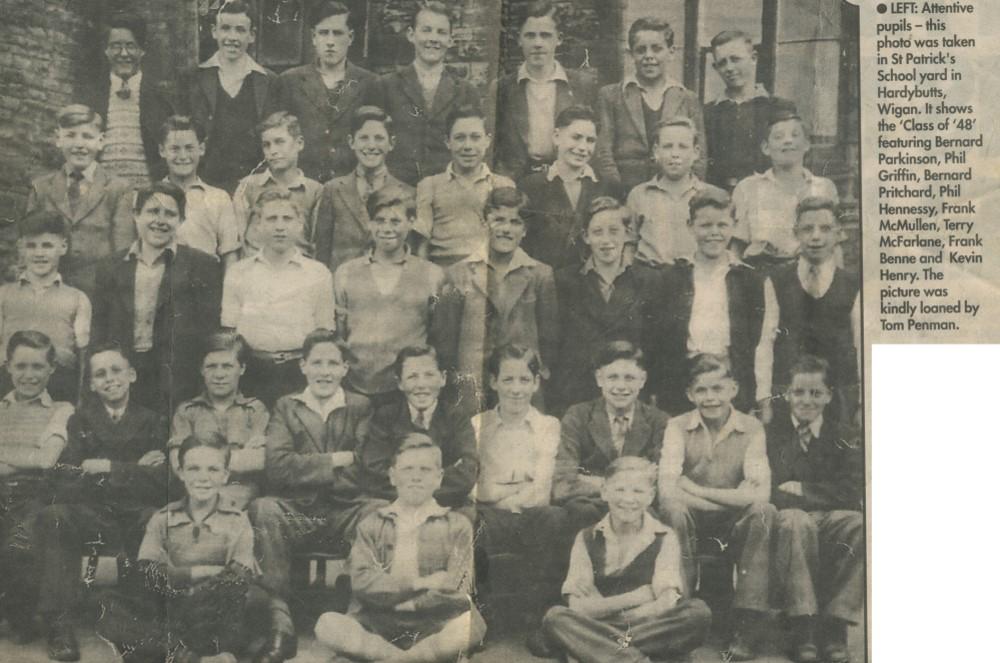 Boys Class of 1948
Photo: RON HUNT
Views: 2,658
Item #: 29190
Thanks to Tom Penman for the photograph
Comment by: Eddie rowland on 24th March 2017 at 18:35
Would third from left be terry macfarlane he was a year or two older than me,he was the older brother of charlie macfarlane who was in my class at st patricks school,he died at the age of 22.
Comment by: AB on 26th March 2017 at 19:07
Surprise to me ? It is nearly 70 years since I saw Bernard Parkinson but I think he is sat in the middle of the front row
Comment by: Ed on 27th March 2017 at 21:15
Could anyone say spot on what the ages of these schoolboys be.
Comment by: Ed on 30th March 2017 at 21:50
Does any of you older ones from st pats school remember jigsy jackson,well known in the scholes area in the early fifties.
ed, i remember jigsy jackson , i lived in wellington st jigsy lived in ashton st just off wellington st
Comment by: Ed on 13th May 2017 at 01:19
Nice to hear from you john,so there is some of the old boys from st patricks school still around.
Comment by: Rowley on 14th May 2017 at 23:20
The boy in the middle row fifth from the left is george harris older brother.
Comment by: Ed on 4th June 2017 at 23:29
Does any of you older ones from the scholes area remember chissy gerard the fighter from the fifties.
My Dad is 3rd row down, 2nd from the left. James Quigley born 1934. We've only just found this photo mum loves it. Dad died 2015. We moved to Mansfield in 1967, for the mining. I am one of 4 children. Married to Margaret then Crosby from Hindley Green.Love the photo.