Photos of Wigan
Photos of Wigan
Album Contents
Album Contents
Wigan Album
Ashton Grammar School
10 Comments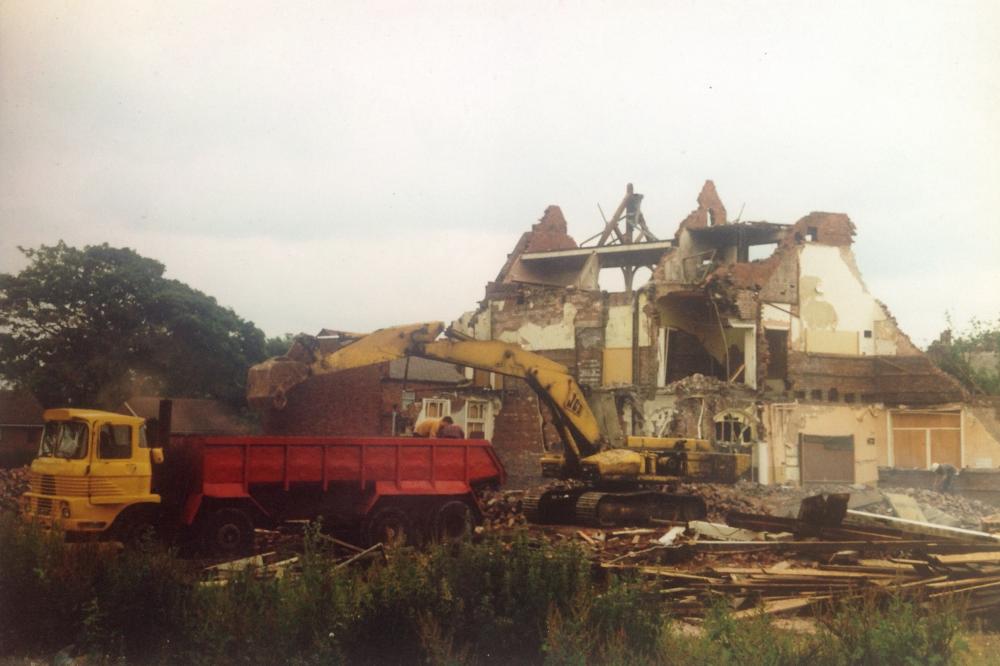 Ashton Grammar School.
Photo: . Ozymandias .
Views: 2,417
Item #: 28571
Demolition of the headmaster's house. c.1980. I believe the last headmaster was Kenneth Allan.

Photograph courtesy of Bob Grundy.
Comment by: Garry on 30th October 2016 at 07:11
Comment by: whups on 30th October 2016 at 11:59
was this the old central school upper school ?
Comment by: . Ozymandias . on 30th October 2016 at 17:52
I suppose you're sort of right in a way whups. What was commonly know as the Central school, or Ashton secondary modern, was, and actually still is, situated on Cansfield grove, although I believe it's now called Cansfield High. This particular building, or what remains of it, was on Wigan road, at the junction of Old road and facing Nichol road. They closed the place down in about 64 or 65 and moved to Byrchall High ( don't we just love to copy the Yanks when it comes to naming stuff ? ) in Warrington road, opposite the ' Dull Pick '. The two school playing fields, were, prior to the closure, divided by a shallow ditch, which was traversed by a wooden bridge, although I never witnessed anyone from either school ever venture across the bridge onto alien territory....Bizarre.
Comment by: AP on 30th October 2016 at 20:31
ditch? That's Jack Brook!
Comment by: . Ozymandias . on 30th October 2016 at 21:27
Now that you've mentioned it AP, The name Jack Brook does seem familiar. But isn't it amazing the amount of everyday things that pass unnoticed, or is it just me ? I've just been on street view and discovered that the bridge on Old road that crosses Jack Brook is called Knowes, or possibly Knowles Brook Bridge. The photograph is a little indistinct. I'll have to check it out next time I'm passing. I must have crossed the bridge hundreds of times without noticing that. Although my Father did used to tell me that I had a tendency to go around with my eyes closed. The stream would now appear to have been covered over by the school swimming pool however. I can't imagine where it springs from and where it empties into as the A49 to the east and the M6 to the west ( assuming the M6 runs north to south ), would both be much lower. The only explanation that I can come up with would be that it somehow finds its way into Millingford Brook, down in the Skitters possibly. Anyway, having time on my hands, that's a nice little project to keep me occupied for the winter months.

Regards. Ozy.
Comment by: AP on 31st October 2016 at 00:13
Half a century since I was there, but the brook used to cross A49, (Near Eavesway Garage, I think) and flowed round the park, next to The Strand. I cannot place its confluence with Millingford, but it is heading in that direction.

I never saw any of it to West of Old Road. Would it have been in a culvert? It seemed to be descending in the direction from Spindle Hillock.
Comment by: Ab on 31st October 2016 at 10:10
If this is the same school that was on the corner of Wigan/Old Rd and facing Nicol Rd, then it can't have been demolished in 1980 because that particular school, or most of it, was still standing (albeit very derelict at the time) in the late 80s/early 90s.
Comment by: whups on 31st October 2016 at 12:25
yes ap , i went to it until 1970. the central school was split between the upper & lower schools & it was the old grammar school which was called "the upper school"on old rd with a couple of prefab buildings & the air raid shelters behind them.
Comment by: . Ozymandias . on 31st October 2016 at 17:36
You're right AP, I checked it out today. The brook is piped under the A49 at the side of what used to be Eavesway's garage as you stated, although it obviously isn't visible at this point. Neither is it open to the sky any more as it traverses the Cansfield high school.It becomes visible intermittently as it flows through Jubilee park. It then follows the perimeter of the playing fields at the rear of the old British school before making a sharp turn to the south to run parallel with Bolton road then disappearing again in the vicinity of Armoury bank. At this point it's less than 100 yards to Millingford brook so I assume the confluence of the two streams would most likely be underground, in the centre of Ashton. As for the western end, as you say, there isn't any obvious sign of a stream. Just houses, but it would appear to parallel Wolmer St. Further investigation is called for obviously. Sorry whups, I'd completely forgotten that the old grammar school site continued to be used by the Central school after they had relocated to Warrington road. Apologies.

Regards. Ozy.
Comment by: nyce horse on 31st October 2016 at 22:30
That brook was the scene of many epic snowball battles between the Grammar and Secondary Modern kids.