Photos of Wigan
Photos of Wigan
Album Contents
Album Contents
Wigan Album
Warrington Lane Infants School
11 Comments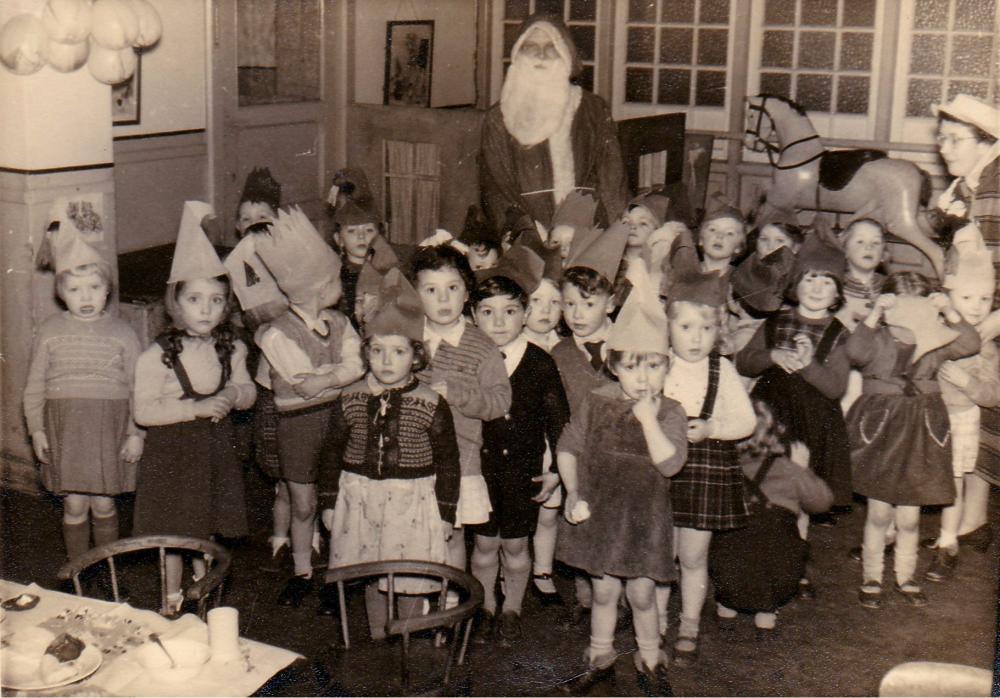 Warrington Lane Nursery School, 1955
Photo: Dave Cockrell
Views: 2,433
Item #: 27665
Christmas Party at Warrington Lane Nursery School. That's me in the front with the dark cardigan and trousers. No idea who anyone else is in the photo apart perhaps that the teacher on the right could be Miss Fish.
Comment by: Stuart on 4th March 2016 at 18:12
Comment by: Carolaen on 4th March 2016 at 18:21
Gosh Dave you almost had your Beatles hairstyle even then. For those not in the know Dave was always a very with it guy at WGS in the 60's
Comment by: RON HUNT on 4th March 2016 at 18:29
I went to Warrington Lane Infants and Junior school. I left in 1953 I would be 7 or 8? Miss Thomas.............She didn't like me and I didn't like her. One of the reasons my parents moved me to another school. I also remember another teacher who I didn't get on with named Derbyshire he moved to Pemberton senior school later.
Comment by: Stuart on 4th March 2016 at 22:23
Miss Thomas was the headmistress, I also remember a Mrs MacFarlland, Mrs Dowling, Mrs Fish and Mr Brittan
Comment by: Dave Cockrell on 5th March 2016 at 11:26
There was also a Miss Outram in the Infants School. When we moved to where we now live about 20 years ago, I found out that Miss Fish actually lived next door, but sadly she'd passed away about six weeks before we moved. Thanks for the plug Carolean, who ever you are....
Comment by: AB on 5th March 2016 at 12:14
I attended Warrington Lane.During the war. Went to school with my gas mask and took part in "air raid" practices. Assembling in the shelters under the railway arches
Comment by: Vb on 5th March 2016 at 13:33
Two little children have caught my eye! One is crouched down with her back to the camera! Another little one who is more concerned with fixing her paper hat! I remember well the style of clothes the children are wearing -typical 50s style. Was this school where Lidl is now? I seem to remember the railings in front of the school.
Comment by: Albert. on 7th March 2016 at 09:41
My cousin, Margaret Short, went to this school, very late forties, early fifties.
Comment by: Carolaen on 7th March 2016 at 18:11
Hi Dave No bother. You were a year older than me at WGS but I ended up in some classes that your were in , most notably Wes/Gem Hall's A Level geography set. I also went on the 1966 school skiing trip to Montreaux which I think you also did. I left Wigan after school in 1970 and never lived there again - work etc.

I'm afraid I stick to a pseudonym these days as a few years ago we had a horrendous experience when my wife's identity somehow got known and she was written to by a nutter in Nottingham (where we have never been!!) It ended up with the police involved and a formal caution being issued to the guy in question. The modern world eh? Its great when it works but can be abused.
Comment by: michael benson on 14th June 2016 at 10:56
I went this school from early 50s to 1959 then on to whelley...got some good memories..used to play play cowboys and Indians under the railwaiy arches
The teacher in the picture was my Aunt, Evelyn Simm who worked at Beech Hill later becoming headteacher at Beech Hill Primary.
On Sir Ian McKellens web site there also a picture of him and other children at Warrington Lane with my Aunt standing alongside the class.