Photos of Wigan
Photos of Wigan
Album Contents
Album Contents
Wigan Album
Highfield Junior School
10 Comments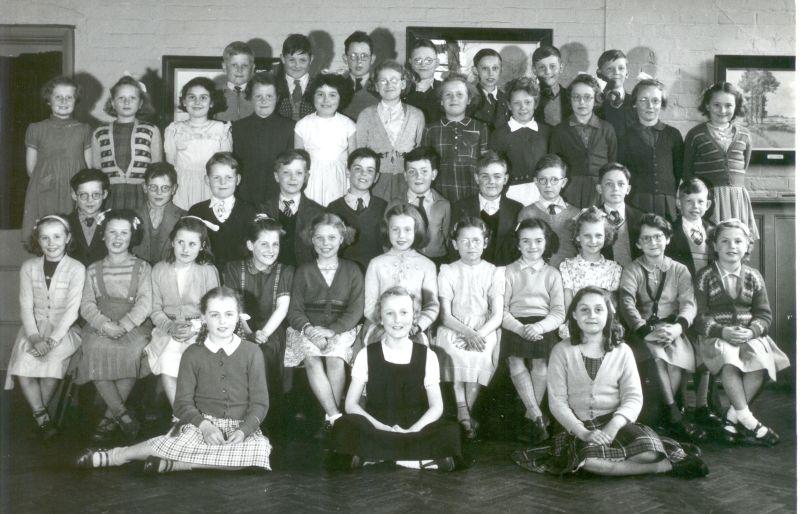 Highfield Junior School, 1955.
Photo: Ron Hunt
Views: 6,672
Item #: 270
Highfield Junior School, Class 3, 1955. Ron Hunt, 4th from left, middle row.

Recognise anyone? Please email me if you can help.
Comment by: tricia on 19th January 2008 at 17:35
Hello Ron
I know a few...3rd row far left Maureen Unsworth 6th from left Marjorie Gunn 2nd from right Jean Richardson 3rd from right Chritine Sellars
Seated on right Margaret Corner, seated left Janet Aspinall
Need to have another look to check someone out
Comment by: Tricia on 19th January 2008 at 19:18
Sorry Margaret Corner of left Janet on right , both seated at front
Comment by: Tricia on 19th January 2008 at 20:59
1st row 3rd right Marlene Aspey 4th left Gillian Tyldesley
apologies if any of these are incorrect.
Comment by: RON on 14th February 2008 at 21:57
Hi Tricia, I can name most of them, just a few you mentioned I had forgoten. When I get time. I'll add the names I can remember. Do you know where any of these people are now?
I was always Top Boy in the class but I could never beat Marjorie Gunn. I still have a couple of my school reports. The BEST place I reached was 2nd. in the class You can guess who was TOP!!!!!!!!!
Comment by: RON on 14th February 2008 at 22:17
O.K. here are the names I can remember....
Starting from Back Row and going from left to right.
Ronald Daniels. John Alker. David Santus. ?. Alan Bibby. (Keith?. Gordon Gee?.
(Third Row). Maureen Unsworth. Margaret Taylor.?.Gillian Bennet. Pat ?. Marjorie Gunn. Pat Makinson. Kathleen Gaskell. Christine Sellars. Jean Richardson. Sandra Spencer.
(Second Row).?.?. Steven Bland. Me. David Crompton. John Booth. John Mason.?.?. Stewart Abrahams.
First Row. ?.?.Marlene Aspey.?.?.?.?Gillian Tyldesley.?.?.?.
(Seated on floor). Margaret Corner. Jean Hitchen. Janet Aspinall
Marlene Aspey did send me the names of most of them. But I can't find it. I often wonder how their lives have panned out? and would love to know where they are living now.
Comment by: RON on 14th February 2008 at 22:28
This photo. should be dated 1956
Comment by: RON on 15th February 2008 at 23:35
Back row amendment:- Keith Taberner and Gordon Leigh not Gee. His dad had a decorating firm in Pemberton which he took over.
Comment by: Tricia on 17th February 2008 at 21:34
Hi Ron
My friend Janet Aspinall still lives in the big house next door to the hospital and we are still in touch and see each other when I am in Wigan. Last I heard of Marjorie Gunn was a posting on one of the forums on here and she said she was looking after her 2 grandchildren in Blackpool. Gillian Tyldesley, my best friend at Wigan Girls High, moved to the Lake District with her family some years ago I think. We lost touch when I went to live in Singapore. I did not go to Highfield but knew a lot of them from WGH School and also I went to Highfield Church and Sunday school with Janet after we moved back to the area when my Grandma died.Christine Sellars is a distant relative of mine but I don't know where she is today. Where is Marlene these days?
Brilliant site by the way. I look at the photos every day.
It is James Crompton the twin of David Crompton, Jimmy died a few years ago but i am still in touch with David who lives near Doncaster.
I live in Swinton, i moved their when i got a job with Norweb as an Engineer in 1983. Are you still a season ticket holder at the Latics, I am.
Comment by: Pam Grimes on 11th December 2018 at 20:31
Pamela Grimes was Mather centre of first row. 6th one in from left and right. I know quite a lot of the girls on the photo.