Photos of Wigan
Photos of Wigan
Album Contents
Album Contents
Wigan Album
Hindley Green St.Johns
19 Comments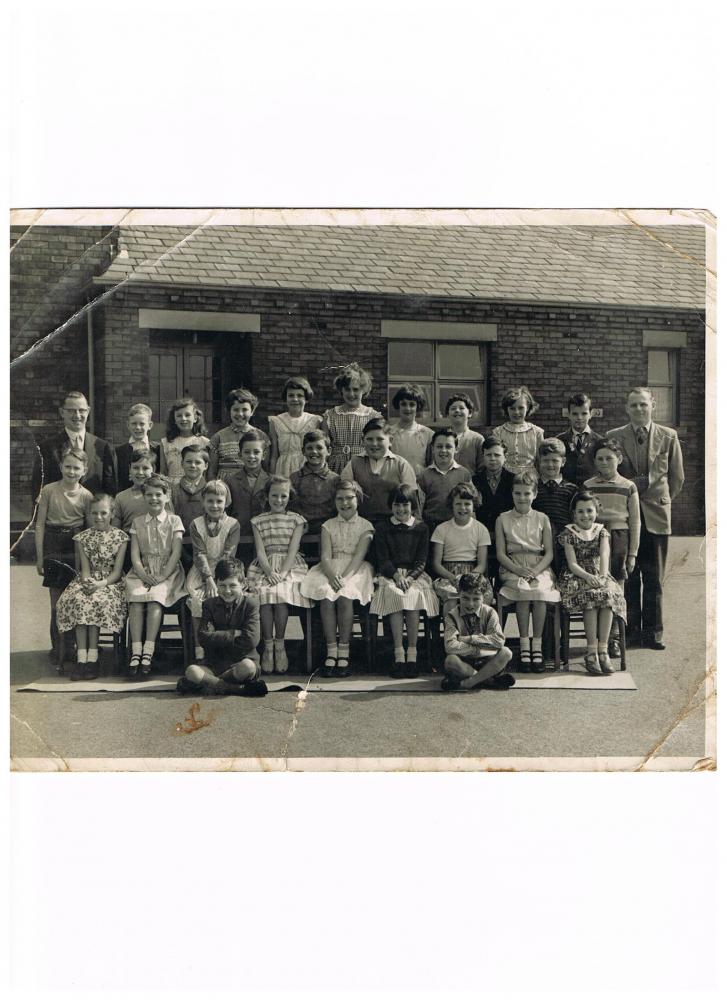 St.Johns Junior School Hindley Green--1960
Photo: Andy H
Views: 4,498
Item #: 26891
Class Photo
Comment by: Garry on 21st October 2015 at 10:07
Comment by: Helen. on 21st October 2015 at 10:21
Front row girl at end right is Mary Goulding.
Comment by: Trev on 26th October 2015 at 23:15
Second from the right on the middle row Trevor Fisher,Sat on the ground on the right Brian Needham
Comment by: Roger on 26th October 2015 at 23:54
Brian died a few weeks ago, he would have been 65.
I can remember all bar one, the spelling of a couple of names might not be accurate...please correct me if I'm wrong, but it was 55 years ago!   Teachers are: headmaster Fred Hardman on the left and Ken Robinson. Back row: Eric Westhead (Wessie), Maureen Eccles, Susan Bamber, Glenys Hartshorne, Rosemary Ellison, Irene Ormerod, ???, Regina Draper, Me!Gordon Brockley (Brock). Middle Row: Eric Podmore (Poddy), David Harrison, Norman Sherrington (Sherry), Ernest Yates, Andrew Hazeldene, Derek Hodson (Hoddy), Trevor Ramsdale (Rammy), Ian Bithell, Trevor Fisher, Raymond Barlow. Front Row: Sandra Weaver, Doreen Needham, Roberta Jackson, Ruth Howard, Joan Skinner, May Eckersley, Marion Hardman, Jennifer Jackson, Mary Goulding. Adrian Gittins, Brian Needham
Andrew Haselden not Hazeldene, sorry Andrew.
We have the missing girl's name...Kathleen Brindle
Also Ian Bithell may be Brian Harrison...jury's still out
Comment by: Roger on 5th November 2015 at 16:48
He reminds me of Brian Harrison, the lad who was killed in a motor bike accident soon after leaving school in March 1965.
Comment by: Gordon Brockley on 5th November 2015 at 23:38
I never knew that, how very sad.
Comment by: Roger on 6th November 2015 at 18:46
I believe Trevor Ramsdale and Norman Sherrington are also no longer with us.
I heard the same Roger, I have fond memories of them both, also my old best schoolmate Brian Needham.
Comment by: Andy H ( andrew haselden ) on 11th November 2015 at 00:53
Thanks to everyone who has supplied the names to the class photo,especially you Gordon for all the names you supplied,,when I put the photo on I could remember about a third of them including yours,it is sad to learn that some of our classmates are no longer with us.
Hello Andrew, I should be thanking you for posting the photograph in the first place, it's the only picture I have showing me as a child. I've been trying to find that picture for ages, I knew it existed because I remember seeing it in the Wigan Observer many years ago, it was featured in a 'years gone by' article, made me feel old at the time! Must admit I surprised myself when I remembered all those faces from 55 years ago, but as you say, it's sad to think that some of those children are no longer with us. Nice to talk to you after so long Andrew, take care mate.
Comment by: Roger on 13th November 2015 at 00:21
Yes, many thanks Andrew for your contribution, a pleasant look into the past. Gordon, other contemporaries of ours, in case you didn't know are Billy Battersby and Jimmy Tindall, also passed away.
I knew Billy Battersby had died but I hadn't heard that Jimmy Tindall had passed away. Jimmy was my classmate at Thomas Street, he was a character, we had many a good laugh together, I still remember when we both got three whacks for smoking (didn't half smart). I used to bump into him occasionally in town, he wasn't always in the best of health but he was always cheerful, saddens me to learn he's no longer with us.
This picture has also been posted on Facebook group Memories of Hindley Green.
I have stumbled onto this website when looking up my old school . It was amazing to see the photo of all my junior school class. I have been living in Australia since 1969 having come back quite a few times . I was over in UK and Europe last year and probably got a little nostalgic to look up areas when I returned home to Sydney. I too knew every name in that photograph and noted Gordon was the main writer. I was quite sad to hear that some of those people are no longer alive. Just goes to show how quickly we grow old. I guess the last posting on here was 2015 so this may go nowhere I just wanted to make some comments .
It was really nice to read your comments Maureen and read about your journey since our school days at St.Johns. Take Care Andy H.
Comment by: Gordon Brockley on 5th July 2019 at 19:09
St.John's school is still standing, had many changes but the front is still pretty well the same. :)