Photos of Wigan
Photos of Wigan
Album Contents
Album Contents
Wigan Album
Hindley & Abram Grammar School, Hindley
7 Comments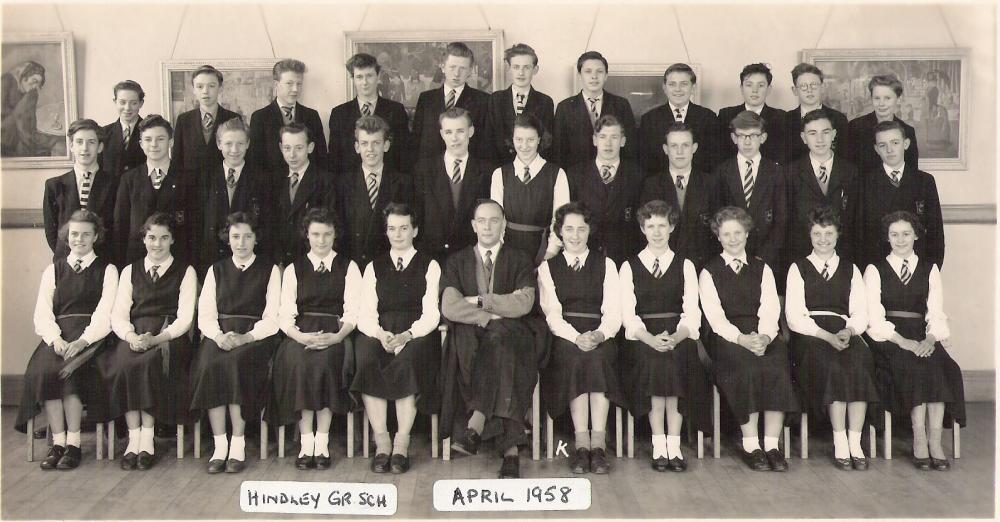 Hindley & Abram Grammar School, 1958.
Photo: Ivor Hilton
Views: 8,074
Item #: 267
Hindley & Abram Grammar School, 1958.

I am on the back row on the far right. Mr Johnson is class teacher.
I travelled to school with Ivor from Standish. 4th from L on back row in between Alan Storey and (i think) Phillips? To save embarrasment I won't mention how many of those young ladies I was madly in love with but remember them, and Vic Johnson, our form master, with affection. Have just remembered, Phillips is 4th on the L, middle row.
Brings back some happy memories!! This is Form 4 Sci. I am back row extreme left viewing photo.3rd back row left is Alan Storey (Lower Ince), Alan Hudson is 5th left, Kevin Swann (ex Leigh road, Hindley Green)is 5th left middle row next to Frank Philips ( ex Bickershaw)- 4th left. Ivor Hilton as he states is extreme right back row - he and I were good school friends - he lived in Standish.Pamela BrindleÉ is I think front row 2nd right. James Shepherd is 6th left middle row.
Some other names but not recognized from photo are Marjorie and Kathleen Ashurst,Rita Stretch,also the daughter of our Physics teacher `Saint`sitting RHS of Vic Johnstone, Pamela Green, Andrew Crossley (Headmasters son), Godfrey Caunce,
John Croswell is 6th from the left top row. My brother-in-law
Comment by: Ivor Hilton on 28th April 2014 at 16:14
I remember John very well from Westhoughton. We had a phase of playing Subbuteo when we swapped visits.
I had some good friends in the parallel class, (4Lit).Would be good to see them again after over 50 years! Possibly someone could put a photo on this site?
I remember most of boys names but not too many of the girls. I was surprised how easily it all came back to me.I am indeed fourth from left in middle row.Wonder where everyone is now,anyone know?
We are planning a reunion for our year on Friday 3rd October at Hindley Masonic Hall. If you are interested please contact me on Bolton 01204 63407 or mob 0776549775 It is 60 years this September since we started so do try to come.We will have a laugh looking at the old photographs and there is a bar.Please spread the news