Photos of Wigan
Photos of Wigan
Album Contents
Album Contents
Wigan Album
Hindley & Abram Grammar School, Hindley
13 Comments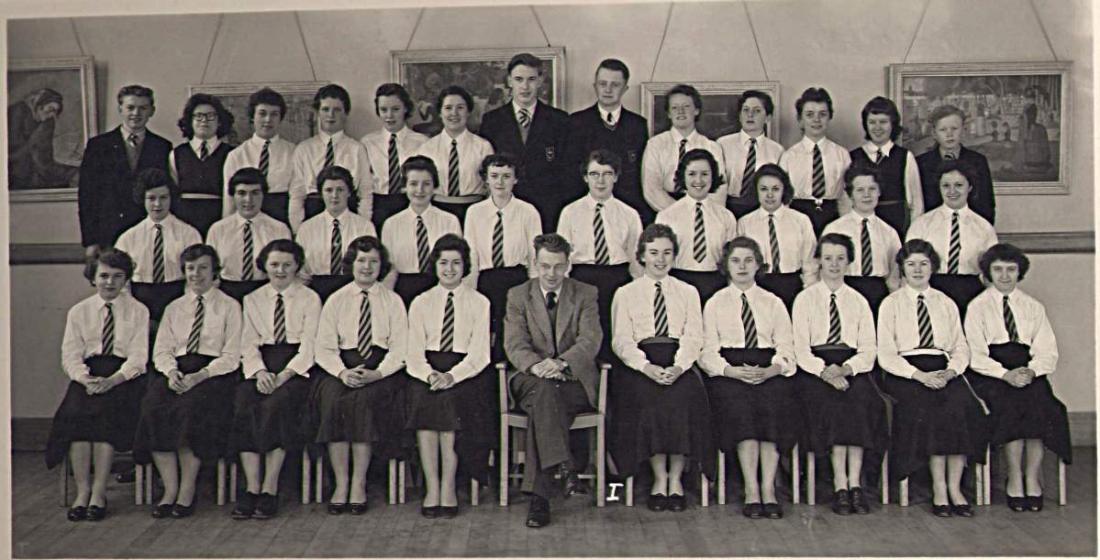 Form 5 Lit at Hindley & Abram Grammar School, 1958.
Photo: Pat Hutchinson
Views: 9,506
Item #: 266
Form 5 Lit at Hindley & Abram Grammar School, 1958.
Comment by: C P Blackrod on 24th March 2008 at 20:03
was the teacher Joey Conner?
Comment by: Evelyn on 30th June 2008 at 20:06
It is indeed Joey Corner(physics teacher)
Comment by: Elizabeth Fairclough on 9th July 2008 at 22:22
'Joey' Corner was teaching geography when I was there. (1962-1968)
Wow thats going back a bit! Couldn't Joey dance?
3rd row Barbara? Kathleen Prescott, Me Irene White, Eileen Turner, Susan Williams, Joey, Kathleen Alker, Dorothy?, Margaret baron, beryl Anders, Audrey Eardley
Comment by: Irene on 8th December 2009 at 01:18
Come on somebody add the rest
Back row: Ian Westhead, Josephine Whalley, ??, Heather Pearson, Pauline Snape, Edward Smithies, Roy Birch, Joan Parkinson, Pat Hutchinson, Brenda Davies, Kathleen?, David Carter.
2nd row; Marlene Heaton, ? ? Judith Higson, Freda Follett, Margaret Riding, Barbara Alker, Edna Fisher, Anne Sherrington, Elsie Wolstenholme.
Sorry to the rest of you.
Comment by: Dorothy Trayner Hart on 16th January 2012 at 16:57
Next to Josie Whalley Audrey Seddon, Kathleen Wolstenholme the Kathleen ? is Kathleen Major. Next to Marleen Heaton is Carole Walker, then Kathleen Swift. Bob Corner died just before Christmas. Adrian and I went to the funeral at Charnock Richard.
Dorothy Pyett ( now Townshend) is 5th from the right middle row. Went on to be first girl to go to Oxford University from Hindley Grammar. She was my mother Mabel Chambers nee Lee's cousin
Comment by: margaret smith nee holcroft on 27th June 2015 at 10:55
I was in lower 5C from 1949-1955 great class.We gave Joey Corner the nick name of "Joey" which the whole school adopted. Sorry to hear about his death.More comments appreciated if anyone was in Lower 5C from those dates
Comment by: Irene Thompson nee White on 7th August 2015 at 04:32
No not Dorothy Pyett. She was ahead of us. Thats Margaret Ridimg. But yes Dorothy was the first to go to Oxford for History I think.
Sorry to learn of the death of Mr. Robert (Bob) Corner affectionately known as 'Joey'. He was a great teacher with fundamental humanitarian qualities 'one of the best'.I was a pupil at the School from about 1952 - 1958 and was privileged to have been taught by him.
I'm sitting on Joey's right....Susan Williams that was...wonderful to find this photo, Pat. Eileen Turner is next to me...sadly she died a few years ago. I'm still working (as a psychotherapist) at 76 after a long career in journalism. I'd love to hear from any of you about your lives to date.
Forgot to put a comment when I uploaded the photo. These days I forget a lot of stuff ! Best wishes to all of you still alive.
Does anyone know if Carol Whittaker is on this photo, it looks like her on the back row