Photos of Wigan
Photos of Wigan
Album Contents
Album Contents
Wigan Album
St Elizabeth's, Aspull
14 Comments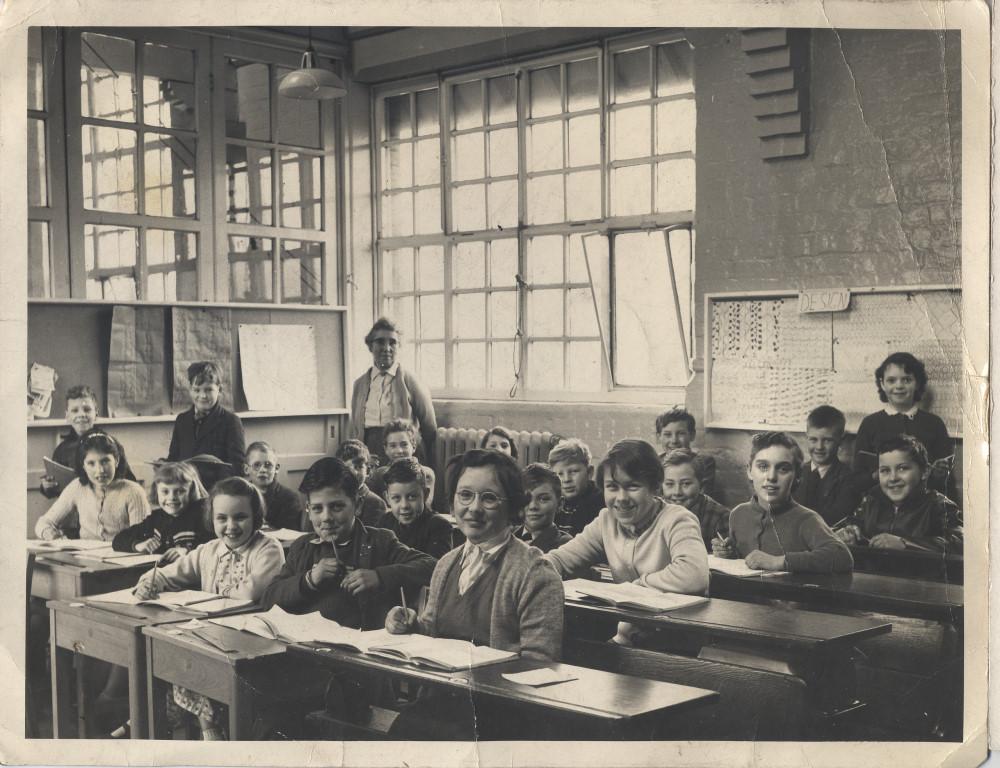 Middle Classroom St. Elizabeth's School c.1958
Photo: Granville Crompton
Views: 3,458
Item #: 25850
Standing:- Terry Hyland, Trevor Pilkington, Mrs. Burridge
Back Row:- Granville Crompton, Margaret Gregory, Barry Higham, Alan Bibby, Carol Latham (Stood).
Ernest Moss, Frank Lee, May Hough, Melvin Croston.
Second Row:- John Henshaw, Harold Henshaw, Norman Byers, Brian Shalliker, Sandra Smith.
Front Row:- Kathleen Crompton, Madaline Walkden, June Alker, Robert Brookes, Janet Thomas.
Comment by: irene roberts on 8th January 2015 at 12:31
What a lovely photo! I have a 1950s double school desk, complete with inkwells. My Grand-daughter plays for hours sitting at it.
Does anyone recognize themselves in this photo i do know a few people as they knew my dad and mum Reg and Frances Bateman as i am there daughter Julie Bateman as i used to go to st elizabeths school myself when i was younger.
Comment by: Elizabeth Fairclough on 8th January 2015 at 16:27
Hi Irene, it is a lovely photo, doesn't it remind you of Ince Central (old school)? You can just imagine Mrs Sandiford and Miss Ashurst back there.
Comment by: irene roberts on 8th January 2015 at 18:17
Hello, Elizabeth. Yes, a lovely photo; I love pics of old schools and old shops. The desk I have is just like the one my friend Christine Shirley and I shared in Mr. Heaton's Class at Ince Central.
Comment by: Ken R on 8th January 2015 at 19:42
I did not go to this school, but it is very familiar to me. I was in the scouts and we met in this school, also up to a few years ago we went Sequence Dancing there on a Wednesday afternoon. Nice wooden floors.
Comment by: JohnB on 9th January 2015 at 11:13
The name may be different but the whole atmosphere and surroundings are identical to the Wigan school I attended from the 1950's - thank you for posting.
Great picture new all of the people on here I was in the infant class same time
Comment by: Sandra Miller nee Kay on 27th April 2016 at 14:31
Not been on Wigan world for a while only just seen this picture. I didn't go to St. Elizabeths School but to the C.E. at the Finger Post but I remember most of the people in the picture. Several of us were in the Church choir at the same time and June Alker and Norman Byers were in my class at Aspull Sec. A great picture. Its a bit of a worry really because it looks so old!!!!!
Comment by: Brian shallicker on 11th May 2016 at 11:56
Great picture I remember all in photo
I was searching people I know/knew and saw the name May hough, looking at the photo I saw her straight away. We worked together at the NCB Kirkless and she was my bridesmaid, does anyone have any recent info , we lost touch many years ago sadly.
It is not Terry Hyland in the photo (unless there are two of me!), in 1958 I was 15 and at a school in St Helens.
I went to this school but a couple of years later. My brothers would have been in the infants class at the time of this photo and yes I remember you Allen Hilton. Tony Croston, Philip Croston and myself went to this school over a 3 year period. I remember Cyril Smith (later followed by Mr Silliteo. I also remember the infants teacher used to smack your knuckles with a ruler. Then a new teacher started cant really remember her name as we used to call her Miss Shebabs cos nobody could pronounce her name.
Comment by: terry hyland on 22nd September 2021 at 18:34
I am the terry hyland in the picture I was born in 1949 so was 9 years old at the time and lived in hope st so the other terry hyland is mistaken.