Photos of Wigan
Photos of Wigan
Album Contents
Album Contents
Wigan Album
St Catharine's, Wigan
10 Comments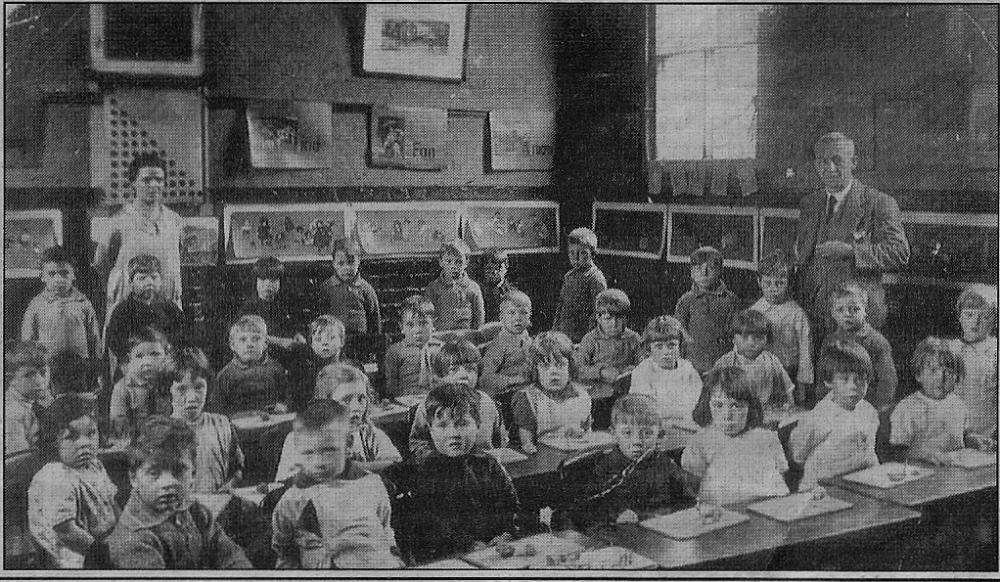 St Catharine's Junior and Infants School circa 1928
Photo: JohnAlan
Views: 2,123
Item #: 24918
Not the best of quality but clearly shows the children sitting close together as they did in those days. Unlikely I know but do you recognise anyone?
Comment by: Keith on 4th March 2014 at 15:56
I certainly recognise the classroom and although I can't be "certain" I'm sure we were just as "crowded" in our classes as these children appear to be. However, I cannot offer any "names" the only name I can come up with is Mr Steel who was Headteacher for a number of years just as I arrived as a pupil in 1949, could that be the Headteacher in the suit?
Comment by: Keith on 4th March 2014 at 21:55
I should have added that Mr Steel died in 1950, so if this photo dates from the 1930's or so, it's entirely feasible he could have been Headteacher at the time it was taken - but this is a best guess.
Comment by: Ken Smith on 5th March 2014 at 08:25
I think the little girl 3rd from the right 2nd row in the white dress is Elsie Fillingham who was my aunt as I have a family photo and she has the same hair she became Elsie Pitcher Roy Pitcher's mother she was born 1918 so the age is about right.
Comment by: Ken on 5th March 2014 at 18:28
If this is a complete class then boys outnumber girls 2 to 1.
Comment by: Keith on 6th March 2014 at 19:45
I've just realised that if these children had been 8 or 9 years of age, they look younger, then I would have been searching for my mother, who like myself attended St Catharines along with her younger sisters and brother.
Comment by: Mary Duckworth nee Banks. on 9th March 2014 at 17:28
i to went to St.Catherines,starting their in 1929.The male teacher is Mr.Steel and the boy sat fourth from the left on the third row from the front is my late husband Jimmy Duckworth.Mr.Steel had a son,Logan and a daughter whose name I,ve forgotten.
Comment by: Keith on 12th March 2014 at 18:42
Interesting to read your comment Mary and thank you for confirming the identity of Mr Steel. My mother would have started at St Catharines some 5 years before you did - however in 1950 my parents took over the running of the Crispin Arms, Birkett Bank - one of our customers was a certain Tommy Banks - a relative of yours perhaps?
Comment by: Mary Duckworth nee Banks. on 19th March 2014 at 21:26
Keith,Tommy Banks was indeed my father.My mother Mary was a cleaner at the Crispin when the Myers,s were the licencees and when your mother and dad took over.I knew your mother Phyliss and her brother Jack and sisters Margaret , josephene and annie who was in my class at St,Catherines.I used to go to Annies when she lived on Clarington Grove.Annies first husband was from Ince but he died at sea.I also worked as a cleaner at the Crispin when Albert and Mary Lowe took it over.
Comment by: Keith on 25th May 2014 at 14:33
Mary, I have only just come across your comment, many thanks for replying - we took over at the Crispin January 12th 1950 - we were all 64 years younger! Everything you mention about my mother's family is correct, apart from one small detail, Auntie Annie eventually married Douglas Clayton after her 19 year old fiancee Ken Guy, a Wireless Telegraphist 1st class, on the Frigate HMS Mourne was sunk in the Channel by a German U boat on June 15th 1944. Josephine will be 80 this year and lives in Shevington and Margaret will be 82, she lives near Swindon, my sister Anne lives in Horwich, all are widows, I have lived near Wolverhampton with wife and family for the last 41 years.
I do have a family photo taken in the early 50's showing my sister, together with another brother and sister and despite remembering them their first names now elude me, but they are Banks's children. I will send it along if you could let me have your email address or if you wish I could post it on wiganworld. Keith
I have just seen photo my mum must have gone to the school vivien ashurst then 1929 she would have been 5 age