Photos of Wigan
Photos of Wigan
Album Contents
Album Contents
Wigan Album
St Edwards (Scot Lane)
11 Comments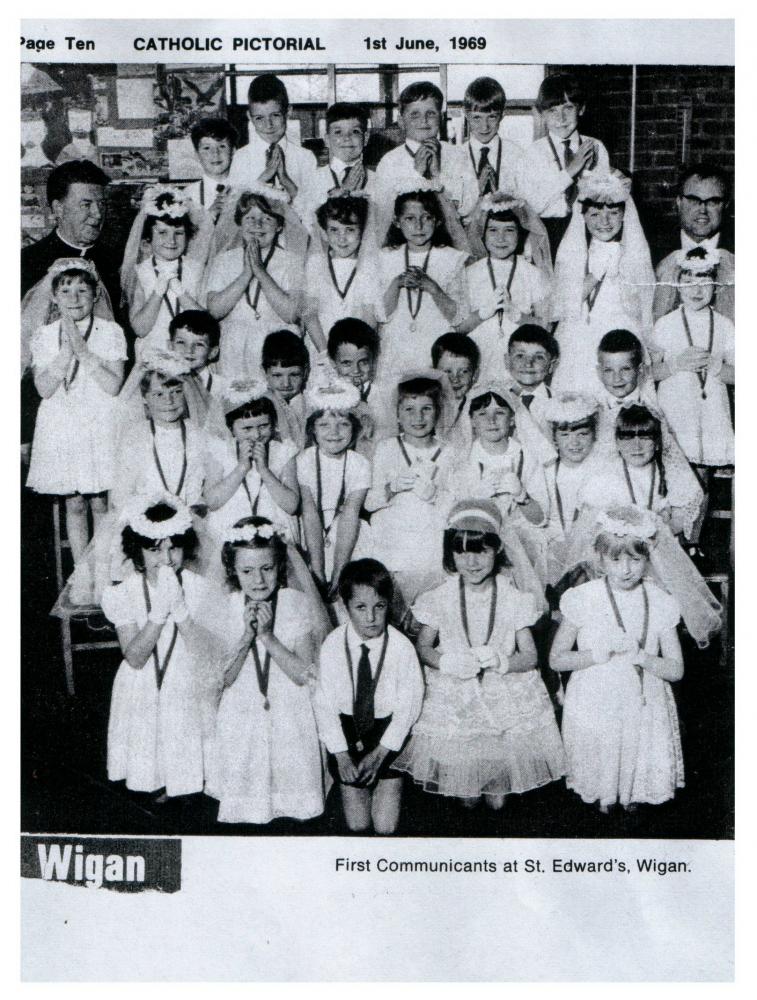 St Edwards RC school Scot Lane
Photo: Peter Boyd
Views: 6,287
Item #: 24915
Crowning photo 1969
Comment by: Mick on 3rd March 2014 at 14:51
Is that Derek Fuller, the man standing on the right?
Comment by: Peter Boyd on 3rd March 2014 at 17:09
No it's Mr tennant the headmaster .
Comment by: Peter Boyd on 3rd March 2014 at 17:10
No it's Mr tennant the headmaster .
Comment by: Joseph on 3rd March 2014 at 19:00
First Holy Communion, not crowning.
Comment by: Thomas(Tom)Walsh on 3rd March 2014 at 21:10
I think the priest is Fr.O''Hara,parish priest ,he was previously a curate at St.Patricks Hardybutts Wigan.
this is my class communion,i'm centre with arms out and flowers on my head,can name most marie(s)higham jackson, o'neil,hughes.Karen fleming(RIP)elaine herriot,francess burley,jean carney,pauline hatton,karen melling, sharon morris,diane parr,terry burns,mick butler,paul gibbons peter b,anthony mcmanus, steven berry to name a few.
Comment by: Peter Boyd on 4th March 2014 at 16:37
Blast from the past Marie how are you? what do you thing of the old school?
Comment by: m bird on 5th March 2014 at 14:43
Hi peter this is the photo your mum gave me a copy of i hadn't a photo myself. Have to say school days weren't the happiest for me, just liked being home with my mam!Lots of good people on that photo though, it was one teacher i didn't particularly like but never mind!Can you remember everyone on it? Stephen speakman,Norman Holland,James Duffy are there, some i'm not sure of Gina Klaka,Bernadette McCloughlin and JulieGlynn are the other names i can recall. wonder what everyone is doing now, sadly Colin Bilsbrough,Karen F and Andrew Gallagher i believe have died, hope you and your family are ok and tell your mum i will call round with my granddaughter Gracie one day soon.
Comment by: benny on 6th March 2014 at 18:00
marie,the wifes from marsh green and she knows Karen f but was shocked to see she had died. my memorys a bit iffy cos I only did a year with you lot before I got shipped out to st cuthberts.could you pick her out for us? thanks.
Comment by: marie bird on 10th March 2014 at 00:46
hi benny, Karen is next but one on my left with a parting in her fringe, would you have been in our year?
Comment by: benny on 10th March 2014 at 17:54
thanks for that marie. the wife thought it was who you said but wasn,t sure.yes I was in your year,i was in m with boydy,marie higham, Karen melling, baxi to name a few. duffy was my best man first time I got wed.i know all the lads but cant put faces with names