Photos of Wigan
Photos of Wigan
Album Contents
Album Contents
Wigan Album
Golborne Boys Secondary Modern
22 Comments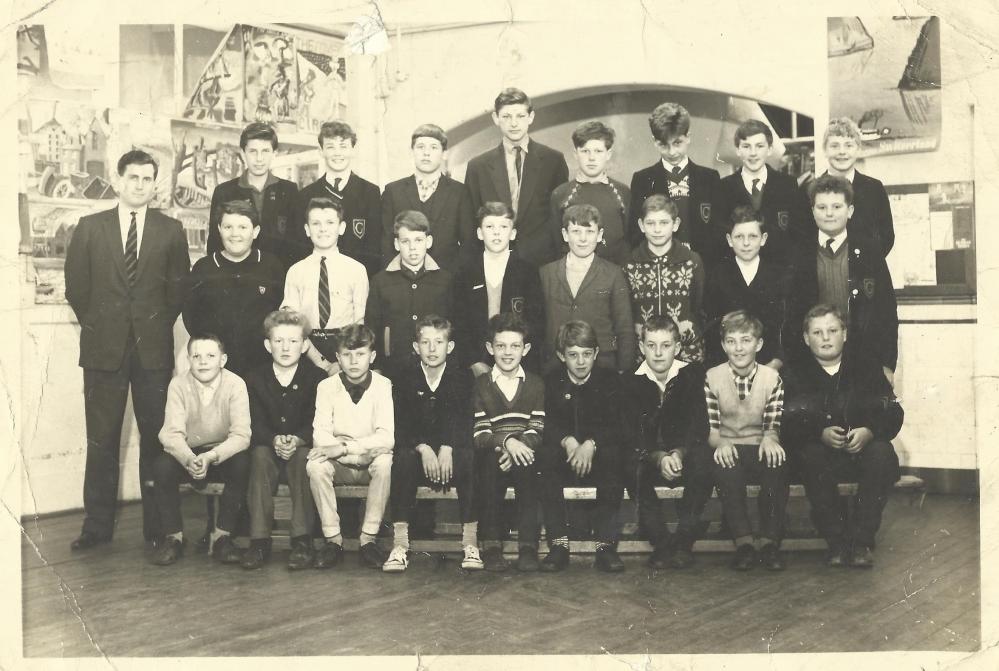 Golborne County Secondary Boys School. Class 2A 1964
Photo: Lewis Knight
Views: 5,719
Item #: 24683
Back Row. David Hart, Alan Gorrie, Peter Williams, Stephen Ball, Peter Hill, Stephen Matthews, Stephen Green, Leonard Roby.

Middle Row. Mr (Joe)Fairhurst, Terence Burtonwood, Malcolm Woodward, Alan Fairhurst, Philip Bentham, Geoffrey Roberts, Paul Lange, Alan Berry, Michael Chadwick.

Front Row, Billy Hooton, Lewis Knight, Brian Swan, Alan Anders, Barry Darbyshire, Louis Culshaw, Robert Hinard, James Picton, John Edwards.
Happy Days. To get in contact email dmd40j@gmail.com
I met quite a few of these lads last week at the funeral of David Hart (Top left), David was a very popular man with very many friends and a loving family. It was the largest funeral I have seen for many years. God rest his soul. RIP David and not forgetting the others on this photo who have passed on. RIP.
Comment by: Joe Fairhurst on 8th March 2016 at 22:27
Just seen the 2A photo whilst looking through the School Album.Wonderful tribute to David, Lewis and what a great bunch of lads you all were. I think of you all often. Kind regards. Joe Fairhurst.
Comment by: Terence Burtonwood on 17th March 2016 at 23:38
Paul Lange has messaged to say that you had left a comment Mr Fairhurst I hope you are keeping well. Sadly met up with a lot of classmates at David's funeral. Good to catch up but sad affair.
Comment by: William Slater on 31st March 2017 at 08:28
Nice to see old teachers interacting with old pupils on this site. Gives you a feeling of togetherness. Funny how opinions change when people mature. Respect is the operative word from teacher to pupil and back the other way.
Comment by: Joe Fairhursrt on 2nd December 2017 at 16:46
Many thanks Alan. I really appreciate you kind comments. Best Wishes Joe Fairhurst.
Hi Joe, great picture a blast from the past just how I remember you,would love to know how you are and all your news about yourself and family
Comment by: Joe on 29th May 2018 at 13:21
Hi Mu,Cannot really comment here. Hope all is well with you. Kind regards J.
Thanks for getting back to me, I live in Austrailia now, would love to hear from you please click on my email address, would be great to catch up
KInds regards Mu
Hope you get to read this Mr Fairhurst. Thank you for 4 wonderful years as our form teacher. Although it may not have been apparent at the time, when I look back at those years you and your colleagues did a smashing job of preparing us for life after school. I can't thank you enough for all that you did. Regards Paul
Comment by: Joe Fairhurst.? on 21st February 2019 at 22:13
Hi Paul. Many thanks for your kind remarks. It was certainly a pleasure to teach you. Although I went on to become Head of a large comprehensive school I can honestly say that my time in Golborne was the happiest of my career and I am so pleased that I was able to make a contribution to your future success.You were a great bunch of lads and I think of you all often. Kind regards Joe Fairhurst
Comment by: Terence Burtonwood on 5th March 2019 at 19:33
Hi Mr Fairhurst. Paul messaged me to let me know you had responded to his comment. I hope you and your family are well. I often speak about you at the creative writing group l attend. When people ask where my talent came from for doing poems and short stories. My answer is usually my form teacher Mr Joe Fairhurst. My poems are on YouTube, google and l have performed one at The Edge theatre in Wigan in front of 1,000 people. I owe you a massive thank you for being a wonderful teacher. All those essays l did and the Art work with Mr Edge will stay with me forever. Best Wishes. Terence
Comment by: Joe Faiirhurst on 7th March 2019 at 20:03
Hi Terence,
Many thanks for your kind remarks and good wishes. As Paul may have told you my time in Golborne was the happiest of my entire career, made so by the good people with who I both worked and taught. I am particularly impressed by your involvement and success in Poetry and Creative Writing. As you may know I have been fighting major battles against Cancer since 1991 and as physical abilities have declined I have been increasingly involved in my long relationalship with all aspects of Creative Writing, and like you I have won some acclaim for my poetry and the odd short story. It is so good that I was fortunate to spend my formative years in teaching amongst so many high spirited and talented youngsters as yourself. Indeed it was a privilege and one for which I am most grateful . With Best Wishes Joe Fairhurst .
Paul Lange advised me of the comments on the page, I am not a regular user of this site as I now live happily with my wife Janet in North Wales. Mr Fairhurst I would love to ask you 2 questions if you don't mind. Question one is how old were you on this photograph? and 2 Which comprehensive school were you the head of? I always knew you would go far, many happy memories thanks to you. If you are ever in North Wales you are all welcome to call in. For my sins I am the head tour guide and after dinner speaker for Gwrych Castle in Abergele.
Comment by: Terence Burtonwood on 10th March 2019 at 18:05
Hi Mr Fairhurst. Sorry to hear about your health problems, l would love to read some of your work. I understand that you may not want to give any details out on an open site. I have checked on Facebook the only profile for Terry Burtonwood is mine also in messenger. If it is possible for you to send me information where l can source your poems or short stories. I would be much obliged. Bernard Ramsdale used to call regularly when l had a stall selling golf clubs at Ashton market. I saw him about a month ago walking along the road unfortunately l was in my car. He still has his beard but as time takes it's toll on all of us, it is now white! Look after yourself.
Best wishes Terence
Comment by: Joe Fairhurst on 11th March 2019 at 14:37
Hi Terencc.Have sorted out a couple of dialect poems for you plus Tribute to my beloved Wigan entitled Ancient and Loyal and also a rather" Twee" short story entitled "Angel Cake " or if you wish a history essay Entitled "A Tudor Brexit".Please let me know what you would like,but I do need an address to send them to by Royal Mail. Regards Joe F.
Comment by: Joe Fairhurst on 14th March 2019 at 14:26
I have made enquiries about a booklet of short anectdotal stories I wrote many years ago about the people of the district of Highfield,Wigan amongst whom I grew up It's title is Who'd a Thowt It? Maybe just what you want. It an be found on loan inShevington library on shelf 942. 736. Good hunting Joe F.
Comment by: Terence Burtonwood on 16th March 2019 at 15:24
Hi Joe That's brilliant l will let you know when I've found it. I did get a friend request from a Sue Fairhurst. I thought it may have come from a relation of yours but unfortunately even though it came as a request when l looked for it it wasn't there. My dialect poem for Beyond Wigan Pier is on YouTube under Terry Burtonwood ' A dialect poem abaat change ' l think you would find it funny. Best wishes to you and your family. Terry x
Comment by: Joe fairhurst on 24th March 2019 at 19:46
Hi Terry.managed to find Abaat change at last. Congratulations, great poem, full of Wigan imagery,northern humour and well delivered and Hey, it also rhymes.look forward to more of your work. Keep going wi!' T he'd Dewan!. Best wishes to you and yours. Joe F.
Comment by: Joe fairhurst on 12th December 2020 at 15:13
To the lads of 1964-2a,
May I wish you all a very Happy and Peaceful Christmas and a Prosperous and Healthy 2021.
Kind Regards,
Joe Fairhurst.
Thank you Mr Fairhurst for your best wishes. It will be 55 years this year (2021) since we all left school, yet the memories are still crystal clear as if it was just yesterday. Best wishes to you and your family. Paul