Photos of Wigan
Photos of Wigan
Album Contents
Album Contents
Wigan Album
Britannia Bridge, Ince
5 Comments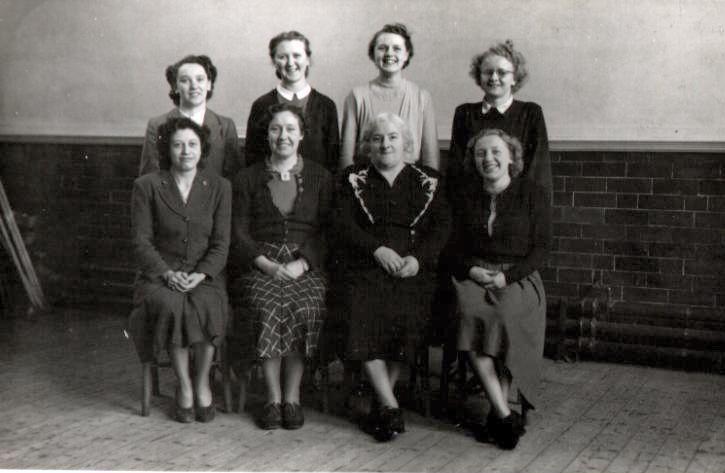 School teachers of Britannia Bridge, 1951/2.
Photo: Alice (Haselden) Pearson, Rochester Hills, Michigan, USA
Views: 4,999
Item #: 244
The school teachers of Britannia Bridge Secondary Modern School for Girls on Warrington Road, Lower Ince. Taken 1951-52.

Top Row (L-R): A student teacher unknown, Miss Wrennall, Miss Wilkinson, Miss Tyrer.

Front Row (L-R): Mrs. Worthington, Miss Scott, Headmistress Mrs. Littler, Miss Staines.

Given to me when I emigrated to America in 1952.
I think the student teacher may be miss Knowles. Front row is miss Worthington, we pupils always thought she had foreign blood in her. She went on to marry and became Mrs Roy, an Indian subcontinent name. Perhaps she was an Anglo Indian. Not miss Scott but miss Stott.
Are You Related to Bev Mason Who's Farther Owned The Paper Shop On Warrington Road??? I Us To Take Papers For Them
I remember all the teachers. Faces that is, I would be 7 years old then? The only Other Thing I Remember Was Being Made To Eat Something I Didn't Like By The Head , And Having A Kip In The Afternoon On A Bed, And Wondering Weather I Would Still Be Alive When I'm 60 Strange How Your Mind Works, Apart From That A Good School Wish I Was Back Sometimes
Comment by: Karen Williams on 17th January 2015 at 14:03
Hello, this picture is amazing! I am currently a teacher at Britannia Bridge and would like to teach my class about the schools history. As part of the new Curriculum we have to focus on a local study and what better than to learn about the school within which they spend there days. Would anyone be interest in coming into school to show my class around giving a description of the changes and how life used to be? e.g the way you dressed, what you ate for lunch and snack, what the classrooms where like, how you were treated etc. They would love to meet an original Britannia Bridge Pupil. Please please please can someone get in touch. My mobile number is 07714755822. My year 4 class, currently known as Dragonflies Class, would love to meet you. Kind regards, Karen Williams
I remember being at Brittania Bridge school and all of these teachers except the student teacher and Miss Staines. Miss Stott also taught my father and some of his siblings. Miss Tyrer was a wonderful music teacher and was loved by all. Mrs Littler was instrumental in getting a place for me at Wigan Tech and poor Miss Reynolds was constantly upset by some unruly girls in my class. Takes me back quite a few years.
Left Britannia Bridge in 1953 to move to Essex with my Parents, Barbara Taylor was in my class. Still pass it on my visits to see my friend of 70 years Eileen Kate (Rigby) wonderful memories