Photos of Wigan
Photos of Wigan
Album Contents
Album Contents
Wigan Album
Golborne Juniors
6 Comments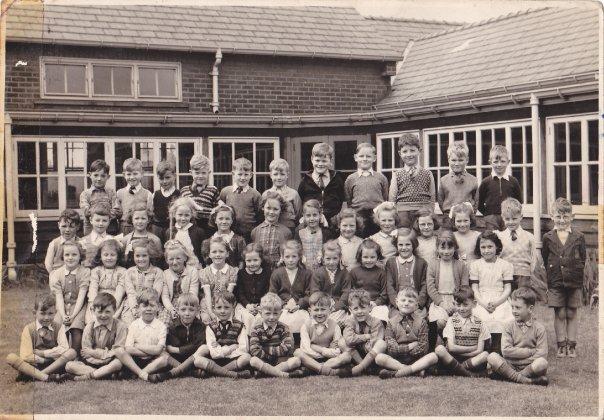 Golborne County Junior School !955
Photo: Tony Peet
Views: 5,837
Item #: 23491
L to R Back Row,Paul Matthews, Colin Catherall, Derek Fawcett,Graham Watson, Alan Taylor, Ronnie Benbow,Fran Cotton, Frank Gildart,Danny Worsley, Ian Fearnley, Ian Rutter. 3rd Row L to R,Jimmy Hewitt, Ronnie Chandley,Barbara Salisbury, Wendy Mellor, Pat Mallee, Diana Jenkinson, Alwyn Dawber,Wendy Owen, Dorothy Campbell,Margaret Maskery, Mavis Lowe, Tony Peet (me), David Rigby.2nd Row L to R, Anne Wakefield, Marilyn McCann,Susan Birchall, Ann Mather, Pauline Cooper, Irene Heppenstall, Linda Job, Kathleen Job, Ann McCarthy, Marion Jones, Yvonne ?, Ruth Gore. Seated L to R, David Mansell, David Gibbons, David Williams, Derek Molyneaux, Frank Turton, Geoffrey Hodgkinson, Brian Arrowsmith,Malcolm Price, David Halsall, Keith Simpson, Stewart H.ibbert
Comment by: Lewis on 20th May 2013 at 10:31
Fran Cotton - it certainly looks like the former rugby union prop forward who played for England and the British Lions. His clubs included Coventry R.F.C. and Sale. After retiring, he remained in rugby administration and founded a clothing company
Comment by: George Chilvers on 20th May 2013 at 13:39
Fran was born in 1947 and is a local lad, so he would be about 8 when this photo was taken. A big lad even then!
Comment by: Neil Cain on 22nd May 2013 at 12:39
Once saw Fran give his oppsite number on the French Team a torrid time
Blimey! Lots of familiar names there. Have not got any old school photos so it was great to see this. Where is everyone now! Be good to hear from anyone on this photo.
Great photo, my dad looked like a right rumen, great to see this
Comment by: Anthony Peet on 18th June 2018 at 00:02
I now think it is Yvonne Mathews.