Photos of Wigan
Photos of Wigan
Album Contents
Album Contents
Wigan Album
Belle Green, Ince
14 Comments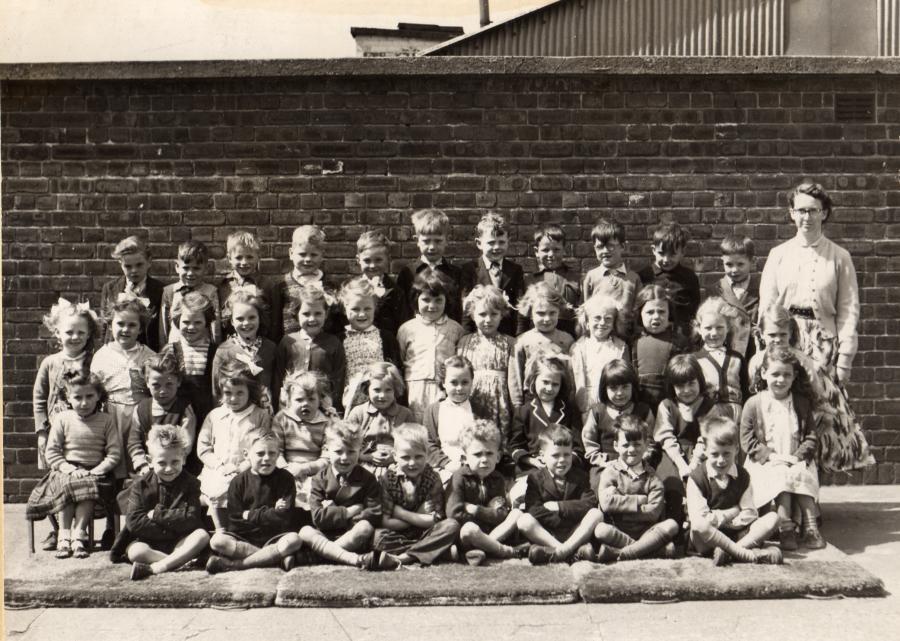 Class photo, c1955.
Photo: Maureen Rutter (nee Green)
Views: 7,380
Item #: 230
Miss Clarke's class, c1955.
Comment by: kath byrne on 5th April 2008 at 13:17
Comment by: jm on 16th April 2008 at 16:09
5th from right 3row back is Joyce Calderbank.
2nd row 4th from left is susan Fearnley
Comment by: freeway on 30th October 2008 at 18:36
I think the first girl on the left secound row is joyce croston
Comment by: freeway on 30th October 2008 at 18:58
sorry i mean the the first girl on the second row right is i think joyce croston
Comment by: Joan Mcknight on 14th November 2008 at 23:36
hi Maureen never seen this pic before i am on the second row 5th one in from the left also on the bottom row 5th in from the left is my nephew Clive Mcknight
to comfirm the girl on the right second row is me joyce pryle (nee croston)
I think that me 2nd row from back 3rd from left, don't remember that teacher at all
I'm on the second row from back, third from right. I can't remember the teacher's name either!
Comment by: Jeanette Boyle on 20th May 2009 at 13:20
Haha the two twinnies on the 2nd row far right 2 ad 3 in is Susan and Sylvia Fairhurst no noe can forget them lolx
Comment by: tom holland on 13th December 2011 at 19:45
This is the same class as the later, 1958 photo. I'm 8th from the left on the back row next to my cousin Jack Martin
Comment by: sheila sixsmith(pennington on 17th May 2012 at 14:24
i am right in the middle of the second row down from the top.
Does anyone remember my mam Joyce naylor her brothers jackie n William naylor from York street if they are in any of the piks can u let me know please x
Comment by: Elaine Fairhurst on 12th December 2013 at 16:02
Elaine Nicholson 3rd row far right in front of teacher
Can anyone tell me if the little girl on the second row at the end on right side is Sandra Sharratt .