Photos of Wigan
Photos of Wigan
Album Contents
Album Contents
Wigan Album
St William's RC, Ince
15 Comments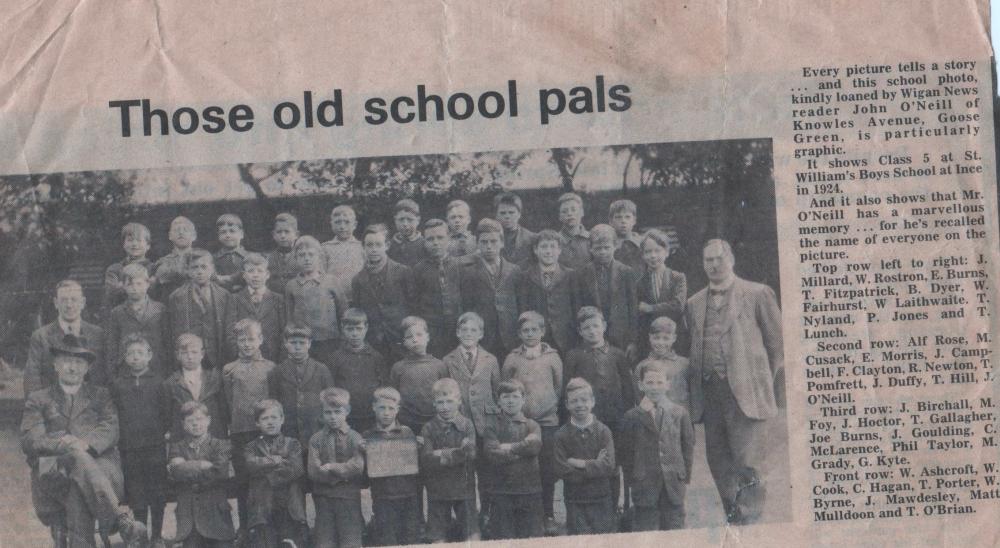 St Williams RC Ince Class of 1924
Photo: Ray Dwyer
Views: 2,719
Item #: 22967
This is a picture from a newspaper of my dad's class at St Williams Ince in 1924 . My dad was William (Billy) Dwyer and is wrongly listed as B Dyer. I guess Wigan Worlders would have to be really old to know the people in the picture but its worth showing for posterity.
Comment by: josie on 22nd March 2013 at 22:39
i have an uncle john mawdsley but i think he was born 1920 so he would have only have been 4 ish,
Comment by: josie on 22nd March 2013 at 22:50
i dont think its my uncle john but it may be his and my mothers uncle joe mawdsley we allways called him uncle joe anyway , thanks for the photo ray ; my cousin gerry might be able to comment on it , joe if its him is on front row third from right .
Comment by: bill g on 23rd March 2013 at 16:55
When I saw this was St Bills 1924, I was thinking my mam, Nora O'Neill, who was aged 5 in 1925 must have known some of these lads though they would have been a bit older. Then I noticed the name of man who kindly lent the picture to Wigan News was John O'Neill. He was known as Jack to my mam because he was her brother. I have picture of him and my mam taken on a ferry to Dublin in 1930, just after both their parents had died within six weeks of each leaving them orphaned. She was the youngest of 10 or 11 kids and the trip to Dublin was to place her with relatives in Cork but she came home within after a month to be raised by elder siblings. I'll try to post the p[ic sometime. Jack's twin brother Ted must have been poorly or something the day of the picture as he's not in it.
Comment by: josie on 24th March 2013 at 22:04
hi bill ,my mam had a very good friend called norah neil I presume it should be o'neil my mams name was annie mawdsley married name beckett, from hr ince, her uncle think its joe is on this pic,she was born in December 1918 and went to st Williams, I just wondered if it was the same norah I remember her too!
Comment by: bill g on 24th March 2013 at 23:57
Hello Josie,
My mam was born January 1919 at No 3 Kirkless Lane/ Street?. I'm pretty sure our maams were mates. I remember from times when I was a little un the name 'Annie Mawdesley' cropping up in conversations many times.
So, we were Belle Green Laners alright.
In't nostalgia great!
Bill G.
Comment by: Kath Arkwright on 25th March 2013 at 17:44
These boys are in my photograph of Standard 1V in 1923. Some look as if they've grown since then but others still look very small particularly my uncle Eric Morris.
Comment by: josie on 25th March 2013 at 22:14
hello bill,kirkless st was just round corner from us at the top of belle green lane we lived in York st so I think your mam and my mam were childhood friends until your mam passed away, I remember your mam coming to our house many a time she was a lovely lady, my mam died age 90 she never forgot norah neil as she called her .
Comment by: bill g on 26th March 2013 at 10:50
Hi Josie,That's nice to hear that she lived to a ripe old age. Nora passed away in 1985 age only 66. Sad.
Here's to longevity and good health for the pair of us! Cheers, Bill.
Comment by: josie on 28th March 2013 at 23:08
hello kath, is it possible that you could put your photo on here ? I would love to see it thankyou x
Comment by: Kath Arkwright on 2nd April 2013 at 01:24
Josie,it's already on, at the bottom of the first page of St William's School and you've commented on it!
Comment by: josie on 3rd April 2013 at 18:41
oh I will take alook kath thanks
My dad Billy Dwyer who is on the school photo lived in York St Higher Ince. His dad my grandad, William Dwyer ran an off license at nos 1-3 York St. My dad remembered seeing workers from the steelworks probably furnacemen, foundrymen or coke ovens workers calling in for pints of beer in the early morning after working nightshifts before going home.My grandad died in 1948, I'm not sure if the off license continued after his death. Does anybody have any memories, info or knowledge passed down about York St and in particular my grandad's off license.
I visited York St a few years ago, you can see where the houses were. When was York St demolished ?.
Comment by: Frank Rose on 18th October 2015 at 14:27
My dad was Alf Rose. This is the oldest picture we have seen of him. We would welcome any memories you may have about him.
Comment by: Nicky on 4th June 2020 at 09:29
I think the j mawdsley was either my grandad jimmy mawdsley (1914) or his brother joe (1912), they were the youngest 2 of 9 children and lived in battersby st and belle green lane
Comment by: Nicky on 4th June 2020 at 09:30
I think the j mawdsley was either my grandad jimmy mawdsley (1914) or his brother joe (1912), they were the youngest 2 of 9 children and lived in battersby st and belle green lane