Photos of Wigan
Photos of Wigan
Album Contents
Album Contents
Wigan Album
St John The Baptist School, New Springs
5 Comments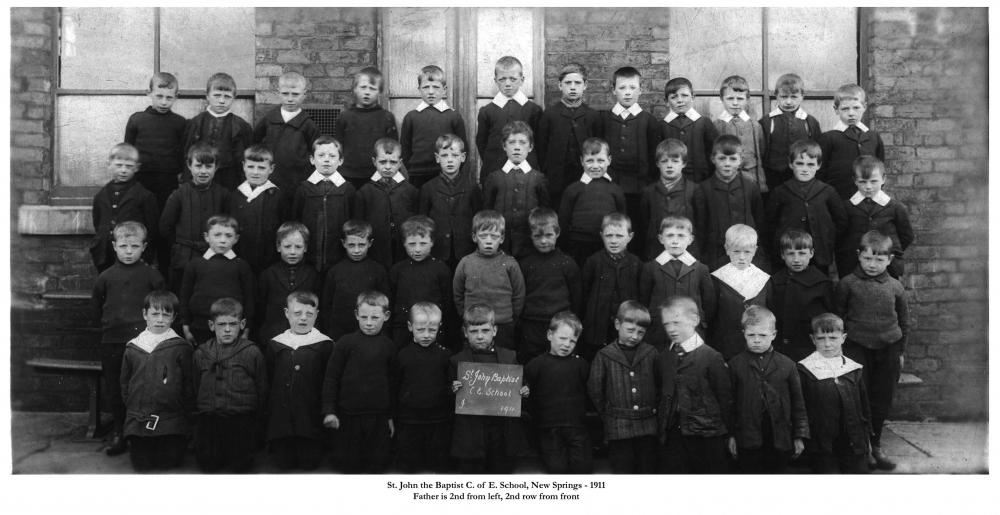 St John the Baptist school, New Springs - 1911
Photo: E J Hall
Views: 2,142
Item #: 22903
St John the Baptist, New Springs, class photo from 1911. My grandfather, Edward Hall, is 2nd from the left in the second row from the front. If anyone recognises any of his classmates, I'd love to hear from you.
Comment by: ken on 12th March 2013 at 21:07
What are the ages of these children?
Comment by: RON HUNT on 12th March 2013 at 22:06
Comment by: Ken on 13th March 2013 at 14:08
There could be 2 of my father's brothers on this photo that would be Peter Smith born 1899 & John Authur AKA Jack Smith born 1901 the lived in Withington Lane No70 the old terrace no longer there. There are a few faces that looks like they could be family but can't say for certain and I have no photo's of them my father by the way was Harold born 1907 so to young for this photo.
Comment by: Walt (North Yorkshire) on 13th March 2013 at 21:56
My father also went to this school though it would be about 5 years after this photo was taken,he also had two elder brothers who almost certainly will be on this pic but I can't tell which ones they are. My dad's name was Southern and they lived in Greens Yard New Springs.
No question. The slack-jawed, belligerent - looking guy slap bang in the middle in the odd jumper is my Grandad, James Henry Foot (25/12/00 - 19/12/90. Lived in Aspull and New Springs all his life. 51 years a coal miner. Could shorthand and type at 13, loved grand opera, astonishingly witty and erudite, never lost his father's Dorset twang. A total legend to my family.