Photos of Wigan
Photos of Wigan
Album Contents
Album Contents
Wigan Album
Notre Dame School, Standishgate
11 Comments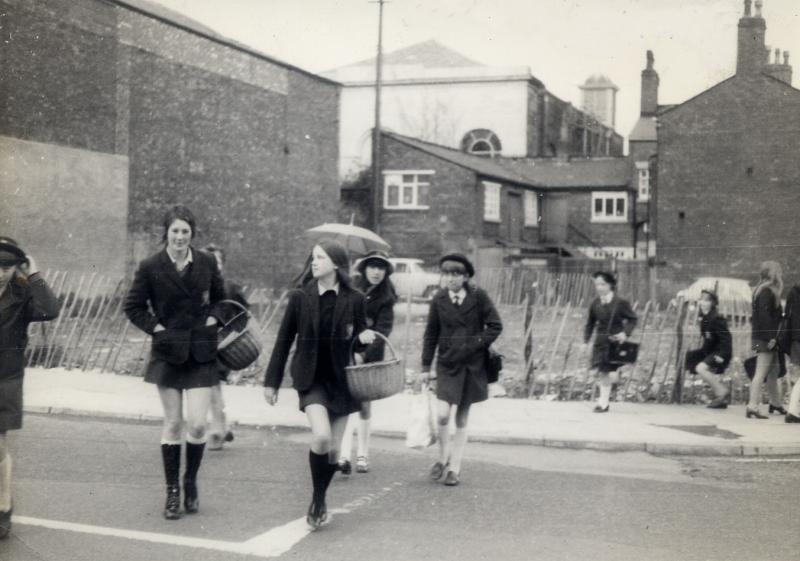 Pupils on their way home
Photo: RON HUNT
Views: 5,257
Item #: 21484
Photograph taken at the corner of Powell Street and Standishgate with some of the girls with their baskets of 'goodies' made in Domestic Science. How did the nuns allow such short skirts?
Comment by: Maureen Andrews nee McGovern on 22nd September 2012 at 13:57
Good question Ron..Sister Francis at st Josephs would have had kittens if we had worn anything like that..mind you she had kittens over the slightest thing.
Comment by: MarieM on 22nd September 2012 at 16:57
Maureen and Ron. I went to the Convent. They would have erched em up on the corner of Powell St.
Comment by: Jim on 22nd September 2012 at 17:53
In today's pc world you'd probably get arrested for taking this photo without permission.
Comment by: RON HUNT on 22nd September 2012 at 18:07
How do you know the photographer didn't have the girls permission to take the photograph????????????????????????
Comment by: tricia on 22nd September 2012 at 18:49
MarieM
Just what we did when we got clear of the gates at WGHS!
Also rolled up the sleeves of our blouses, took off the silly hats , and called in for a penny loaf at the bottom of the hill.. eating in the street.. another crime we were punished for!!! Afraid to say it happened to me on a few occasions as one of the teachers lived by me and caught the same bus home.
Comment by: Mark on 22nd September 2012 at 23:54
I don't think he asked for permission to take a snap of those convent schoolgirls Ron. Things were simpler back then we weren't controlled by New Labour's PC Machine.
Comment by: Dennis Miller on 23rd September 2012 at 06:56
RON... wind your neck in Bro. Jim was just making a very valid observation... it was perfectly okay for a person to point a camera at school children in those days. Jims comments seem to be a comment on our modern times when everything is viewed as if something nasty is going on, when in fact all is happening is someone is taking a photograph of people going about their lives.

In 30 years time, you will not see such brilliant photographs of kids coming home from school in 2012... simply because it is now no longer PC to take them!

It is an excellent photograph because it is natural.
Comment by: penny2 on 26th September 2012 at 14:39
Great pic it takes me back in time ,I went to the convent from 1969-74 we crossed the road at that point to go to the sweet shop opposite.
Comment by: Carol Greenall on 1st October 2012 at 14:29
I was there 1970 - 73. Guilty as charged re the skirt length - we just used to turn the waistband over several times. Some of us used baskets instead of satchels for books, not just used for domestic science days.
Oooh! That's Saint John's church in the background. Many a wet break spent in there, lighting candles and saying prayers. Much better than getting cold and wet.
Thats my mum at the front. I love this picture.