Photos of Wigan
Photos of Wigan
Album Contents
Album Contents
Wigan Album
All Saints School
23 Comments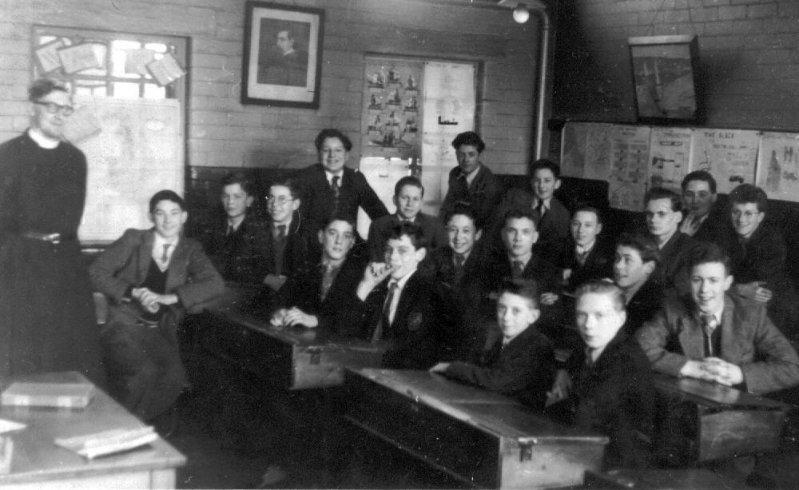 All Saints School class 4a 1955.
Photo: Ken Ormshaw
Views: 8,873
Item #: 212
All Saints School class 4a 1955.
Comment by: bill rayner on 30th November 2007 at 17:01
does anyone know who the three boys are on the top right of this photo,i think the one in the middle is allan halliwell.i think the one on the left is bill shacklady, does anyone know the one on the right?
Comment by: Brian Acton on 12th December 2007 at 20:17
Bill Rayner.
Just seen your comment regards the three boys top right in the photo.This class was one behind my class at All Saints
and I know at least two on the photo.You might be right about Shacklady, but the Alan Halliwell is doughtful,because an Alan Halliwell was in our class, and the one in the photo is definately not him.i admit it is possible for two pupils with the same name to be in following years , but it is doughtful.The boy on the front row with his thumb in his mouth is Ernie Marshall, and the sat near the vicar is Gordon Jukes.I know a few others, and when their names come to me I will post them on this site.
Comment by: Ken Ormshaw on 14th January 2008 at 13:24
The lad with two fingers in front of his chin is Eric Lowe
Comment by: C. Close on 15th July 2008 at 20:10
Itis certainly not Alan Halliwell Alan is my cousin!
Comment by: Roy Huxley on 13th February 2009 at 10:23
I didn't go to All Saints, I went next door to TLS, I knew Ernie and Bill and I know Kenny. The lad front right light coat is Alan Jameson,I think lad on Ernie's left is Raymond Taylor.
Comment by: Roy Huxley on 13th February 2009 at 10:40
Just had another look, is that not Melvyn Finch sat high beneath photo on wall?
Comment by: Brian Acton on 15th February 2009 at 19:49
Hi Roy.
You said that you knew Ernie, Bill and Kenny,obviously Ernie is Ernie Marshall, but who were Bill and Kenny.
Comment by: Roy Huxley on 15th February 2009 at 21:32
Hi Brian.
Kenny Ormshaw who uploaded the photo is at the back in the centre with his back against the downpipe, Bill Shacklady is bottom left in the triangle of lads on the top right of the photo.
Comment by: jon wilcock on 15th July 2009 at 13:25
is the teacher Mr Cutter.
Comment by: Brian Acton on 15th July 2009 at 20:48
Jon Wilcock.
As I said in previous comments about this photo,I was in the year before this class, so I had left when this was taken.This photo is unusual in so much that I can't recall any class photo's being taken whilst I attended All Saints.Regards if ir is Mr Cutter or not, I presume you mean the man in the left hand corner of the photo who looks very much to be wearing a dog collar, which I would presume he was perhaps the vicar of All Saints at the time.There was no Mr Cutter teaching at All Saints during my period there.Perhaps Ken Ormshaw can explain a few of our questions if he see's the postings.
The man in the dog collar was just the local Curate from Wigan Parish Church who would come down to teach R.E.
Comment by: Brian Acton on 15th August 2009 at 18:58
Ken Ormshaw.
Can you not have a go a name all the lads in the photo,and why was the photo taken. As I said in a previous comment I can't recall any class photo's being taken whilst I was at All Saints, so why this one?
Comment by: Keith Brockley on 25th November 2009 at 19:34
Some of the missing names from class photo.
Far left sat on his own Gordon Dukes, from left to right behind Gordon Dukes are. W Rankin,John Bamber,Brian Addison,Ernie Marshall,Ray Taylor,last on front row unknown.
Second row Melvin Finch,unknown, Fred Bamber,Alan Massey,Stan Croft,Alan Jamieson.Group at the back from left to right.Unknown,Ken Ormshaw,David Barlow,Bill Shacklady,Eric Lowe.
Comment by: Keith Brockley. on 30th November 2009 at 13:08
Names.Pupils who had left 4a 1955.
M.Higham.W.Sharrat.E.Dutton.H.Swift.E.Dowberkin.T.Potter.
D.Fazakerley.A.Doran.?.Dowling.D.Eatock.J.Gregory.G.Higson.
J.Craggs.Myself.KEITH BROCKLEY.Now 69years old.
Middle back of the photo looks really like my brother Christopher. Given he was born in 68 it's obviously not him so could be my dad Allan Halliwell. He went to All Saints and was born in 1940 and lived off Greenhalgh St (Regents St?), had a brother called Geoffrey (but he was quite a few years younger). He lived close to his cousin Shirley Topping and her younger sister Valerie. Sadly he died in 1987, we lived in Gidlow Ave. His dad, Charlie liked cycling and I can remember the Wigan Wheellers events each year in Menses Park.
Comment by: Brian Acton on 7th February 2010 at 18:10
Francesca.
Your father Allan Halliwell was in the same class as me at All Saints, which was one year in front of these lads, who would be in the third year when we were in our final year.I am sorry to hear Allan has passed away,he was always a big raw boned lad at school, and he got on well with everybody.Keith Brockley in a comment on this photo has identified every body in the photo, and I would think the boy you refer to is Bill Shacklady, who I must admit had an resemblence for your father at that age.
Brian Acton!! what a blast from the past!Still finding my way round Wigan World,and just found you. Your right about school photos, I dont remember having any taken, either. Ido have a school magazine from 1955, but I think it would have been my brother's, as i left in '54,
Comment by: Brian Acton on 6th August 2010 at 19:24
Tony Kearns.
I presume you are the Tony Kearns who's family had a music instrument shop on Wigan Lane opposite St Marys church, if so welcome to Wigan World Tony.If there are any photo's in the school magazine that you mentioned by all means post them on this site,I'm pretty sure all the old All Saints pupils would like to see them.
Hello Brian, sorry for the late reply, I'm like a kid in a toffee shop, dont know which part of W.W to look @ next! Your right, I am the same Tony Kearns, and you are the first person from our past, that I have come into contact with up to now, but hope for many more. Sadly, there arn't any photos in the magazine,its quite amateurishly written, some of it by the pupils themselves, but I thought of asking Bryan who runs W.W., if there is a way to publish a copy of it on here, regards ,Tony
Hi, im trying to locate any information about my father, Brian Higson, born 1931. he moved to Dudley around 1940.
the 3 on the right hand side at the back are Bill Shacklady behind him Eric Lowe and to his left Roy King at the end.
Comment by: Roy on 25th April 2012 at 17:40
Is that not Ken Daley sat next to, but higher than Ken Ormshaw?
Comment by: Roy on 24th March 2015 at 16:47
Unfortunately Ken Ormshaw who uploaded this photo passed away on 31st Dec 2014, rip Ken.