Photos of Wigan
Photos of Wigan
Album Contents
Album Contents
Wigan Album
St Catharine's, Wigan
14 Comments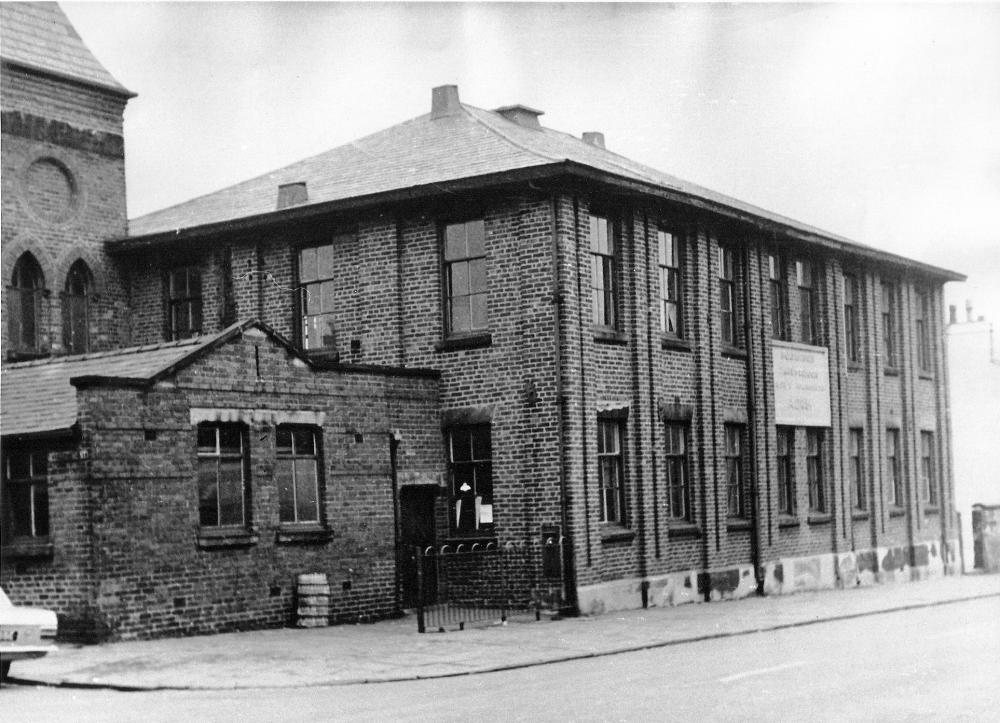 St Catharine's Infants and Junior School in the mid 1960s
Photo: JohnAlan
Views: 3,075
Item #: 21158
Standing on the corner of Scholefield Lane and Catherine Street the school was demolished in the early 1970s. Hundreds of children passed through it's doors over the many years of serving the parish. I was a pupil from 1954 until around 1960/1. Teachers were numerous but I remember Mrs Watson, Mrs Atherton, Mr Rudd, Miss Wilcox and there my memory fails me. The was an exchange teacher (man) from Burma or Malaysia for a time and an attractive young woman who all the lads had a crush on. Anyone remember their names or any other teachers of that period? I remember playing games in the yard and football on the Rec for the school. The raffia mats on which we had PE and sat on irritaing they were. The long forms again used for both purposes and the horse for jumping over. The heating boiler run on coal/coke with cast iron radiators scattered around the place. At christmas making paper chains from coloured gummed paper and hanging them up around the class. Milk or orange in the morning break and walking down to Darlington St for school dinners (St Pats Rugby Club used the building for many years for changibg rooms). Great days those were!
Comment by: roy sturgeon on 1st August 2012 at 19:15
i rember head teacher mr shenton about 1949 and a mr thorpe who used to come in and teach music mr rudd senior was caretaker
Comment by: BJB on 1st August 2012 at 19:42
I also attended St Catharine's School and have very fond memories of it. Miss Wilcox and her weekly 11+ "tests" which were compared to a similar class doing the same 11+ preparation test in town at a school where her sister taught. Mr Rudd, Miss Atherton, Miss Boyer, Miss/rs? Fletcher, Mr Shenton Head, the caretaker Mr Rudd, father of Eddie Rudd our Year 3 teacher. The "Rec" where we played football for the school and January 1950 walking down in the snow for school dinners to the canteen at what is now the site of St Patricks Rugby Club - I went on to the Grammar and eventually 40 years as a teacher - I have a debt of gratitude to the wonderfully devoted teachers of St Catharines.
Comment by: JohnAlan on 2nd August 2012 at 09:54
There is the rear of a Mk2 Cortina just visible so I think they were introduced in the mid to late 1960s which would date this photo. BJB I remember the names of the teachers and caretaker you mention. The lovely young woman teacher may have been Miss Fletcher or Boyer. Miss Wilcox had it in for me because I wasn't one of her pets! Many time she made me sit on the floor in her upstairs classroom on the Catherine St side. I was rather bolshi though!. Remember well the splinters from the well worn floorboards and my Grnadma going up to school to give Miss Wilcox a piece of her mind. Children were unkind though as her nickname was "Bandy Wilcox" Wasn't nice was it? I also went to St Catharine's Church (and still do) and was in the BB as boy and officer later on. Still love St Catharine's Church.
Comment by: BJB on 2nd August 2012 at 17:11
As a youngster being brought up in Wigan in the 1940's and 50's I'm sure like many others we noticed far more cases of rickets than, thankfully, there are around today. Rickets is among the most frequent childhood diseases in many developing countries and yet Miss Wilcox seemed to have this condition and at a guess was born around 1910, a time surely when we were anything but a developing country. Poverty, poor diet and usually a lack of calcium were the likely causes which suggest we, in fact, were a developing country since these are the factors that bring it about. Perhaps the answer lies in the suggestion that development at the turn of last century was, at best, uneven and the industrial areas, usually in the north, were under developed.
John, the Burmese or Malayan teacher you recall was probably a student teacher from the Malayan Teacher Training College at Kirkby, see: http://kirkbyites5254.blogspot.co.uk/
The college sat beside the Wigan - Liverpool line just north and west of Kirkby Station. It had been built to provide accommodation for key workers brought to the Royal Ordnance Factory at Kirkby. I think my dad lived there for a short spell before being allocated a house for the family on the Kirkby Park ROF estate next door when he was moved to ROF Fazakerley from ROF Hooton as the ROF factories were rationalised at the end of the war.
The buildings became a training college for Malayans in about 1950 until the early 60s. As the website above indicates, it is remembered with great fondness in Malaya, and seems to have influenced its education system very deeply. The students were sent out to do teaching practice in many schools in the region.
I also have a great fondness for the place... after the Malayans moved out it became an overflow Women's Teacher Training College attached to Liverpool University. At the age of 18 around 300 girls of my age were suddenly placed on my doorstep.... Many of us found our wives from their number.
Comment by: jim holding on 3rd August 2012 at 14:47
BJ,,
the young woman teacher certainly was Mrs Boyer or Mrs Fletcher and the missing teacher who took Staddard One was Miss Houghton,,spinster of this parish with the twin set and hair in bun,,

I left in summer of 57,,,and the yoing teacher was probably "Miss Carney" a friend of my eldest sister Margaret,,.who was a regular visitor at our house but was told one day to call her "Miss" in school and not Sheila as previous,,,,think it was ,,she would be about 19/20 at the time

Carneys had a shop in next block to the school not 50 yards away
Comment by: JohnAlan on 3rd August 2012 at 16:01
Jim and Rev D Long, thank you both for the information. When the student teacher left I remember writing a letter to him about one of the girls in my class Susan Wadsworth I liked very much (Darlington St). He did reply and I am sure I have his letter some place. I'll try and look for it!!! Jim I certainly heard of Miss Houghton and although I think she was teaching at the school when I started in 1954 I don't remember her. I know she gave sterling service to the school for many years. There is a phot under schools St Catharine's I seem to remeber.
John, if you do have the reply you received from the student Malayan teacher I am sure that he would be traceable through the various websites relating to the college which are on the web. His recollections of his time in Wigan should be interesting to read.
Rev D Long: I was wrong there isn't a photo of Miss Houghton under the school section. Seen one somewhere though. The grey cells aren't what they used to be. I will try to find the letter but don't hold your breath. It is 50+ years ago.
Comment by: jim holding on 10th August 2012 at 11:17
John ,
I have seen that same photo somewhere in fact am sure it was in the Evening Post Nostalge section,,think it was taken in late 30,s and Miss Houghton looked exactly as I remember her in the mid 50,s when i was there. twin set and hair done up into a tight bun.I left in the summer of 57 ,,,I rememember the said Ms Wadsworth,through my aunties husbands,brothers wife etc ,,, lived in Darlinton St East,,opposite Bull Broo....not sure of street name now,,
Comment by: JohnAlan on 8th January 2013 at 15:35
Roy, I think your sister Linda was in my class.
Comment by: Joe Thomas on 27th September 2015 at 14:06
I think the young woman in question who all the lads had a crush on was Miss Silman
Comment by: BJB on 19th November 2019 at 20:17
I believe I can "see" the date the school was built or I'm simply "confirming" my prejudice that it was 1834. Apparently it was the Church's "policy" to build a school first and then follow it up by constructing a church. In this case St Catharine's church was built in 1841, some 7 years after the school was built.
My Great Grandfather was the head Master of St. Catharines School from 1867 to 1875.
I plan to write a 'story' of his life there from start to finish when illness forced his retirement.
I did visit the area some 10 years ago and even have copies of the hand written logs of his life there. Interesting insight to some of the daily life at the school.
I met Bil Bithel, ex pupil of St Catharine, who wrote some good stories of the area and done a great drawing of the school, which he has let me use for my own story.