Photos of Wigan
Photos of Wigan
Album Contents
Album Contents
Wigan Album
St William's RC, Ince
6 Comments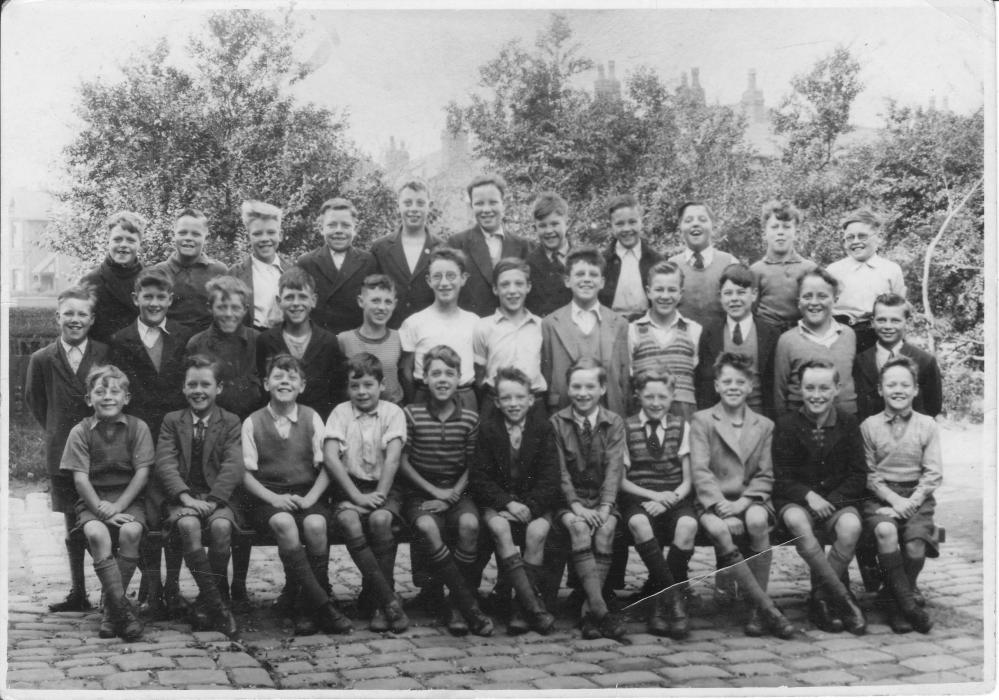 St Williams Boys School 1955
Photo: Margaret Wall
Views: 4,065
Item #: 21074
The only ones I can name for sure are my late brother Dennis Wall and his cousin next to him, the late Joseph Kennedy. These are the two biggest lads on the back row. Also, the third from the right in the middle row is the late Peter kearsley, a great friend of my brother.
How sad that these three lads are all deceased and probably a few others as well!
Comment by: Bill Fleetwood on 23rd July 2012 at 09:05
Another very nostalgic photo Margaret.Taken on the cobbles at the entrance to the school,at the side of the wall of the church with IGL in the background.
I would have thought the year would have been 1952,the lads on the picture were slightly older than me.
I recognise a lot of them but some names elude me at the moment.
Thanks again for the picture.
Comment by: irene roberts on 23rd July 2012 at 13:19
A lovely photo of a more innocent age, Margaret.
Comment by: Perkin Warbeck on 24th July 2012 at 11:27
Dress Code:- Smart Casual
Those were the days!
Comment by: aitch on 26th July 2012 at 22:21
all the front row sat like right little madams, with hands clasped and legs crossd at the ankles, but I am sorry to hear that Joe Kennedy had passed away, he used to live near to me till he got the bungalow down the view, I lost contact with him when he went that way
Comment by: Bill Fleetwood on 30th June 2013 at 19:49
After some research,with help from Martin Kenny and George Dainty here goes,
Back L to R
Gerald Leyland,Sid Fenton,Tony Wilson,Len Croston,Dennis Wall,Joe Kennedy,Ken Meyrick,Brian Roby,Kevin Murray ,Colin ButlerJohn Ball.
Middle row L to R
Jimmy Carney,Bernard Danson,Tommy Dunne,Harold Ashurst,Johnny Harrington,Bill Stanton,Roland Anders,Brian McDonagh,Teddy Dutton,Peter Kearsley,Bernard Prescott,a Bannister(cousin of Joe on the front row)
Front L to R
Frank McGarrigan,John Walsh,Bill Rostron,Kevin Ashcroft,Tommy Cusick,Joe Bannister,Frank Beckett,Frank Griffin,Albert Curran,Frank Dwyer and George Dainty
Comment by: Bill Fleetwood on 1st July 2013 at 11:25
Thanks to Margaret,we can reveal that the Bannister at the end of the middle row was Joe.