Photos of Wigan
Photos of Wigan
Album Contents
Album Contents
Wigan Album
St Thomas's C of E, Wigan
4 Comments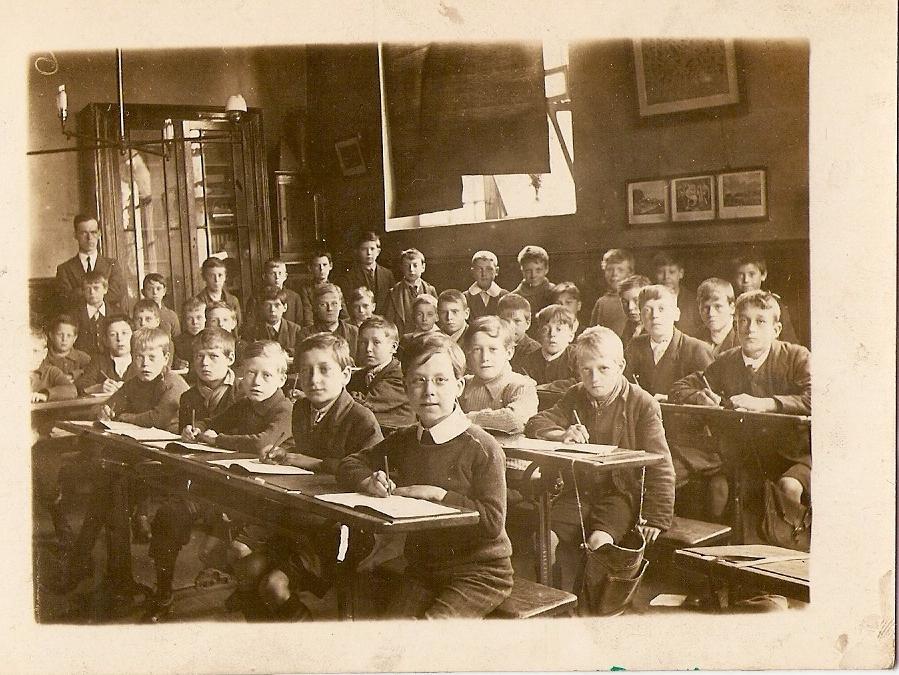 St Thomas's School (Clayton Street?) circa 1918
Photo: Barbara
Views: 1,572
Item #: 20905
I think this is St Thomas's Clayton St.. I know that the girls and boys had a separate entrance and playground in the 40's but the classes were mixed. It looks as though, around 1918, the boys and girls were taught separately These types of desks were still in use in the 1940's
Comment by: barbara on 25th June 2012 at 17:34
The separate entrances and playgrounds were at St Thomas's Caroline St and not Clayton St. I remember going to Sunday School at Clayton St. I think Miss Fairhurst was the superintendant of the Infants and Mr Davenport was the superintendant of the Juniors.I remember that, unusually for those days, there was a female caretaker by the name of (Houghton?) and she kept the place spotless. All those stone steps, leading upstairs to the hall with the stage, were scrubbed and white-stoned every week. I also remember the room with the fabulous snooker table.
Other abiding memories are of the nursery with its coal fire and camp beds on which we slept in the afternoon, the climbing frame and slide plus the mediaeval type outdoor toilets which consisted of a long plank with cicular holes over running water
Comment by: Josh on 25th June 2012 at 20:42
Looks as if there at least 38 boys in this class, possibly a few more, quite a handful.
Comment by: Dave Marsh on 25th June 2012 at 23:15
The coal fire in the nursery was lovely on a cold Winter day.In the afternoon all the camp beds were brought out whilst we had a quiet nap.Maggie Houghton was the caretaker and ruled her little roost.Lovely memories of a generation after your photos were taken,Barbara.
Comment by: Barbara on 26th June 2012 at 08:06
Nowadays, I think it would be virtually impossible to teach that many boys in one class. In those days, there was a respect for authority and the teacher ruled the classroom. The ever present threat of corporal punishment kept the boys in line.