Photos of Wigan
Photos of Wigan
Album Contents
Album Contents
Wigan Album
Golborne Parochial School
12 Comments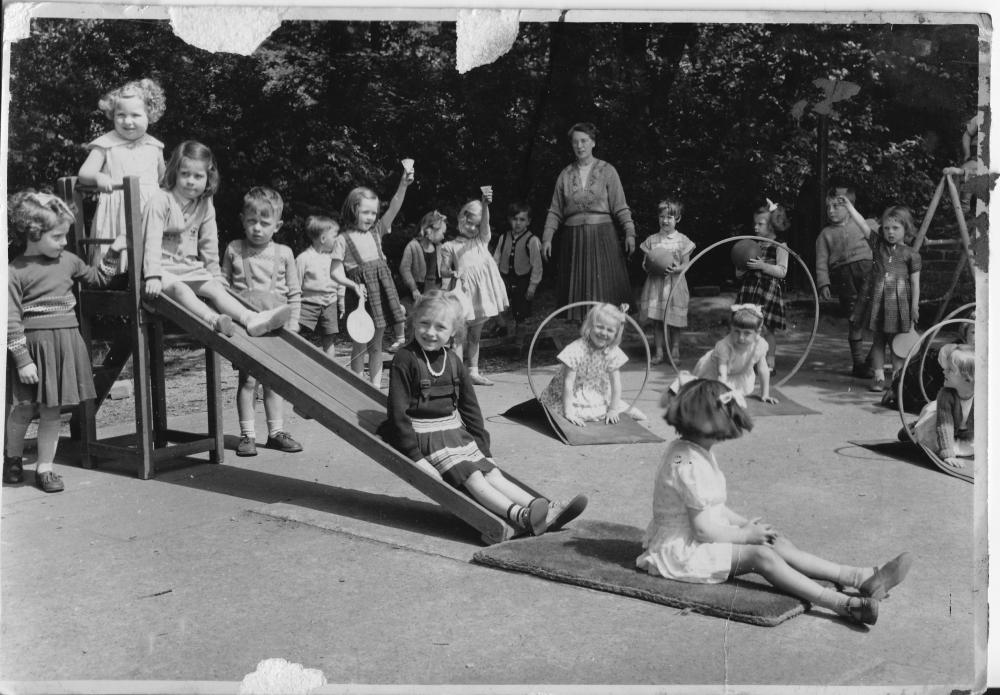 Playground fun at Golborne Parochial School in 1957
Photo: Les Prior
Views: 2,803
Item #: 20376
I remember this photo being taken in 1957 and I am the little boy in the tank top right at the back just to the left of Mrs Topping and just about to walk on the floor beam.
My name is Les Prior and I remember other pupils names - James Mason, Brenda Lloyd, Sheila/Shirley Lawrence, Angela Gleave, other names long forgotten I'm afraid, but faces never. Hope someone recognises themselves and I still have the original that my Mum kept.
Comment by: henry7 on 8th April 2012 at 15:56
No fat kids here. All look really healthy.
Comment by: irene roberts on 9th April 2012 at 10:19
This reminds me so much of my own "babies' class" year at the old Ince Central School; little girls wearing skirts with attached shoulder-straps, and ribbons in their hair....lovely!
Comment by: Ivan Gleave on 31st July 2012 at 06:12
Hi Len. I fell off the climing frame that you can just see on the right of the picture and knocked myself out.
Great Photo, does anyone have another photo taken the year before. I have had one but lost it? Contact me at dmd40j@gmail.com
Comment by: Norman carter on 5th February 2014 at 16:11
I attended St Thomas's from 1953 it isn't Mrs Topping. This is Miss Cadwalader who was a teacher.
is anyone left who attended this school between 1928 and 1932/and 1928
Comment by: Janet Graham on 29th April 2015 at 15:25
Just been told about this photo, I am the curly haired one at the top of the slide - Janet Lawrence (not Sheila/Shirley). Had a younger sister Sylvia.
Comment by: Gloria holland on 16th June 2015 at 20:37
I think that's me Gloria Holland on the slide
Comment by: Gloria holland on 19th June 2015 at 19:11
I think that's me Gloria Holland on the slide
Comment by: Arthur Lea on 1st July 2018 at 22:01
I think I am the boy a the side of the slide. My name is Arthur Lea My brother is Frank Lea
Comment by: Rebecca Price on 20th August 2019 at 18:21
Hello, is there any possibility I could get a copy of this original photo for my Grandmother? She's in this photo x
Hi, l think I am the girl on the far right of the picture holding the bat and the shuttle cock in the air , can anyone confirm this ? Thanks Doreen Spibey.