Photos of Wigan
Photos of Wigan
Album Contents
Album Contents
Wigan Album
St Catharine's, Wigan
15 Comments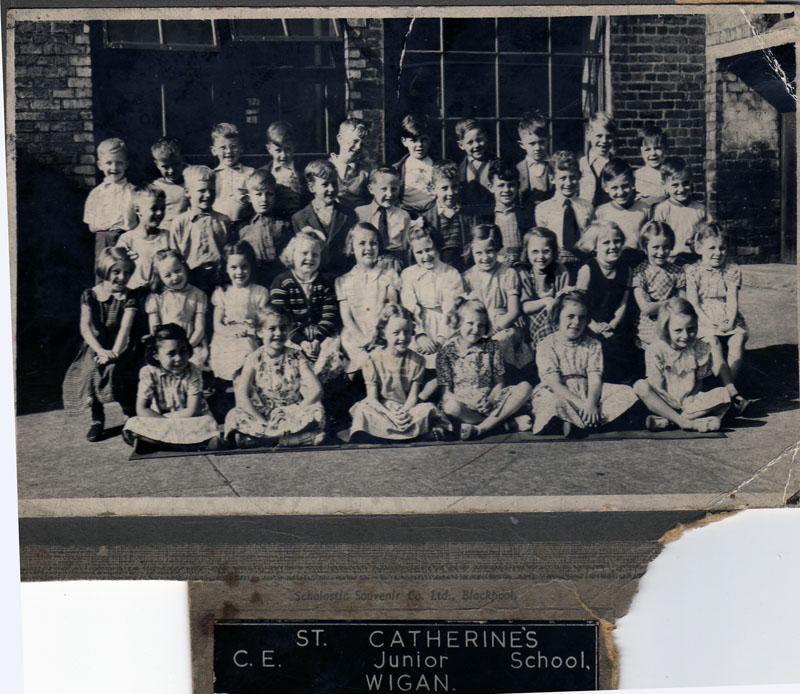 St Catherine's in the early 1950's
Photo: Fred Mason
Views: 5,300
Item #: 19683
Uploaded for Jas.
Gotta say straight away this pic uploaded by kind permission of john dootson and his wife Mary(Smith) who is 2nd from left front row,,,this the picture I didnt think existed and have quiered al these years having seen other classes above and below ours,,,dont ever remember having had a picture taken because am sure we would have bought one,,but then again,,lol,,will add names as i remember them appolgies for the ones i cant ,,,Am so glad a pic has been found and thanks once a again to The Dootsons for e-mailing it to me,,,,
front row,,l-r
Rita Fitzpatrick,Mary Smith,Olga Bamber,Enid Harrison,Gwen Davies,Jean Orrell????
2nd row...l-r
Aileen Ellis,Mary??/,Joan Fairclough,Nellie Hinds,Margorie MacCarthy,??????,Christine Pickup,?????????,Irene Waine,???????,Anne Carr
3rd row,,l-r
????????,Norman Parker,Anthony Halliday?,Kevin Stone,Stephen Critchley,Allan Finch,Alan Finch,Geoffrey Valentine,David Sherrington,John Sherrington,
4th row,,,l-r
Eric Foster,Geoffrey Parkinson,Jim Holding,Ste?Thomas,???????,?????????,Ronald Spencer,Roy Haury,???????,???????
Again appologies for any mistakes ,,hope some one can fill the blanks or make corrections,,,,
Comment by: tricia on 23rd January 2012 at 14:33
Did not recognise anyone on here yesterday, except Irenie Wain.
Sadly, Kevin Stone passed away a few weeks ago.
The lad on 3rd row,,,4th from right is John Barnes and not Alan Finch,,,,,to clear up sny quieries two pupils same name one Allan other Alan,,,,,,again unfortunately Allan who pictured 5th from right with curly hair passed away in October last year,,,I had worked with him during 80/90s at Gullicks,,,,,as where Ronnie Spencer worked until he retired,,have seen Joan Fairclough who lives in Worsley Mesnes but apart from those three I cant say that I have seen any of the others in over 50 yrs,,,
Comment by: jim holding on 25th January 2012 at 20:30
name update,,,girl in middle of 2nd row,,Gwedoline Davis..? 3rd row 1st left,,,Billy Winnard? and its Joseph Thomas and not Ste,,,,still not sure which is other Alan Finch or Anthony Halliday
Comment by: Joan Beckett (Wilding) on 26th January 2012 at 22:49
At least your memory working ok.
Comment by: jimh on 29th January 2012 at 01:27
An thats about all,,,,arhh for the old days
Comment by: carole shambley ne smith on 7th March 2012 at 21:45
i ther mary smith is my aunty ralph is her eldest brother omg not changed a bit
Comment by: aileen morris nee ellis on 29th July 2012 at 22:04
just seen photo and i am made up all my 3 brothers on other photos and could not understand why our class was missing.
Comment by: jim holding on 31st July 2012 at 13:50
Aileen,,
Like you i could never understand why our class never had a school foto..in fact i dont remember having one taken,,if you see oher pics i have asked any one who had one to put it one,,,thats how Marys Smiths husband contacted me ,,was knocked out when he did,Can you fill in any the missing gaps in the names,,,keep having a look to see if any spring to mind.I take ithat I got you correct?do remember you,,good to talk after all these years.As I remember you lived in Scofield Lane near Carneys shop a few yards away from school
I did think more ex classmates would see and comment.
Comment by: Joe Thomas on 16th January 2013 at 14:34
Your Right Jim I Thought It Didn't Exist Your Right I'm Joe Thomas Next To Roy Haury Is Raymond Yates On The End I Think Is Jackie Penman Left 3rd Row Is Edward (Eddie) Rudd And Anthony Halliday Is The One Near The Question Mark
Comment by: jim holding on 21st January 2013 at 17:31
Nice to hear from you Joe hope you keeping well,,did think a few more people might have added a comment but suppose its no everyones cup of tea looking st the past.Are you still living in Wigan?.Not much let of where we grew up now but thats progress for you.
Comment by: Joe Thomas on 23rd January 2013 at 14:23
Hi Jim Yes I Am Very Well How's Yourself Yes Your Right Nothing Left Much Of The Old Place Still See The Top Of Linney Street Last Time I Was Past The Area Moved Up Pem In 1960 Where Are You Now. Girl Second Row Up From Right I Think Is Gladys Ashurst
Comment by: jim holding on 12th February 2013 at 13:21
hello again Joe,,,yes had forgotten about Gladys Ashurst,,,slowly filling all blanks,,,,we moved to Worsley Mesnes in 1955 ans have stayed in the area ever since, currently living in Marus Bridge,,moved there in 1968 when i got married,,,good to hear from you,do you know the where abouts of any other class members
Comment by: Joe Thomas on 26th May 2013 at 12:56
I Don't Jim Sorry Hope Somebody On The Photo Might Would Be Nice To Know