Photos of Wigan
Photos of Wigan
Album Contents
Album Contents
Wigan Album
Aspull Methodist
16 Comments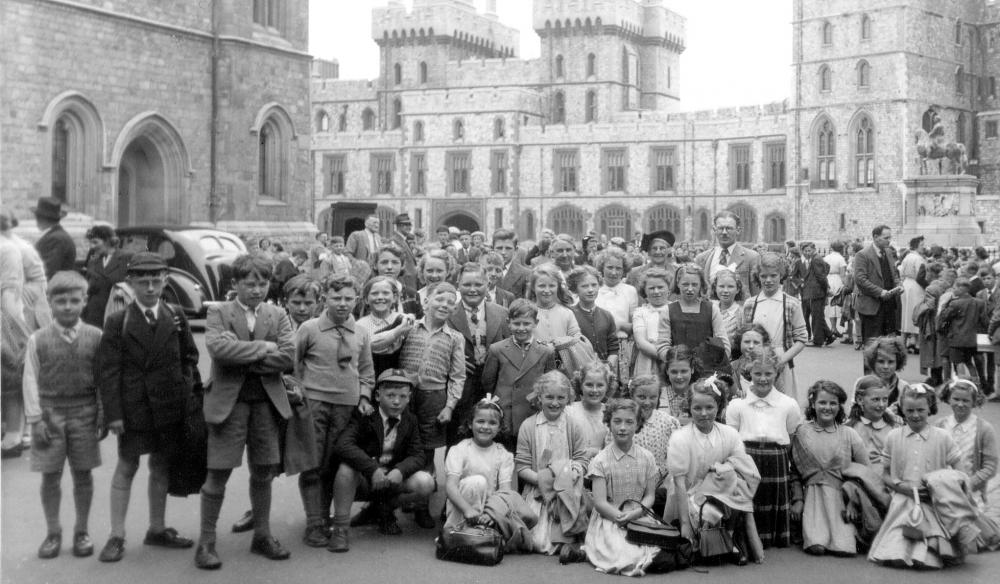 Day trip to Windsor.
Photo: Dennis Seddon
Views: 4,219
Item #: 19651
Aspull Methodist School on a day trip to Windsor about 1954 or 1955. Some of these kids are probably Great Grandparents by now.
If you recognise anyone please say.
Comment by: dc on 19th January 2012 at 08:34
"The good old days" brilliant photo Dennis catching the excitement of the day ahead, though the lad at the front with his arms folded look a bit apprehensive.
Comment by: Carol on 19th January 2012 at 09:21
What a brilliant photo. There appears to be 100's of kids there, not all of the camera toting Japenese tourists of today jostling you as they try to get the perfect photograph. I lived in Windsor for a year (1978) just down the road from the castle
Comment by: walt (nth Yorks) on 19th January 2012 at 20:42
Good photo Dennis, There are at least four I recognize, Barbara Hulme, Harold Hilton, My elder sister Anne Southern and a young lass named Lorna but I can't think of her surname, and of course Mr Thomas the head master
Comment by: walt (nth Yorks) on 21st January 2012 at 20:59
just reconized three more, Jackie Robinson, Betty Felton and Frank Joint oh and Lorna's surname was then Fielding.
Comment by: Sandra Miller nee Kay on 7th March 2012 at 17:20
Girl on the front in the middle with dark hair and next to a boy is it Vera Ainscough? On the right girl with dark hair next to girl with check skirt is Olive Lewis?
Comment by: Gaynor on 26th March 2012 at 20:35
spotted my mum (sylvia stott) ..and mailed her the pic !
Comment by: linda rutter ne hulme on 3rd October 2012 at 17:58
my sister Barbara is on this photoireconiseBetty Felton olive lewis she lives in AustraliaPauline Harrisonwhen i see our Barbara i will ask her to name them bet she knows them allthe teacher is that mrs birch
Comment by: nopa on 23rd October 2012 at 14:46
More namaes in the pic to conjour with ,, H Hilton , Jack Robinson , Keith Eckersley ,Frank Joynt ,Alan Parkinson , Norman Parkinson ,Barbara Hulme ,May Corfield ,Doreen Webber ,Lorna Fielding ,Anthea Jones ,Sylvia Stott ,Vera Ainscough ,Betty Felton .Betty Cheers , Margaret Eckersley ,? Fairhurst ,Mildred Corfield ,Anne Southern ,Margaret Roper ,June Fillingham ,Olive Lewis , Teachers Mr Thomas ,Mr Cadman ,Mrs Dickson ,Mr Owen , Mrs Stott.. I know a few more faces , just cant put names to, after all it was a long time ago lolol where are they now ?
Comment by: walt ( nth Yorkshire) on 27th October 2012 at 22:20
I can name a couple more, Bobby Sutch and Ken Seddon,
Hi Linda again, sorry I didn't realise you had seen this pic.
Comment by: walt ( nth Yorks 0 on 28th October 2012 at 08:42
Linda, I have two pics you would be interested in, one of all the women folk and kids 1939 Crawford Ave, the other in our back garden me on a bike our Anne, Marie Whimsey, June Hough and yourself, I'll try to put them onto WW for you, keep a watchful eye open !!!. over the next week or so
Comment by: linda on 12th November 2012 at 03:45
hi walter would love to see the pics dont remember haveing alot iit taken i am waiting for my son to give you my E MAIL ADDRESS also Ken Roocroft came back to me i played with there Edna iwas at the cenotaph in Aspull Sunday what memoies saw qiut a few people i new looking forward to the pics
Comment by: linda on 12th November 2012 at 03:51
forgot to tell you if you look on wigan world street scenes theres a photo of me morris dancing on scotlane im the girl in front left of betty havelyn the leader where trying to get a reuniun
Comment by: linda rutter was hulme on 12th November 2012 at 14:26
hi Gaynor do you have an aunty called Gwen i went to school with her
Comment by: LINDA on 9th December 2012 at 22:08
Hi Walter thanks forphotos im waiting for Pauline Webber to come off holliday to show her there may be someone still alive in Aspull who is a good age and may remember some of the people i am very curios now will let u know if i find anything out anyway all the best to you and your family
Comment by: linda on 3rd February 2013 at 02:28
Hi Walter been in touch with Jouce Miller shes found a lady in Aspull shes in her nintys she was 14 when she went to live on Crawford Ave so we are meeting up with her at Joyces some time next week so hope she will remmber some names fingers crossed will write to you and send photos backhopeing with some names to faces
I know almost everyone in this picture I am on the front row near the middle my brother is at the back. Where have all the years gone?