Photos of Wigan
Photos of Wigan
Album Contents
Album Contents
Wigan Album
St Benedicts, Hindley
10 Comments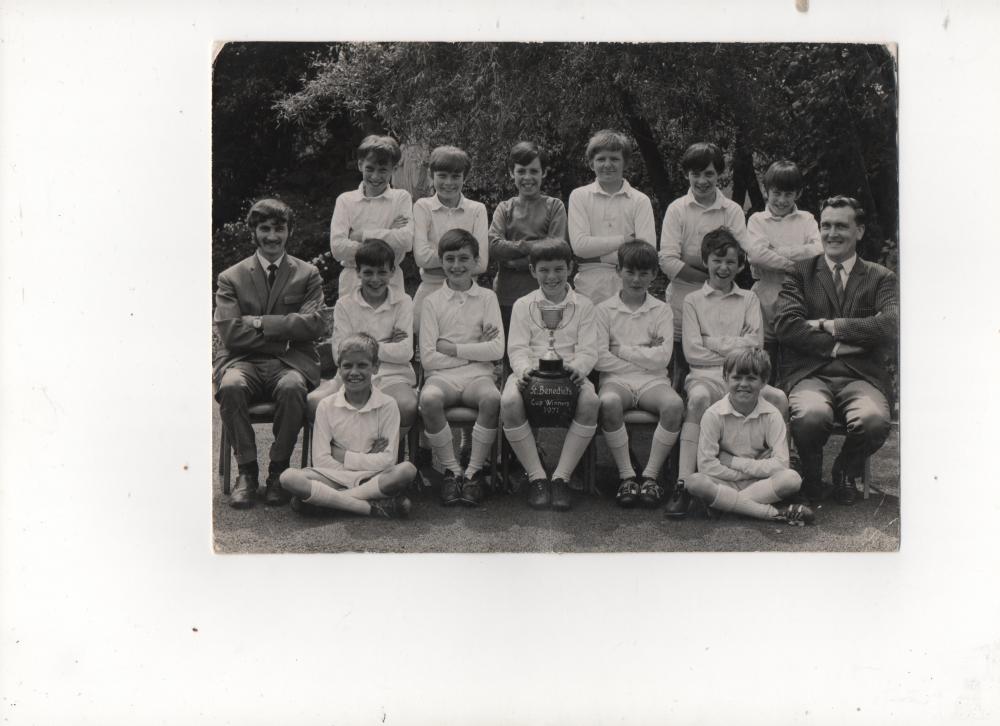 St Benedicts School Football Team 1971
Photo: Donald Graham
Views: 3,481
Item #: 19557
Hindley and District Junior School Cup winners 1971 St Benedicts team photograph, including headmaster Mr Vose and Teacher Mr Ball
Comment by: chris southworth on 10th January 2012 at 21:43
When did St Ben's first have a football team? When I was there in 1960-65, it was rugby and nowt else!
proper game and proper team i seem to remember chris
Comment by: Donald Graham on 11th January 2012 at 15:11
Think this is the first football team at St Benedicts (by popular demand of the pupils) although now i think about it maybe some games were played the season before. However if you notice the "great" 1971 team had to use the all white Rugby Tops from previous years but the 1972 team had been provided with genuine football Kits (Wolverhampton Wanderers strip, for some reason)at great expense from school funds,the previous years success may have had some influence on the expenditure.
Comment by: h churnside on 11th January 2012 at 15:51
st benedicts had a football team in the fifties,senior and junior, juniors played such teams as st nats,st peters all saints +teams from ince and abram,seniors played argle st +moss lane +others.
Comment by: chris southworth on 11th January 2012 at 17:19
There was definitely no football in the sixties when I was there.I wish there had been,I've never took to the eggchasing!I wasn't big nor daft enough!
Comment by: Mark Calter on 13th January 2012 at 20:33
THE TEAM IN THE 50S INCLUDED GREATS LIKE TONY UNSWORTH,TONY HOUGHTON,ANDREW BISTON, MICHAEL FAIRHURST,ROY FRANCIS,HARRY (PASSED AWAY AFEW YEARS AGO)BUT CANT REMEMBER IS SURNAME, BOB FAIRHURST, THERE WHERE MANY MORE STARS FROM THAT ERA BUT MY MEMORYS DIM NOW I REMEMBER THEY PLAYED IN BLUE AND PLAYED BEHIND THE BRIDGEWATER PUB ON LIVERPOOL RD MR BILL McCALLISTER WAS THE TEACHER WHO COACHED THEM, WHEN I PLAYED AGAINST THEM FOR HOLY FAMILY THERE WAS NO PRISONS TAKEN ONLY KILLED
Interesting to find out after all these years that St Benedicts had a football team in the fifties, as being a pupil in the late sixties early seventies and playing in the 71 and 72 teams we were not aware of this. Be good to find out some more about these earlier teams and the later ones .
Comment by: jcf on 15th January 2012 at 18:33
Donald,I think perhaps the main reason that St Benedict's didn't have a football team in the sixties was that the teacher who Mark mentioned Bill McAllister, transferred in 1959 from St Benedict's to teach at the newly opened Cardinal Newman School, where he ran a successful football team there.
Amazed to see this picture after so long - I played in this team - back row second from left!
Final was played on All Saints pitch against Ince Central. We had no real football goals - we had to use the rugby posts without nets!!! Beating All Saints in the semis (who had battered us earlier in the season) on Mornington road was a shock result. Ince central were expected to walk away with it!
Any other players out there?
Stephen i played in this team Donald Graham second in from left middle row. I have also exchanged a few comments with Paul Dutton who is standing behind Mr Vose, as we also played in the team the following year as we were a year younger than you . Your memories of the final and semi brought it back to me how much we were the underdogs and how that made the winning so much more of an achievement, i remember Ince even had cheer leaders who had one or two dodgy songs (wouldnt be allowed today).If any more of the team are looking in let us know.