Photos of Wigan
Photos of Wigan
Album Contents
Album Contents
Wigan Album
Belle Green, Ince
16 Comments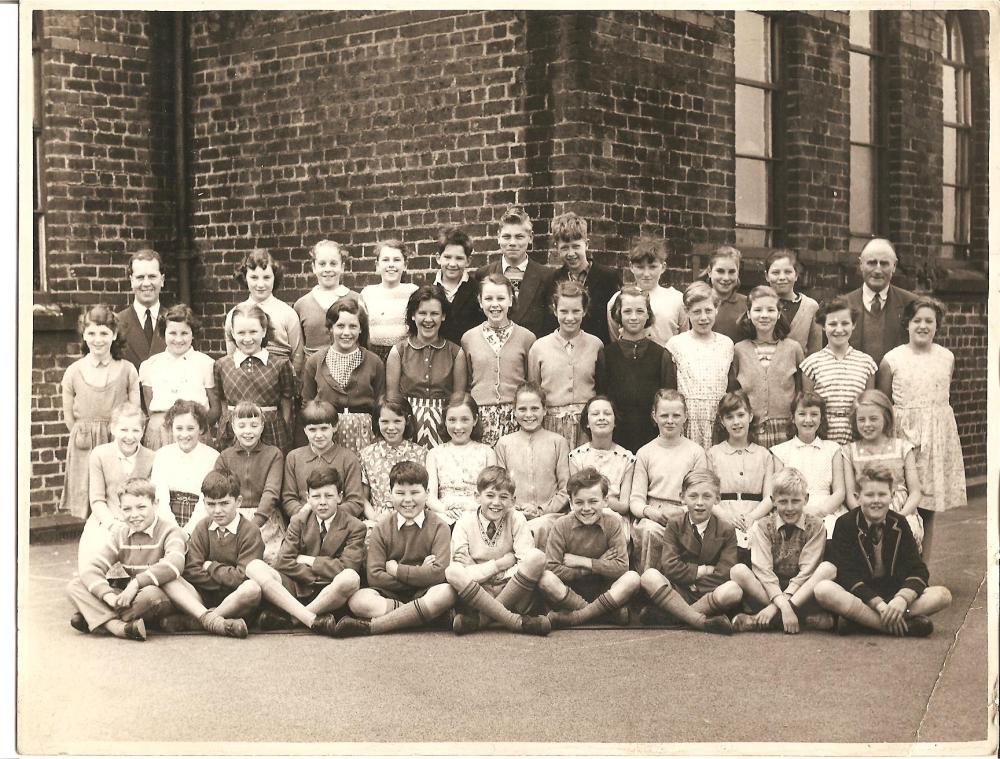 Bell Green School , Higher Ince 1957/8
Photo: Barbara Boardman Now Griffiths
Views: 7,527
Item #: 19196
Teachers Left Mr Ball Right Head Mr Barns
T/L Margaret? Rita Cunnlif, Cathleen Mayberry, Eric Greenaulch, Peter Magnall, ??, Sandra?, Audrey Daniels, Ilene Kelly. 2nd/L Pat Fitch Gerald, Stella Jackson, Pat? , Ethel Compton,??, Barbara Powel, Susan Hopter, Sheila Kennedy, June Hallowell, Margaret Aspinall. 3rd/L Janis?, Sandra?, Joan Mason, ??, Phyllis Bull, Evelyn?, Barbara Boardman, Doreen?, Elizabeth Davis, Barbara Pearson, Janet?, Ilene?, 4th Seated/L, Harold Fisher, ??,??,??,??,??,?? , Peter?, ??, I Could Do With Some Help recalling names ??& Hope Everybody's Still With Us , ??.And The Best To All, Barb


Comment by: josie pennington nee beckett on 17th December 2011 at 23:39
hi barbara,i lived in york st just round corner from the school,these girls were a bit older than me but i recognise one or two on the row up from boys sitting at front,the girl first right is eileen blinkhorn,the girl fourth from her as you said is elizabeth davis she died very young early 20s i think, and next to her is doreen davis think they were cousins lizzybeth as we called her lived in our st and doreen may have lived in our st or prince st i probably know more but i will have to have a good look ,lovely pic barbara.
Comment by: Dave Thomas on 18th December 2011 at 07:01
The boy next to Peter Mangnall is Jimmy Ellis these two lads went on to begreat players for Rose Bridge School.
Comment by: Aileen Winstanley (nee Jackson) on 18th December 2011 at 13:33
The Pat next to Stella Jackson (deceased) is Pat Frost, and the girl in front of Stella is Pat Lowe who is now in Australia. T/L Margaret had a German mother but I can't remember her name. Doreen? is Doreen Davies.
Comment by: gg on 19th December 2011 at 13:45
some more names back row margaret birchall rene cunliffe cathleen mayberry eric greenhalgh peter magnall jimmy ellis sandra banks audrey daniels irene kelly next row pat fitzgerald stella jackson pat ? ethel ? pat frost ?? ?? barbara powell susan hockter sheila kennedy june ? margaret aspinall next row janic ? dorothy melling joan mason pat lowe phyllis bold evelyn aspinall barbara boardman doreen davies elizabeth davies barbara pearson janet ? eileen blinkhorn front row harold fisher dont know any more hope this helps in some way BARB
Never thought I would see this photo on a website. I only know a few names in the photo, but certainly remember the faces from the list provided. I wonder what they are doing now.? Does anyone know where Barbara Powel is?
Comment by: eric greenhalgh on 22nd May 2013 at 23:26
could not get over this picture I remember nearly every one fantastic
Comment by: Jenefer Worthington(nee Barlow) on 23rd October 2013 at 19:46
I was talking to Barbara Powell a couple of years ago. At that time she was living in Standish. I am 2nd from right behind the boys on front row. Derek Warren is the name of the boy on right end. He left the school not long after this photot was taken.
Comment by: Aileen Winstanley new Jackson on 5th December 2013 at 14:32
The girl next to Joan mason (seated)dis Pat Lowe who went to Australia probably not long after the photo was taken
Comment by: Pat Rogers (nee Lowe) on 15th December 2013 at 00:51
Thank you Jenefer for answering my question re Barbara Powell. The next time you see her please give her my regards. Pat R
Hi Jenefer, Good to hear from somebody from so long ago. Yes, I did move away to Warrington but have now found this website that has so much information on it. I am remembering things that I thought I had forgot. Amazing!
Comment by: Marlene Austin ( nee Cain) on 3rd December 2014 at 19:31
The lad second from the left front row is my brother James Cain sadly no longer with us.
Comment by: s on 26th January 2015 at 23:33
Hi marlene did you live in tank st sorry to hear about james
Comment by: Marlene Austin on 25th April 2015 at 18:38
Hi s sorry I haven't been on here sooner, no we lived in Smiths street.
Comment by: Irene nee Kellie on 29th January 2016 at 15:18
that's not me next to Audrey Daniels someone's got that wrong
I am 6th from the right in the middle row. My cousin Stella Jackson is not with us any more.