Photos of Wigan
Photos of Wigan
Album Contents
Album Contents
Wigan Album
St Mary's, Standishgate
9 Comments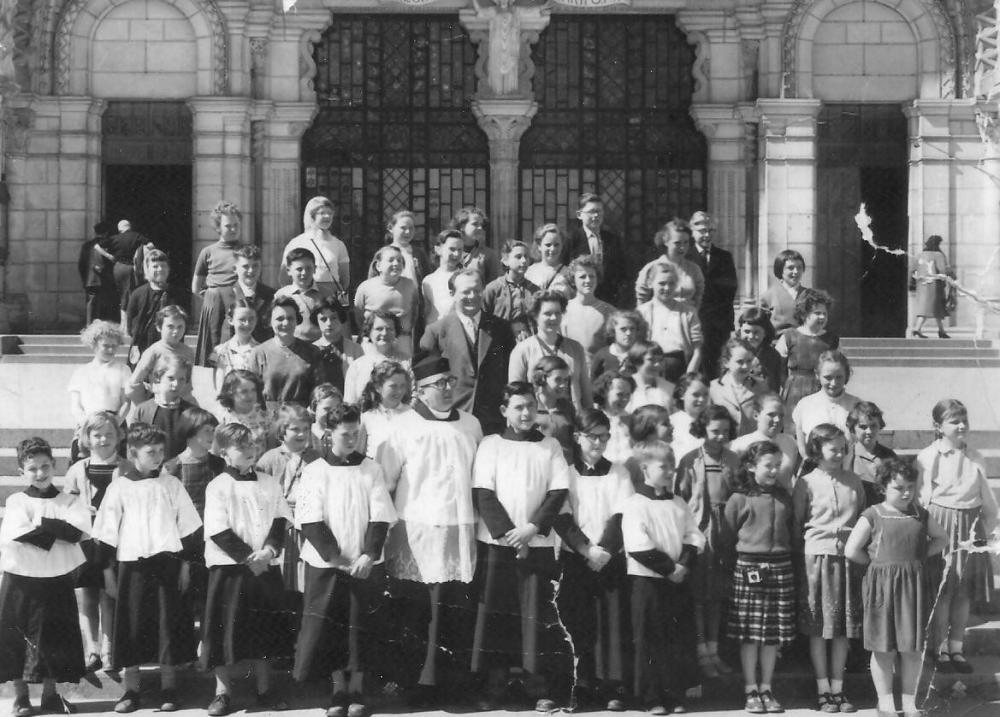 school trip to lourdes 1959
Photo: david cushion.
Views: 3,751
Item #: 19071
this is a photo of the school trip to lourdes in 1959.could anyone put names to faces on this photo as i can only be sure of mr chisnall headmaster.bernard birchall.anne seddon.anymore would be welcome.
Comment by: pat dobson formerly walker on 2nd December 2011 at 18:39
the headmaster was john charnock there was a miss chisnall who was headmistress of the infants school
Comment by: dave cushion on 2nd December 2011 at 21:55
your right pat my mistake it is mr charnock.
Comment by: DAVE CUSHION on 4th December 2011 at 16:56
alter boys 1st on left BRENDEN McGUINESS ? to the right of priest [ FATHER O'DONAHUE ],JAMES SEDDON,TERENCE GALLAGHER,BERNARD BIRCHALL,group of girls to right include JULIE CONROY ? KATE OHARA/OMARA ?......DORAN ? ANNE DOWLING,ANNE SEDDON,PAT WALKER? 0ther girls in general picture BERYL PARKER with her mother ? ......SHERRINGTON,DOROTHY STATTER ? headmaster JOHN CHARNOCK,two boys 2nd row back left DAVID CUSHION,KEVIN HIGGINS.
Comment by: DAVE CUSHION on 6th December 2011 at 20:16
girl on far right JANICE WILSON ?
i should be on this photo but i cant find me.canm see my sister marion
Comment by: dave cushion on 11th January 2012 at 17:18
LADY TEACHER ON THE RIGHT OF MR CHARNOCK.....MRS DARWIN ?...FROM ST CUTHBERTS
Comment by: Margaret Wilkinson on 6th February 2012 at 14:20
Wow! Lovely to see this. I am on the end right of the second row and you are right about Beryl and her Mum. Beryl and I have been friends for nearly 60 years now.
Comment by: Christina Ashworth nee Heyes on 28th April 2016 at 12:36
I amd 3rd from the left on Mr Charnock's row.Christina Heyes.