Photos of Wigan
Photos of Wigan
Album Contents
Album Contents
Wigan Album
Argyle Street Council School
24 Comments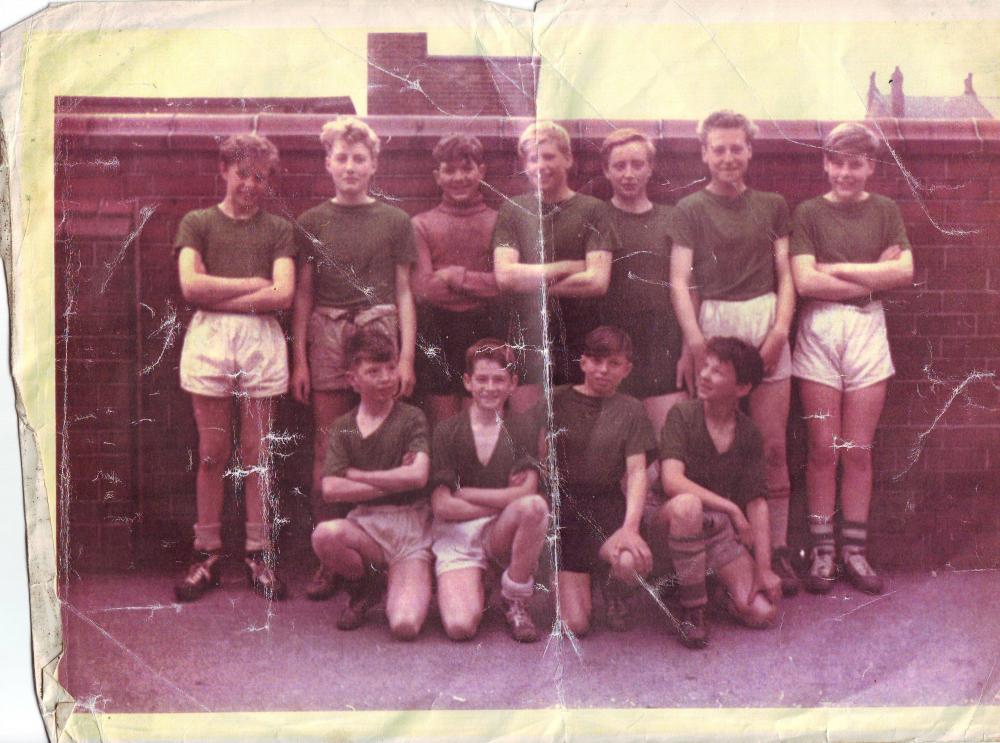 Argyle football team
Photo: Paul Bamber
Views: 6,050
Item #: 18955
my dad is in this photo (bottom left) but he can't remember the names of the others in the team, my dad is called Eric Bamber & I think this photo was taken around 1960 (give or take a year). If anyone knows who they are feel free to let me know :)

Paul
P.S let me know if I'm right with the year please
Comment by: Dennis Miller on 24th November 2011 at 01:31
Flippin' eck Paul... you can tell he is your dad.
Comment by: jane glover nee deakin on 12th January 2012 at 00:21
back row barrie james ??james moorcroft david watmough
paulroby
third from left could be david varey
Comment by: Frank Farrimond on 7th December 2012 at 11:04
I was in the school team at that time and was in the same class as Paul Roby and Dave Watmough.I've forgotten what i looked like at that age and don't have any pics of myself.
Comment by: Hursty on 15th December 2012 at 00:14
2nd left back row Malcolm Talbot.
I was in same class as erik and when we left school i met up again and we used to have a drink together in dog and partridge about thirty five years ago but i moved to standish and lost touch with every one dont know if any of my school friends are still with us.
Hi i was in class 1c-2c-3c and 4c in high school here are some of the pupils names who were in class 4c they are ... Doreen ackers... Pauline summers... Jennifer walker... Margaret snaylam... Linda webb... And Jacquline barlow( her mum and dad had a chip shop bottom of platt lane and moved to blackpool... Eric bamber... Alan carey... John sankey... Dennis smalley... Johnny hanker... John pickford... Richard disley... John atherton... Michal strong... Frank green (ihad heard that he has passed away RIP) Harold worthington(nickname lewie) (ihad heard he had passed away as well Rip) and myself Brian ashcroft... If anyone remembers any other pupil please add this is from rhe early sixties if you want to contact me by email my address is brianashcroft1949@yahoo.co.uk
I also remember miss turton (art teacher) ( mr greenwood phisical education ) and miss shephard (english teacher) and also mildred bennet (pupil)...
Some more pupils i have remembered... Norman purnell (he used to live down park road) john churnside ... Ian wolstenholme ... Christine gough ...margaret cunliffe(i think her name was margaret) ...geoffery pilkington,( i heard he was a actor in london not sure) i mentioned before linda webb i think her name was valarie webb (used to live on atherton road where borsdane petrol station is now when they knocked them down she moved down leigh road near railway pub i know this because i used to live in next row of houses on atherton road opposite end to knights shop) i was the eldest boy in class( now 63 and valarie was the eldest girl fond memoriesbe nice to get in touch with other pupils...
Comment by: P westhead on 19th March 2013 at 09:21
Is the lad at the back on far right David rigg?
Comment by: Lumper on 24th April 2013 at 14:38
This must have been an inter house team.I am sure all these lads were in the same year but not the same form.There were four hoses at school.Raynor, Langton,Eckersley and Leyland.
Comment by: Frank Farrimond on 30th April 2013 at 07:55
That's right lumper.I was in the B stream with Paul and Whatty.If my memory serves me right i was in Leyland house.
Comment by: Lumper on 4th May 2013 at 09:30
I seem to think this team was Langton.There were plenty good players in this year
Is this the frank farimond who knew my brother derek ashcroft if so im his brother young ash I was also in leyland group I know you do you remember me and does anybody know if erik bamber is still with us and how I can contact him thanks everybody.
Comment by: Frank Farrimond on 4th June 2013 at 22:25
Hi Brian,I am the same one,yes.How are you?
Hi frank im not to bad keep going living in standish now been here for about 30 years.
Comment by: Frank Farrimond on 5th June 2013 at 17:34
I'm in Preston now.Only been here three years though
Hi frank do you ever see any old school mates glad to hear your ok regards brian.
Comment by: Frank Farrimond on 18th June 2013 at 10:00
Hi Brian,not really.Dave Varey's usually in Last Orders when i go down but that's about it.
I think this is the Langtree( green ) House team not the school team. I believe it is Dave Rigg is back row far right. Frank you used to play goal keeper and center forward if i remember correctly. I also think David Varey is front row 2nd right.Other Faces are familiar and my guess is the year is 1963 or 64
Apologise for error yesterday yes it is Langton not Langtree. The other colours where Raynor - yellow; Leyland- Red and Eckersley - Blue
Comment by: P westhead on 5th October 2013 at 16:02
Alan, Iam sure you were in Raynor,I was useless at football but we did we go fishing together
Hi Peter, yes I was in Raynor and remember well how we went fishing and also represented Wigan fishing team at National level. Still a dab hand at fishing when I get back to Wigan
Comment by: P westhead on 8th March 2014 at 20:26
Alan. What was the name of the river we fished when we represented Wigan Witham or Welland. The brain is slowing down
Peter,

It was the River Witham .I also took you to Lancaster canal at Garstang by bus and the River Ribble. Those where the days when life was simple and fun